Lume Studios NYC on Thursday January 27 between 2pm-10pm. It is a 45 minutes  AI-driven immersive experience made from archival rugs from East by new media artist
Orkhan
. There will be NFT drops from the immersive experience with an addition of 3 surprises NFTs that looking at your picture I believe you would enjoy a lot as well! It is a very special one as this is the first time cultural heritage is finding life with machine algorithms.
The culture and AI enthusiasts will be able to collect the NFTs on point from the displays with the Blackdove technology.
Event Details
January 27, 2022
2pm-10pm
Lume Studios NYC 
393 Broadway
New York NY 10013
Between Walker & White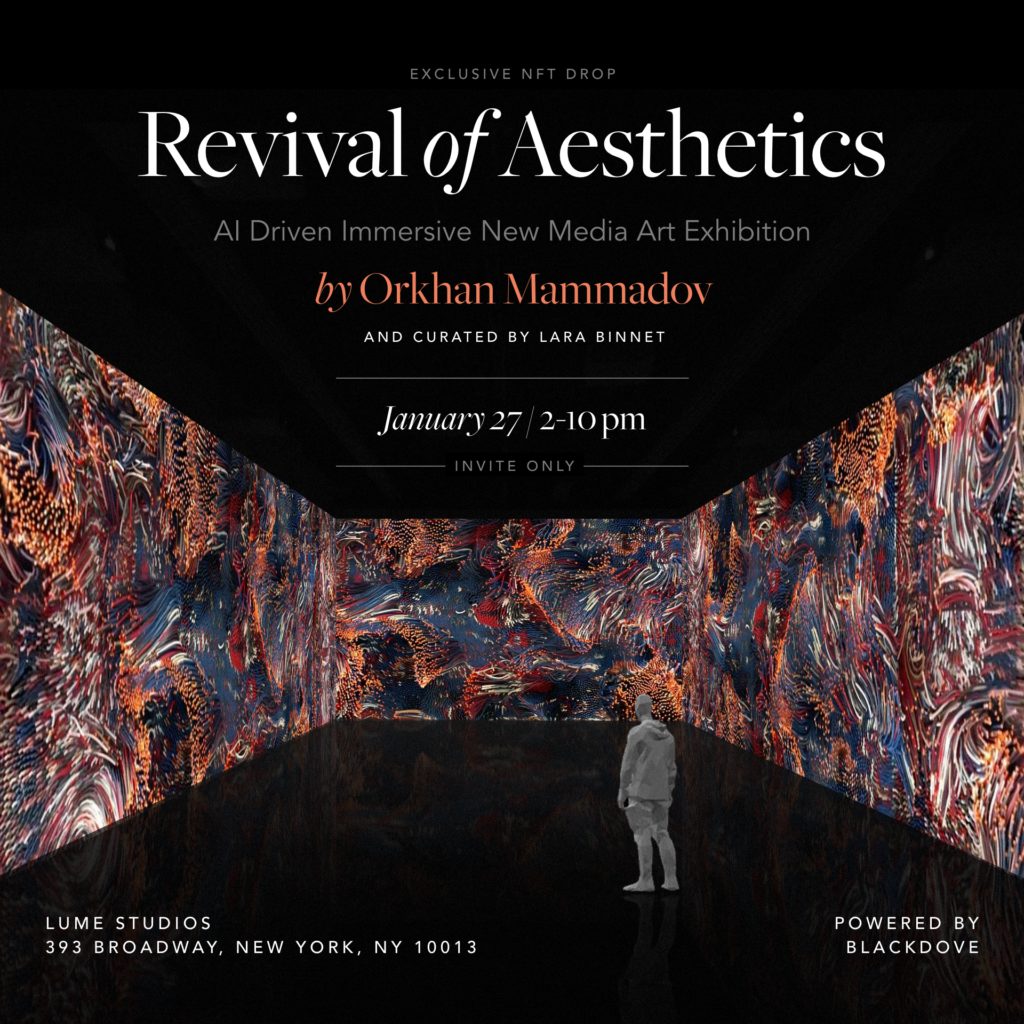 About Revival of Aesthetics
For his first solo show in NYC, new media artist Orkhan Mamadov presents "Revival of Aesthetics," an A.I. driven immersive experience and NFT exhibition. Featuring the Metaverse's first carpets, rugs, and kilims, the show aims to transcend Eastern heritage into the digital realm. In his work, Mammadov is lending a new meaning to patterns, merging its traditional association with machine algorithms. 
A neural network computes over 150,000 archival images of carpets, rugs, and kilims, found in museums and libraries globally. "Revival of Aesthetics" brings to life new, imagined rugs, broadening the scope of a "living" tradition, combining data painting techniques, thread simulation, and color data. Mammadov begins a dialogue between rapidly vanishing cultural heritage, and the proliferation of digital cultures. NFTs present a solution for preserving cultural memory. Orkhan says, "With the rise of digitalization, we seem to disconnect ourselves from cultural heritage, and the Revival of Aesthetics helps us to travel interdimensionally through our cultural memory." 
Blackdove, as a leading global NFT and digital art installation platform, is producing and presenting "Revival of Aesthetics" at Lume Studios in New York City, curated by Lara Binnet. 
On show only for one day, January 27th, 2022, the immersive experience, "Revival of Aesthetics' ' will consist of 45-minute time slots between 2pm and 10pm, presenting 45 minutes of an A.I. driven immersive experience. Orkhan Mammadov will be releasing 9 unique NFT editions generated from the immersive experience minted on Blackdove's NFT marketplace. Blackdove is the only vertically integrated solution in the market and NFTs have triggered a spectacular growth cycle with more than 200+ installations running live now and 5000+ monthly active users. Blackdove has been a pioneer in the digital art market pre-NFT with a prestigious portfolio of clients such as Christie's Fine Art, Moelis & Co, and Marriott. Blackdove's strategic partners include LG Electronics, Crestron, Savant, Christie's Auctions, and Vizio TV.
Curatorial Description
On "Revival of Aesthetics", by Orkhan Mammadov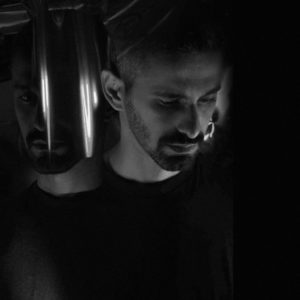 The Book of Dede Korkut, known in Azeri as the Kitabi-Dədə Qorqud, is one of the most famous books of epic poetry by the Oghuz Turks, telling stories set in a remote past, replete of moral lessons for the audience, in a manner similar to Homer's epic cycle of the Iliad and the Odyssey. The book is a narrative account of the mythical, pre-Islamic, and nomadic heritage of the peoples of Oghuz origin, comprising today the majority of the inhabitants of Turkey, Azerbaijan and Turkmenistan. The parallels between the Book of Korkut Ata (as it also known) and the Homeric epic do not stop at the narrative format – both in fact hearken back to the Bronze Age, the time since when hand-woven carpets from the region have been known to . Silk carpets from Azerbaijan have been known since times immemorial, and praised in the twelve books of the Dede Korkut, but historical records, such as the writings of Greek historians Xenophon and Herodotus single them out for commentary, due to their particular features. 
Already in the 13th and14th centuries these carpets began to travel across Europe, so that they begin to appear featured in the paintings of the old masters, including the Flemish painter Hans Memling, who immortalized the Shirvan-style carpet, or the even better known Jan Van Eyck, who depicted the Zeyve carpet from Quba, among others. It's not an insignificant detail that all of the Renaissance artists worked with religious motifs, therefore the figure of the carpet entered into a dialogue with art history early on, later to be expanded in painting particularly during the Turcophilia of 17th and 18th century France when cultural exchange between Europe and the Ottoman Empire reached its zenith. Therefore when Azeri media artist Orkhan Mammadov turned towards carpets, rugs and kilims as a source of inspiration for his digital project "Revival of Aesthetics", he was working on a long and established tradition. Four different styles of carpet weaving in Azerbaijan, connected to local regions, yield hundreds of different patterns. 
Yet sorting through thousands and thousands of archival images of the traditional craft, Mammadov had a different idea in mind than simply mourning a disappearing tangible heritage (as per UNESCO): He was working counterintuitively against nostalgia. Correlating patterns not only to traditional weaving but also to computer-based algorithms, a neural network system processed several tens of thousands of these archival images of carpets, rugs and kilims, collected from museums and libraries around the world. The purpose of "Revival of Aesthetics", however, was not to resuscitate a dying body, but to energize a living tradition: The AI creates new, imagined, speculative, rugs, expanding on the meaning of tradition for the era of digital culture and humanities, using data painting techniques, thread simulation and color data. As an experiment in cultural memory, "Revival of Aesthetics" is translating heritage for the NFT future, and bringing the entire weight of the past, allowing carpets to penetrate the metaverse for the first time. 
In this radically new context, there is an enlarged dialogue not only between the tangible past and the digital present, but also between risky data entropies, the limits of politico-historical structures and the exhausted epistemologies of modernity. As a multitemporal knot, connecting many different simultaneous pasts, "Revival of Aesthetics" questions the role of technology itself as a form of memory, and as a tool of power. Collecting the stories of these traditional crafts is also at the heart of Mammadov multi layered and multi source project, bringing together storytelling and data processing, and leaving the question open about the boundaries between the two. The audience will be able to engage with the background stories of innumerable carpet styles, while becoming presently engaged with the immersive experience of new carpets being created in real time: 9 different artworks unfold across 45 minutes, making the viewer both author and spectator. As an exhibition powered by Blackdove and curated by Lara Binnet, Orkhan Mammadov will be releasing 13 unique NFT editions generated from the immersive experience.
Follow us on Social Media