In an unprecedented fusion of mythic storylines and pioneering innovation, VeeFriends and Mattel's legendary Masters of the Universe franchise are teaming up. They're offering collectors and fans the Masters of the Universe Origins™ Skeletor® & VeeFriends™ Skilled Skeleton™ 2-Pack, a collaboration that's nothing short of revolutionary. Let's delve into the details of this momentous venture.
The Rich Legacy of Masters of the Universe
For over four decades, Masters of the Universe has captivated imaginations across the globe. The franchise revolves around the epic battle between He-Man, the mightiest warrior in the universe, and his arch-nemesis, Skeletor. All set in the mythical realm of Eternia, where Castle Grayskull holds the ultimate power, the story has been a generational touchstone for messages about bravery and personal growth.
The Unlikely Crossover: Skilled Skeleton Meets Skeletor
Imagine a scenario where Skeletor, in his never-ending quest for dominance, comes across VeeFriends' Skilled Skeleton. This collision of worlds teaches Skeletor an invaluable lesson—leadership is not just about brute force; it's also about honing one's skills and empowering others.
VeeFriends joins forces with @mattel's Masters Of The Universe (@mastersofficial) to unite Skilled Skeleton & Skeletor 💀 pic.twitter.com/7tTQLqUNxo

— VeeFriends (@veefriends) September 26, 2023
The Treasure for Collectors: What's Inside the 2-Pack
The Masters of the Universe Origins™ Skeletor® & VeeFriends™ Skilled Skeleton™ 2-Pack is a cornucopia of collector's delights:
Skeletor: Comes with three interchangeable faceplates, five swappable hands, the mighty Sword of Power, and Havoc Staff. With 16 points of articulation, this figure is as versatile as it is visually stunning.
Skilled Skeleton: This remarkable figure glows in the dark and features six interchangeable hands, removable hood, and formidable armor. What's more, it comes with a shareable VeeFriends flex chain and has 10 points of articulation.
Mini Comic Strip: The package also includes a mini comic strip that offers deeper insights into the Masters of the Universe universe.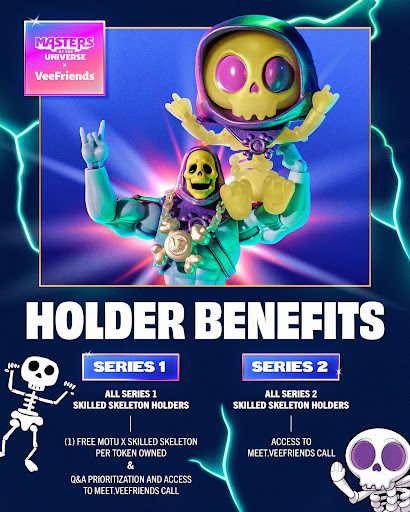 The Nitty-Gritty Details
Product: Masters of the Universe Origins Skeletor & VeeFriends Skilled Skeleton 2-Pack.
Presale Date: October 6, 2023, 12 PM ET.
Price: $45.00, not inclusive of tax and shipping.
Shipping: Worldwide.
Delivery: January 2024.
Purchase Limit: Up to three (3) 2-Packs per person.
Availability: Mattel Creations.
Note: This is a presale. Shipping starts in January 2024, and you will be provided tracking information.
Additional Perks for VeeFriends Holders
If you're a Series 1 Skilled Skeleton token holder, you not only get a free 2-Pack but also an exclusive Meet.VF call with GaryVee. Series 2 token holders are also not left out—they gain access to this special call.
What's Next?
As part of the excitement leading up to the release, GaryVee will be hosting a Meet.VeeFriends Livestream on September 26, 2023, at 2 PM ET. The Livestream promises a live unboxing and expert insights from Mattel's Senior Director of Product Design, Damon Nee, and Lead Packaging Designer, Roy Juarez.
A Promise of More?
While this collaboration is already groundbreaking, the door is open for future partnerships. After all, when two universes collide, who can predict the limit of possibilities?
FAQ
The collaboration aims to offer a unique Masters of the Universe Origins Skeletor & VeeFriends Skilled Skeleton 2-Pack. It's a limited quantity release priced at $45.00 and will be available for presale on October 6, 2023, with a purchase limit of three sets per customer.
TL;DR
VeeFriends and Masters of the Universe are teaming up for a historic collaboration that offers a 2-Pack featuring iconic characters Skeletor and Skilled Skeleton. The 2-Pack is rich in accessories and interactive points, offering a deep, collectible experience. Presale starts on October 6, 2023, and shipping begins in January 2024. Special perks are available for VeeFriends token holders.
Tags