The Remarkable Women NFT collection by Rachel Winter is a celebration and ode to all women inspired by the perspectives of fashion, feminism, and cultural diversity. The collection showcases powerful messages of hope, inspiration, and affirmation in 10 languages (with featured phrases including "Loved, Royal, Icon, Valid, Queen") that together make this collection truly remark-able.
Guided by a deep sense of purpose and meaning, Remarkable Women's mission is to uplift and empower women by focusing on inclusion and representation. This commitment begins from launch, where 10% of drop proceeds will be dedicated towards our strategic partner the Fund for Women's Equality. Thereafter, 10% of all secondary sales will be put into the Remarkable Women's Impact Fund with proceeds decided and voted upon by our community members towards causes dedicated to women, justice, equality, and inclusion globally.
Public Sale goes live Thursday, February 10th at 2:00pm EST @ 0.04 ETH
About the Artist Rachel Winter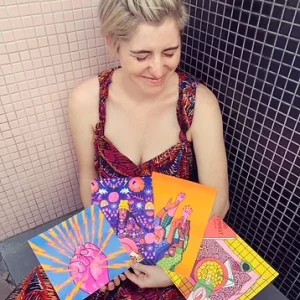 Is a Canadian Illustrator based in Paris, France She creates illustrations digitally, mixing bright colours and patterns to tell stories. She uses her art as a medium for her activism, persuading with beauty and joy.
Vibrant colours and wild patterns grab the attention, leading viewers into ideas, stories and feelings about today's world in the work of Canadian illustrator Rachel Winter. The palettes are vibrant, and the patterns are bold, combining to form sensitivity in every image that leaves the viewer with a lasting impression.
Based in Toronto, Rachel's career has taken her around the world, and she has a deep background in the creative industries. After studying fashion and working as a pattern designer in the US and Canada, she moved to Europe and became an illustrator living in London, Dublin and Paris. Street fashion, people watching, feminism and a mix of cultures constantly feed her with inspiration. Rachel has a degree in Illustration from the École de Création Visuelle in Paris, adding to her training in fashion design and costuming.
House of First is grateful to welcome more than 250 remarkable women, men, and non-binary allies spanning business, sports, philanthropy, media, entertainment, crypto (and more) to serve as initial core members of the Remarkable Women NFT community.
This group of accomplished ambassadors include: Alexandra Wilson Wilkins (Co-Founder of Clerisy Capital, Gilt, GLAMSQUAD and NYTimes bestselling author); Shira Lazar (Emmy Nominated Host, Actress, Writer & Blogger); Carol Jenkins (Co-President and CEO of the ERA Coalition and the Fund for Women's Equality); Jimena Buena Vida (Colombian-American Abstract Artist); Gigi Robinson (GenZ Thought Leader & Mental Health Advocate); Elizabeth Reede (Former curator at MoMA and Sotheby's, Co-founder and CEO of Boulevard Arts); Richard Entrup (Former CIO & Global Technology Leader at Verizon, Christie's, Disney, Museum of Modern Art); Dennis Novikov (Professional Tennis Player); Anastasia Dellaccio (Founder of WCOIN: Women's Crypto Organizing and Investment Network) and more.
NFT Roadmap
Remarkable Women is committed to leveraging our collective power of convening and community engagement to empower women and create more representation globally. Our roadmap calls for great outcomes and great impact, as follows:
REMARKABLE EVENTS
We are excited to announce a kickoff event in Los Angeles around International Women's Day (March 8th).
Featuring a host of Remarkable Women, community members, influencers, celebrities, executives and more, this will be a great opportunity to meet so many of the most amazing women, men, and allies IRL.
Thereafter, we already have confirmed events scheduled for SXSW (Austin, March 13th), Social Innovation Summit (Washington DC, June 7–8th), NFT.nyc (June 20–23rd), and more.
REMARKABLE MERCHANDISE
Following launch, we plan to release our first line of Merchandise & Fashion specifically designed for the Metaverse.
We see great opportunities to expand the Remarkable Women brand, and have plans to not only provide more opportunities for our community to wear their favorite branded items in the Metaverse (and IRL as well!) — but also to offer discounts and special deals with our corporate partners including to exclusive goods, items, events, and experiences.
REMARKABLE EDUCATION
With a core mission to increase representation, we plan to expand access to curriculum, tools, and community support for women, men, and allies looking to learn more about Web3, Metaverse, Crypto and NFTs. The vision includes dedicated content across platforms, virtual classes and lessons, IRL engagement and learning opportunities, mentorship and apprenticeship access, and aspiration for academic certification.
We will additionally seek to work with top employers in the sector — including established and emerging brands — to understand their hiring needs and support education initiatives designed to create increased employment pathways for the community.
REMARKABLE IMPACT
Following our launch, 10% of funds from our drop will be dedicated to our launch partner, Fund for Women's Equality which includes leading board members like Gloria Steinem, Alyssa Milano, Bamby Salcedo, Carol Jenkins, Thursday Williams, Mona Sinha, and more. Thereafter, 10% of all secondary sales will be put into the Remarkable Women's Impact Fund with proceeds decided and voted upon by our community members towards causes dedicated to women, justice, equality, and inclusion globally.
Follow us on Social Media