THIS PROJECT HAS HIGH RUG POTENTIAL DYOR
A link if you struggle to open the first one

— Y3K Pirates (@Y3KPirates) February 10, 2022
Squiggles are a set of 10,000 non-fungible tokens (NFTs) comprised of hundreds of unique visual features and character bases. The collection is currently publicly shown to contain but is not limited to: humans, apes, flame heads, clouds, clocks, beakers, and skulls. Hundreds of unique features, costumes, and colors of the artist's palette are also included in the Squiggles collection.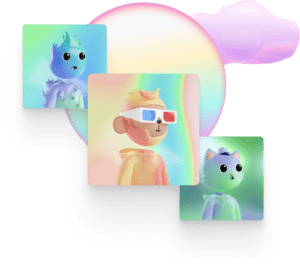 What is the Total Supply of Squiggles? There are a total of 10,000 NFTs available for mint.
What day does Squiggles Launch? 2/10/2022 at 1PM EST
How many Squiggles NFTs can I mint in the Public Sale? Up to 3 per wallet
What is the launch structure?
PHASE #1 – Public Dutch Auction Begins Feb 10th 1 PM EST 3,000 Squiggles Available Can Mint Up To 3 Per Wallet Starting at 1 ETH- Reduces by 0.05 Every 20 Minutes until 0.4 ETH Sale duration: 24 Hours
PHASE #2 – Whitelist Sale Begins Feb 11th 1 PM EST 7000 Squiggles Available Can Mint 1 Per Whitelisted Address 0.4 ETH Sale Duration: 24 Hours
PHASE #3 – Public Sale- Remainder Begins Feb 12th 1 PM EST QTY = Any Leftover Squiggles From Phase 2 (TBD) Can Mint Up To 3 Per Wallet Price = The Last Squiggle Sold At Dutch Auction
Squiggles Roadmap
Phase 4: Doubling Down On Squiggles
This is something that has not been done in the NFT space, and it is our way of paving a new road in the greater community. We are making a shift from discouraging derivative based projects, to motivating people in getting creative and inspiring others with their own work. In doing so, we are allowing holders to have full IP rights to their Squiggle, and having free range to do whatever they want with it so long as it meets our guidelines. Rather than restricting people in creating derivative collections to Squiggles, we plan to act as a launchpad for them! Why you may ask? Because we thoroughly believe in the decentralization of the NFT space. Furthermore, we believe that any derivative collection will only bring more eyes and attention to its parent collection! Win-win.
We also don't plan on ONLY helping derivative based projects. We plan on establishing a launchpad for ANY type of project that our community presents to us.
This is how we plan on supporting these projects:
We plan to reserve 15% of all secondary market sales to help fund derivative projects that our team and community likes the most! All projects are welcome, but we obviously can't fund all projects. This is our form of paying homage to our biggest supporters. We would be funding and using our influence to launch any project that's been approved by the Squiggle Launchpad. More information on our launchpad is planned to roll out in the weeks prior to launch!
Phase 5: Squiggle Store Grand Opening The Squiggle Store is planned to be a marketplace where you can buy both physical goods as well as digital, metaverse-ready items. We plan on having everything from t-shirts to coffee mugs for all our supporters to rock! Squiggle holders would be able to receive discounts from all items in our store as well!
Follow us on Social Media