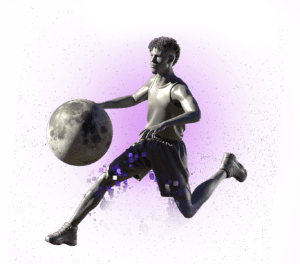 The NFT space is moving fast and there is a lot of confusion for collectors trying to find value.  Sometimes the value is in the artist, sometimes it is purely in the utility. Sometimes, it's a combination of both.  Over the last few months we have been lucky enough to interview the top business minds like Mark Cuban to the top artists on across NFT platforms like Dot Pigeon, toomuchlag, Sam Madhu, NoCreativeAbode, Tina Eisen, and many more. We are late to the game, but the LaMelo Ball Dynamic NFT project may be the most promising Athlete or Celebrity NFT project to date.
Our recent video caught his attention and we were granted a few moments to ask The NBA Rookie of the Year a few details about this drop and why he decided to lead the way for Super Stars creating utility based NFTs.
Full disclosure: We are incredibly bullish on this project and the way he has designed his community.  In our opinion LaMelo is a way ahead of the curve and we suspect that by the start of next season there will be 20+ NBA players trying to do the same thing, which will make this even more exciting.  The NFT space is still in it's infancy and by the time the majority of his fans learn about how to collect these very limited NFTs, the only option will be on the secondary market.  Add in exclusive merchandise for these collectors, etc. and this will be a very sought after NFT.
You can pick up your LaMelo NFT here 
NFT CULTURE Q&A WITH LAMELO BALL 
NFT Utility is the future and LaMelo is revolutionizing the space
Gary Vee was first to the market with his incredible VeeFriends NFT project around VeeCon.  What LaMelo is doing within the sports realm is equally revolutionary.  The fact that a brilliant marketer like LaMelo would essentially be first to market with this type of project shows courage and foresight around what is coming in the future. We're bullish on this project. And you can learn more about why we're so bullish in the video at the end of this interview. 
Watch our deep dive into the NFT Melo Drop
NFT Culture
Ever since your brother broke out in the basketball world, you and your family have been innovators. Rather than playing for your high school and then the prototypical 1 year at a D1 college, you elected to play professionally in Lithuania at 16 and then Australia at 18, and you now own an Australian professional team.  This NFT drop is no different, with a clearly built out utility/collector reward infrastructure and innovative approach.  Do you see yourself paving the way for other NBA players to get involved in the NFT space?
LaMelo Ball
It wasn't my goal to influence other NBA players to do the same, but based on what I know now, I think our team is doing NFTs right by sending fans real gifts and finding ways for me to connect with them deeper. I think all NFTs from an athlete should have statistics be a part of them too — it's perfect for blockchain.
NFT Culture
I'm sure you're very aware of the history of NBA collectibles, from your jersey sales, to trading cards, to action figures and bobbleheads of your likeness.  How do you see the NFT space affecting NBA collectibles long term?
LaMelo Ball
Those are forever, of course. Collecting things in general is something people will always do — so it only makes sense that there would be digital versions too.
NFT Culture
Many of the big names claim to be pro cryptocurrency but immediately turn their sales back into FIAT currencies.  Do you currently hold and invest in Crypto currencies?

LaMelo Ball
Yes, I'm actively involved in the both the NFT and Cryptocurrency community.  I hodl a variety of coins and tokens including, Ethereum, Chainlink, and a few other popular ones. I've been grabbing some NFTs too from projects that I think are funny or cool too. Does that count?
NFT Culture
Not included in our questions, but LaMelo has invested in numerous NFT projects including Cats, Craniums, and is a HODLer of a Bored APE.
There are alot of decentralized applications leveraging non fungible tokens. What made you get involved with Ether Cards. What about the Ether Cards project made it stand out above the rest.
LaMelo Ball
Ether Cards had a really good connection with Chainlink, who put us all together. It's always important to me to do things differently — when I asked what they do differently, they showed me NFTs that change over time. They were the right team because my career is changing over time, just like the NFTs that they've been making.
NFT Culture
Your designs are unique, portray your image, and simultaneously avoid any conflicts with other brand that may be litigious and protective of their IP. How did you come up with your designs and can you share any details about the brilliant utility.
LaMelo Ball

The designs are based upon planets in space and we had Law Degree and Chris Deroy lead the designs. The prizes and utility were thought of and developed over meetings between myself, my team, and Ether Cards. We're still planning and going to be adding to the utility over time.
NFT Culture
LaMelo, Thank you for taking the time to answer these questions and everything you've done not only with this NFT project, but investing in other NFT artists and collectibles to bring attention to the NFT space.  You're a pioneer and this project will go down in the history books of NFTs.  Shout out to Darren, Mike, @theycallmeshwaz, @Nub, Pio, and P.C.O. for putting these questions together for LaMelo. Couldnt have done it without you!
Watch our deep dive into the NFT Melo Drop
Follow us on Social Media