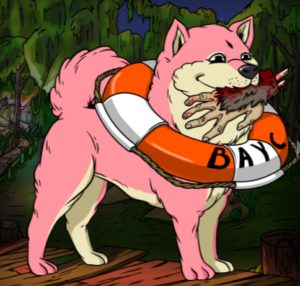 Crypto Punks has set precedent by allowing collectors of their NFTs access to future drops at no charge.  The Bored Ape Yacht Club (BAYC) has taken inspiration from their forefathers to introduce a limited time drop for the Apes.
The Bored Ape Kennel Club is a limited drop that introduces BAYC inspired dogs into the metaverse.  Limited to one week, each member is able to adopt a Club Dog NFT for free. (sans gas).
The dogs are scheduled to be revealed at 6pm EST on June 25th 2021 and the companions will find their new homes.
The project creators describe the project as:
It gets lonely in the swamp sometimes. That's why every ape should have a four-legged companion. To curl up at your feet. To bring you a beer. To fire a missile launcher at that fucking monkey Jimmy.

That's why we've started the Bored Ape Kennel Club, and why we're offering up a dog for adoption to every single member of the BAYC – for free (you only pay gas).
NFTs for a great cause.
The BAKC will have a 2.5% royalty fee for all secondary sales, but 100% of proceeds will be donated to animal shelters including The Giving Block. The first donation would be to Wright-Way Rescue. After six weeks, they will remove the 2.5% fee from OpenSea entirely.
Bored Ape Dog SPECS
There are 10,000 total Bored Ape Kennel Club NFTs. Each BAKC dog is stored as an ERC-721 token on the Ethereum blockchain and hosted on IPFS. Every dog in the kennel club is unique and programmatically-generated from over 170 possible traits. Some traits are rarer than others.
There will be fewer than 10,000 Pups minted. There have been a few Apes that have drawn a lot of attention being burned (sent to an address that essentially removes them from the pool) and other Apes that are unfortunately stuck in NFT Limbo Wallets.
Bored Kennel Statistics
What is incredible about this project is that it became essentially at least 1 free ETH for HODLers and the current floor (pre reveal) is nearing 1.5 ETH each.  The project is already within the top 10 on the 1 week OpenSea table with over 1,000+ ETH movement.  As of this writing 88% of the Dogs have already been claimed.
It will be interesting to watch this project and see what the floor and ceiling becomes after the Dogs are ultimately revealed and rare attributes are revealed.  If this project is anything like the Apes, the rare Dogs will likely enjoy a parabolic lift.
Follow us on Social Media