Crypto-native Luxury House announces first Collaboration debuting at Art Week Miami with Exclusive Experience at nft now The Gateway

gmoney's 9dcc released ITERATION-01 voucher unlocking pillars of utility and benefits never before seen in Luxury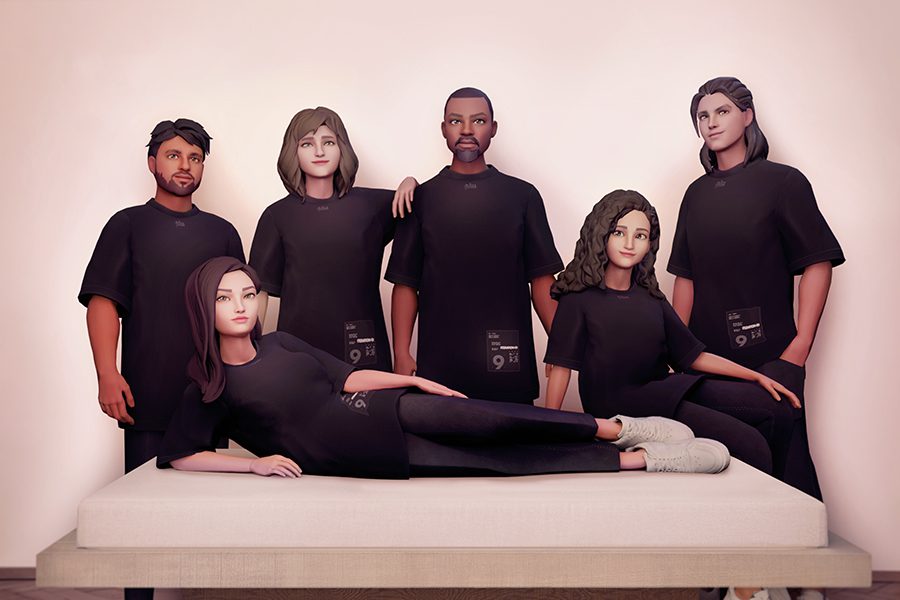 Creative director gmoney (
@gmoneyNFT
) is excited to announce his first collaboration launch for 9dcc (
www.9dcc.xyz
//
@9dccxyz
) a pop-up experience at Art Week Miami this year from Tuesday, November 29th through Saturday, December 3rd. The 9dcc event will be located within NFT Now and MANA's Gateway powered by MoonPay, the highly-anticipated "Web3 Metropolis" spanning 2 city blocks in Downtown Miami. As part of this event, 9dcc is proud to announce that creative director gmoney has worked closely with generative art pioneer, Snowfro, to launch ITERATION-02, a 9dcc x Snowfro collaboration. The product is a premium luxury white tee that will initially be sold at Art Basel through an exclusive in-person minting experience. Purchasers of these limited editions will take possession of their 1 of 1 physical tees live on site. After the pop-up event, ITERATION-02 will be made available to the wider Admit One community via a virtual mint. As with all 9dcc products, the ITERATION-02 lux tee will be a Networked Product™, tying the physical to a digital  via an NFT that is generated during the mint & correlates to the print on the tee.
ITERATION-02 builds on gmoney's strong crypto ties and sees 9dcc collaborate with Snowfro. Snowfro is the creator of Chromie Squiggle and the founder of Art Blocks. Very few people have had as significant an impact on the world of NFTs as Snowfro and gmoney is grateful and proud that Snowfro has chosen 9dcc to be the first brand to partner with when it comes to a fashion first launch.
To mark the occasion 9dcc is dedicated to delivering products in new and innovative ways and this time is no different. The combination of live-minting and on-site manufacturing will be a first of its kind. Specific details on cost and inventory for ITERATION-02 will come out in the near future.
We are also pleased to announce further details closer to the time but we know you'll have questions before then so gmoney and Snowfro will be jumping on a joint twitter space Tuesday, October 25th at 11:00 AM ET to talk more about this exciting collaboration.
*Join @gmoney @snowfro on Tuesday 10/25 at 11 AM ET to hear more about 9dcc plans for ITERATION-02.
gmoney's 9dcc RELEASES ITERATION-01 VOUCHER AND UNLOCKS PILLARS OF BENEFITS NEVER BEFORE SEEN IN LUXURY
Web3 futurist and community creator gmoney (@gmoneyNFT) recently launched 9dcc (@9dccxyz), a crypto-native luxury house and lifestyle platform designed to both disrupt the fashion industry and define how it can exist in the metaverse. The creation of this brand has foundations in transparency, ownership and provenance, beginning with a genesis Admit One community built off members who had met gmoney personally. Now through his first drop for 9dcc – a "Networked Product" luxury t-shirt known as ITERATION-01 – holders and their friends, family, and fans will be empowered to build communities similar to gmoney's. Allowing them to connect with one another, while being directly linked to the designer himself and his 9dcc experiential team delivering exclusive content and gamification. On October 20, 2022, 9dcc released the redeemable 4K-powered voucher that unlocked even more potential for ITERATION-01 NFT holders than has been previously disclosed to surprise and delight. This was a landmark fashion moment where a piece of clothing will create connections to other pieces from the same collection and unite the 9dcc community to an even more interactive and future-defining level.
WATCH VIDEO: www.youtube.com/watch?v=nAiSC28VnBY
When gmoney launched 9dcc, his intentions were clear to build a stronger, interconnected Web3 community by using blockchain technology to create verifiable scarcity. The NFT disruptor has established these foundational building blocks through his loyal community membership Admit One, but with 9dcc he aims to elevate the definition of the metaverse: a place where product holders are guaranteed product authenticity and exclusivity – two proof points the fashion world has tried to cultivate for decades, and creators can be assured that their designs are being thoroughly appreciated by those who understand this value.
"As it stands right now, much of the consumer journey with traditional brands ends at the point of sale. Although brands will get information about the customer to send promotional marketing materials, there is still no direct line of communication. The concept of a Networked Product opens that line of communication from myself directly to the brand's community, cutting out the standard third-party applications who usually conduct those conversations as a sort of out-of-touch middleman and providing a more authentic platform and direct consumer connection."  – gmoney.
With the 4K voucher, ITERATION-01 holders will be faced with a revolutionary choice that allows them to decide between holding the voucher – which gives you the option to either keep it in the secure 4K vault or trade it on a secondary marketplace – or immediately redeem the voucher for the physical product. Once the NFT voucher is redeemed and the product is received, owners will be able to open the box, put on their shirt, and tap the NFC chip to unlock the shirt's digital functionality. By interacting with the tee, owners can expect exclusive content, gamification and experiences. This breakthrough innovation will pave the way for creator-consumer interaction and encourage other brands to move towards Networked Products and enjoy a similar level of direct connection to their audiences. For holders of the physical asset, a simple tap of their phone over ITERATION-01's NFC chip will prompt wearers to input their cell phone number, which opts them into real-time SMS alerts whenever there's an update, announcement, or activation from the brand. This process will also usher users into 9dcc's debut digital assets and product functionality that was created exclusively for ITERATION-01 from the mind of gmoney.
The experiences will keep users linked closely to gmoney's designed products and updates, operating as one of the prime examples of how metaverse mingling and networking can be approached for years to come. The utiliy pillars for ITERATION-01 include: POAP issuance, where owners will be able to create their own networks within the 9dcc ecosystem; SMS brand communication directly from 9dcc; and digital wearability, which allows wearers to stunt both IRL and digitally by dressing their Webaverse & Ready Player Me avatars in the T-shirt in 3,000+ apps and digital spaces; networked experiences that connect to IRL experiences.
"The release of ITERATION-01 tees will ultimately take 9dcc's intentions to the next, increasingly tangible level, bridging the experiences of the physical and the digital worlds in an industry that has been notoriously difficult to navigate and excel in." – gmoney
ABOUT gmoney
gmoney is a renowned NFT cultural thought leader and educator – best known for anonymously sporting his iconic orange beanie, CryptoPunk, and establishing his metaverse community Admit One. gmoney sold Visa and Galaxy Digital the CryptoPunks they purchased for their collections, and he is the founder of 9dcc, the first crypto-native fashion luxury house to exist on the blockchain. gmoney was recognized by nftnow's 2022 'NFT100' and featured on Fortune as one of the 50 most important people in NFTs, thanks to his work educating people on why the largest global corporations – like adidas, Meta, Nike, Visa, or Pepsi – are rushing into crypto, and how blockchain and metaverse strategy will be critical for future success and monetization. gmoney has become an iconic symbol of success with consciousness in the Web3 arena who has cemented his reputation through multi-faceted business endeavors, investments, partnerships, collaborations, and transparent communication across various social channels, all while working to prominently uplift the voices of women, POC, and other minorities in the space.
Web: g.money
IG: @gmoneyNFT
Tw: @gmoneyNFT
ABOUT 9dcc
9dcc (www.9dcc.xyz // @9dccxyz) a crypto-native luxury house and lifestyle platform redefining the way the fashion industry moves. Built for innovators, change-makers, and fellow disruptors, 9dcc embodies a new canvas for the luxury sector where perceived value has been decentralized and true covetability is built through transparency in ownership. gmoney's curation of distinctive and tasteful elements for 9dcc collections is coupled with the integration of forward-thinking chip hardware and a revolutionary thinking in application. Through 9dcc, gmoney promises an evolved and bespoke designer range and one-of-a-kind experiences that connect two universes in a way that is undeniably modern and telling of the future of fashion and society as a whole.
Web: 9dcc.xyz/
TW: @9dccxyz
IG: @9dccxyz
Follow us on Social Media