HEN is currently down. You can still buy Tezos NFTs on a new website inspired by the original HEN here or you can go to objkt.com.
What is the hic et nunc (HEN) NFT Marketplace?
This post is the HEN overview and buyers guide.  We will publish a HEN Creators Guide in the near Future.
Possibly the greatest and most fun surprise over the last 90 days of NFT growth is the Tezos based NFT platform hic et nunc (Commonly referred to on Social media and disord platforms as HEN NFT platform).
hic et nunc is latin for for "Here and now" and is described as the imperiative motto for satisfaction of desire: "I need it, Here and Now."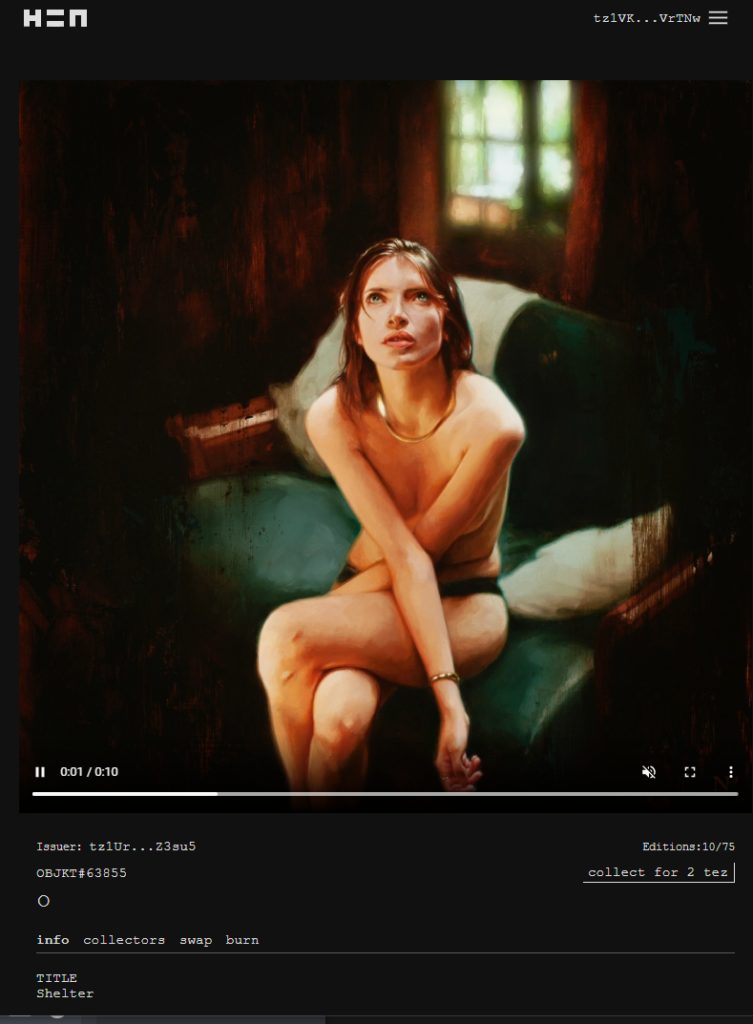 One of the things that makes HEN so exciting is that it's an incredibly accessible marketplace for many NFT collectors.  Much of the art is priced at very affordable prices with consistent gas fees. Additionally, it's very easy for anyone familiar with blockchain technologies and wallets to mint their art. Over the last 90 days, Tezos or XTZ has fluctuated between $2.40 and $7.20 USD. while that variance seems like a lot, the fact that it's cheap to mint (between $.09 and $.15) and to use the network means that collectors are more comfortable spending crypto currency on the platform.
HEN Giveaways
Additionally, many artists are minting anywhere from 100 to 500 edition drops on HEN at .01 or even completely free (Besides Gas Fees) allowing collectors to purchase many NFTs to fill their collections vs the much more expensive ETH based alternatives.  What is interesting about HEN is that many collectors are picking up art that looks cool, is inexpensive and would show well on a myriad of NFT displays.  The initial prices have drawn many collectors who just want to find cool diamonds in the rough, but the lately many successful artists across other mediums including Makersplace and more have started putting their art on HEN and finding many collectors for their art.
Is HEN a Gimmick or does it have staying power?
Originally, we were having fun with HEN because it allowed us to feel like 888. We started buying up art left and right because it was so cheap and accessible, but what we found is that the community aspect was incredibly compelling.  Buying on HEN felt like the old days of crypto art.  It lacks, polish but within the raw UX it feels inherently artistic.  It feels yeezy-esque in that if Kanye West were to have made an NFT marketplace, it would have likely looked and felt like HEN.
Is it a Feature or a Bug?
To double click down into the HEN NFT marketplace.  Art takes centerstage. Instead of finding the artist you like and then picking art within their collections, the pieces come to the forefront. To explore HEN is to explore the art.  We love that this removes the curated experience of other marketplaces (and what initially drew so many collectors to NFT platforms like OpenSea and more.)  With HEN the art is what matters, the creator comes second.
That being said, how long will the lack of features and the focus on art stay a primary feature and can the lack of elegant interface and user experience stay endearing?  Will the lack of functionality become a headache for collectors as the marketplace continues to mature.  There are already a number of projects that are trying to organize the HEN NFT marketplace into a more digestible interfaces.  Our favorite right now is objkts.xyz that shows free NFTs as well as recently sold items for collectors to find.
Counterfeit NFTs
One challenge runs rampant on less regulated NFT marketplaces is counterfeit NFTs.  On ETH based marketplaces its usually easier for artists to identify an artist they like and find out if their art is authentic, a counterfeit, or a derivative of original NFT art from the creator.  In the case of HEN, it's more complex.  Since most art is incredibly inexpensive, it probably doesnt matter for collectors.  If you are buying art on the platform for real money, it is important to go back to the artists profile on twitter or social media and check their HEN link. From there you can compare the issuer ID (also their wallet address) to confirm that the HEN NFT they've published is from the same issuer and therefore authentic.

Buying NFTs on HEN
The first thing you need to buy NFT art on HEN is Tezos.  Right now, Tezos is the #34 Ranked Altcoin on most marketplaces.  It's growing and becoming popular due to its accessibility, relative impact on the environment, and accessibility via HEN and other growing marketplaces.  We will watch this currency closely to see how it grows over time and see if it can break through into the top 20 or 25.

For this example, first you need to buy Tezos (available on Coinbase).  If you are familiar with ETH based wallets, Tezos follows a very similar pattern.  Instead of using Metamask, you can down a browser based wallet called Temple. Temple is a Cryptocurrency wallet for Tezos blockchain and essentially mimicks the functionally you'd find in a metamask wallet.  You will have to create a seedphrase (for wallet recovery) and a password.  From there you will initiate a transfer from your coinbase (or other marketplace) to your wallet.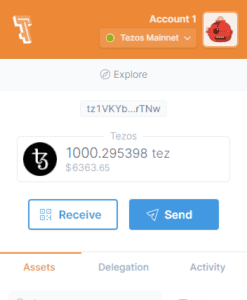 Once you've transferred funds into your account, all you need to do is connect your wallet to the HEN marketplace and you're ready to start collecting!
visit hicetnunc.xyz on the tip right of the website you'll see an option to connect your wallet
a Confirmation Connection will pop up for you. Press Connect
Start browsing for art. Within HEN they are described as OBJKTs
Click on an objkt you want to collect
On the right hand side you'll see "collect for XX tez)
Click that link to pop up Temple tezos wallet
Select if you want to increase your gas or storage price (to increase likelihood of successful transaction and usually $.01 more expensive)
Click confirm
Wait for Objkt to appear
You can then decide if you want to put the art up for sale or collect forever.
HEN final thoughts
We hope this HEN overview was useful.  We're having a ton of fun collecting various artists.  What do you think we'd love to learn more from the awesome community!
Follow us on Social Media