Natasha has this special gift. Her art makes me feel something. These feelings swell in fact  – perhaps I'm in a different decade, maybe I just attended an incredible concert, or I may have traveled by car cross-country. I am not the only person with these experiences, as Natasha's art has been featured on concert posters, major beverage companies and even a car company.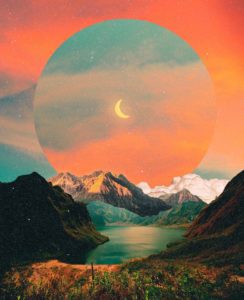 I spoke with Natasha and learned of her incredible story. She was a straight arrow. Her family traveled much, due to careers in the Army and in politics. She figured a degree in Political Science should do the trick, and off she went to start a career in politics. She did grow up in DC after all. A simple summary, I know, but let's get into the good stuff- her art. Natasha has been an artist since the age of 12, making collages from magazines and such. She never imagined it could be possible to make a career of her works. Following a career in politics, she became involved in nightlife, festivals, and even moved to LA to study entertainment law. She began designing concert posters, album covers, utilizing digital collage as her medium. The work was incredibly well received, and in 2018, her art went viral on social media. She was then able to pivot into a full time career as an artist by selling her prints. Talk about a game changer. Taken from her website, Natasha describes her art as, "surreal landscape collage art with refined visionary and psychedelic elements."
The jump into NFTs came two years later in November of 2020, with her first pieces minted in February of 2021. Natasha is currently creating newer works, which will be sold solely as digital pieces. She has a major passion for the capabilities of NFts and how far she can take their use cases. Her works may be found on SuperRare, and she also has a stunning collection of prints available here. You may also follow Natasha on Twitter to see what exciting and magical projects she'll bring next. Check out her Q&A below to learn about this  gem. 
Find her work on SuperRare
Ashley_NFT
Name (Display name) POST WOOK
Where are you from? Los Angeles, CA
What is your favorite thing to do on a weekend? One thing you cannot live without? I
absolutely love to go hiking on the weekends. I've found that every time I say I can't live without something the universe takes it away from me!
Who is your favorite artists (Non NFT)? I really love dark surrealism so probably Francis
Bacon.
Who is your favorite NFT artist? I have a few, but I really admire the work of Joe Horner
(@flowerblocks)
What made you pursue NFT art? The reasons I stayed were definitely not the reasons I
joined. I found out about the NFT space in November 2020, and created an OpenSea account
in February 2021. I knew something powerful was happening and the prospect of being able to
say 'no' to more commissioned projects was exciting for me. But I stayed because I realized
how powerful it is to interface with artists all day long and explore the technology presented
within the smart contracts of each token. The convergence of art + technology is fascinating in
this space.
What is the one piece of NFT art you wish you had purchased but missed out on? I wish I could have minted one of Vinny Hager's Letters! I absolutely love his abstract work and the
combination of colors and shapes in the Letters collection is so cool.
If you could travel anywhere in the world where would you go? I would love to go to the
Amazon rainforest. I am an avid plant collector and I would love to see rare, tropical plants in
their natural habitat. Runner up is Banff National Park in Alberta, Canada.
Follow us on Social Media