The decentralized NFT marketplace.
By the people, for the people.
X2Y2 is another new #NFT marketplace that is taking a similar approach to some of the token drops (SOS, ENS, ETC.) and LOOKSRARE the new wETH NFT marketplace.  NFT Traders over the last year get a range of claim tokens based on volume and how many NFTs they list on the platform.  The token for this project has gone parabolic nearing $4.00 per token (power users who've traded over 30 ETH of NFTS can claim as much as 1,000 tokens). This would be more than 1 ETH for users able to extract their tokens and flip.
Right now, claiming your X2Y2 is locked, essentially turning this into a Honey Pot (its valuable but you can't get it). creating supply issues that is driving the price up.
X2Y2 allocation​
The total supply of 1,000,000,000 X2Y2 tokens will be allocated as the following.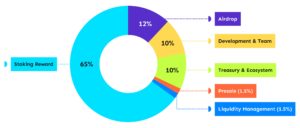 Percentage of Total Supply
Total X2Y2
Airdrop
12%
120,000,000
Development & Team
10%
100,000,000
Treasury & Ecosystem
10%
100,000,000
Presale
1.5%
15,000,000
Liquidity Management
1.5%
15,000,000
Staking Reward
65%
650,000,000
Total Supply
100%
1,000,000,000
Vision​
We at X2Y2 share a vision: to build a truly decentralized NFT market and give it back to the community.
No private token sale – The liquidity bootstrapping comes directly from a public Initial Liquidity Offering, and are locked permanently.
Share the market fees – 100% of market fees collected are rewarded to X2Y2 stakers.
Inclusive airdrop – An airdrop that covers all OpenSea users that had traded before, and never expires.
An NFT Market, But Better​
X2Y2 are built by a highly experienced team, with industry-proven blockchain solutions. It is designed to avoid many known issues of OpenSea, and further improve the experience of trading with convenient features like:
Bulk listing – List multiple NFTs with only one transaction.
Batch purchasing – Buy a bulk of NFTs at once.
Real-time notification – Send activity notifications / mails of your items.
Rarity integration – Browse NFT traits rarities without installing extensions.
Creator Economy​
Creators are one of the most important parts in the NFT ecosystem, so X2Y2 will provide a full set of tools to help collection creators better serve the NFT whitelist minting and royalty management, and provides real-time royalty payment at the moment of sale.
Follow us on Social Media