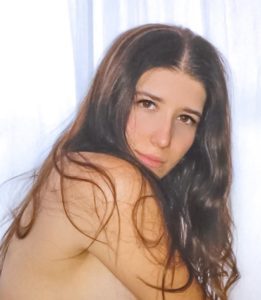 I've been living along the coastline of Western Australia for the past couple of years. I grew up near Brisbane, Queensland, then my family (husband and toddler) made the impulse decision to sell everything we owned, pack our car with the essentials and move down to Tasmania in 2017 – we spent three years here, lived minimally and without furniture, completed our university degrees, had our second baby, sold our car and travelled everywhere by foot or public transport during this time. It was a very grounding time period for us that helped us get in touch with ourselves and as family.
Can you tell us about your background and what lead you down the path to becoming an artist and ultimately experimenting with NFTs?
I've always been a creative person (growing up I dreamt of being an artist and a contortionist in Cirque de Soleil, and practiced every second I could) but this vision was quickly discouraged in childhood by my parent. All throughout school I was encouraged by my peers to pursue art, but listened to the advice of my family to focus only on academics – I went on to study Speech Pathology (straight up, I failed the first Semester), then changed to Primary School Education because I didn't know what I wanted to do. I finished this degree while having 2 children and navigating motherhood alone, moving states and four different homes, getting married, and more… I had relief-teaching work lined up in WA and then the pandemic hit – all of the schools closed down and isolation took place. 
Over the years leading up to this, I experimented with woodcarving, embroidery, sewing, and traditional art mediums – but I needed a creative outlet more practical in a small apartment with a family; my husband bought me my first iPad and hesitantly I began learning digital art, thinking it wouldn't be my thing – then I fell in love with the process! Within 8 months of learning how to draw people and using a digital art medium, I had commission requests, sold prints internationally, was a part of my first IRL exhibition and sold 3 of 4 pieces, won a local art competition, and worked on designing graphics for a local coffee business. It was actually pretty crazy how fast things moved. NFTs were introduced to me through a crypto investor who purchased a commission and pushed me to look into art NFTs – he still tells me to this day to make sure I don't undervalue my work; I'm very appreciative for all his support!
When did you mint your first NFT? What platform did you choose and why?
Early 2021 I minted a piece called "Crypto Virgin" on Rarible – this was the only platform I was aware of at the time. Navigating the NFT/crypto space at first didn't come naturally and was very confusing! Funny thing is this piece is still available to this day – there were offers early on but I had no idea how it all worked haha, oops!
Can you tell us one thing you cannot live without? (and why)
My iPad – it's so practical and I love creating as much as I can.
Talitha King Art on Opensea
Pierce
You will know my name.
'Pierce' # 7 / 100
First-collectors of this piece will also receive a hand-signed giclée fine art print to go with their NFT 🖤
Dimensions: 6875 × 9734px ✦ Size: 20.7 MB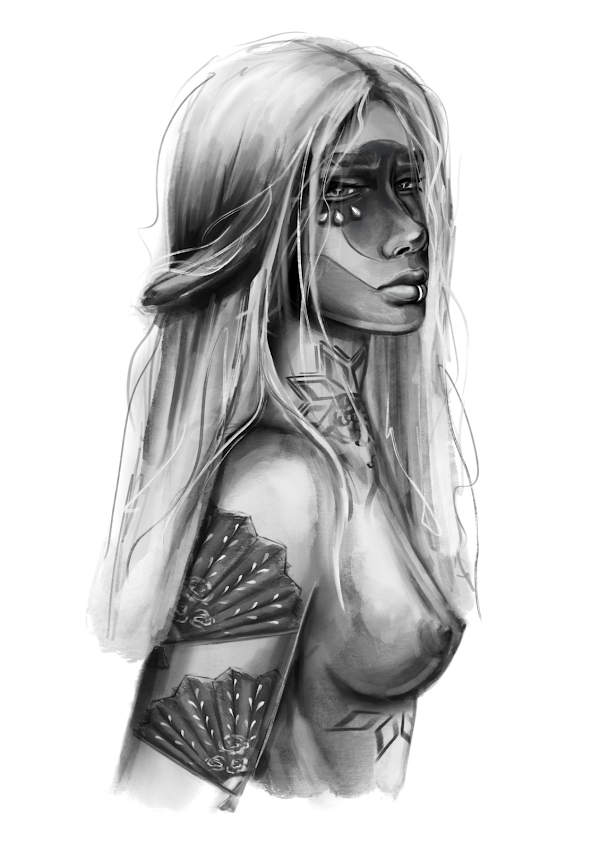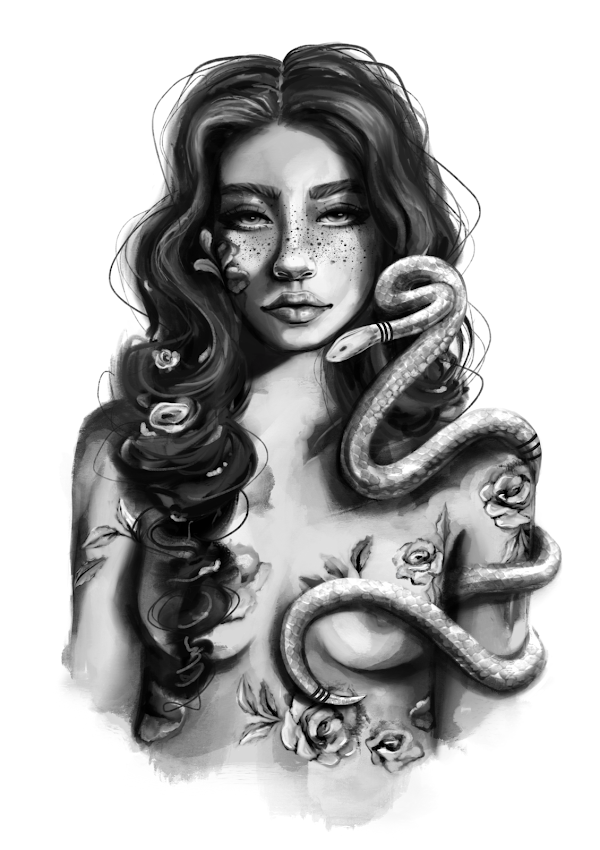 Eve
Vulnerable, but she isn't naive.
'Eve' # 12 / 100
First-collectors of this piece will also receive a hand-signed giclée fine art print to go with their NFT 🖤
Dimensions: 6875 × 9734px ✦ Size: 19.8 MB
Dragonatrix
You want to be free. You also want to be mine. You can't be both.
'Dragonatrix' # 14 / 100
First-collectors of this piece will also receive a hand-signed giclée fine art print to go with their NFT 🖤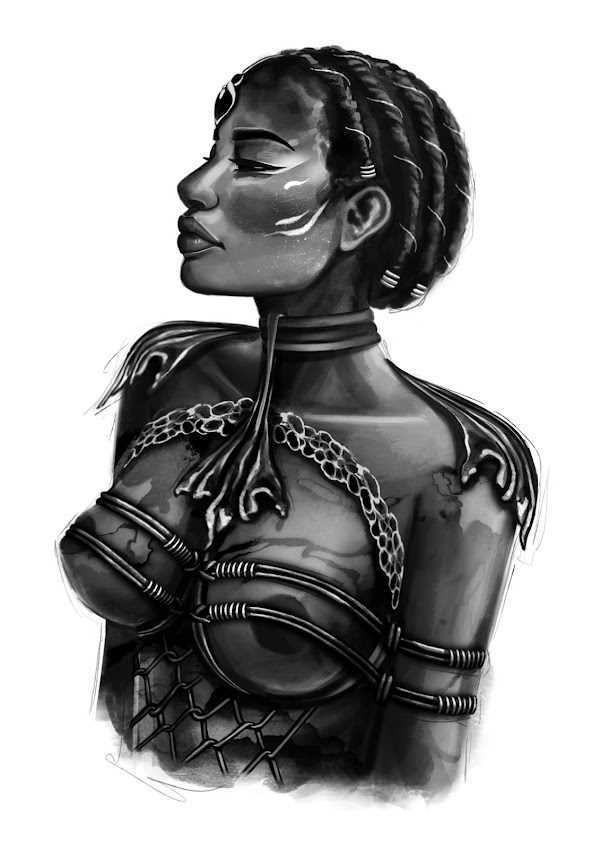 Who is your favorite artist(s) (Non NFT)? What about their style resonates with you?
Gustav Klimt – the way he painted expressions, and his use of shapes and gold have captured my heart for as long as I can remember – 'The Kiss' heavily influenced my love for gold within my digital paintings.
Leonardo da Vinci – fascinated by the way he combined science and art – I remember being amazed by the anatomy portrayed in his piece, 'Vitruvian Man', as a young child.
Soey Milk – her oil painting techniques are stunning and I love the way she portrays women, paints textiles and textures, and captures these creative, calm environments! I'm especially fond of her recent 'BLOODGRASS DECOMPOSITION' piece, and the 'SODAM' and 'SOOM' collections.
Moody Dark Room – the lighting and creativity is simple but insanely creative; I love his use of projectors and how they perfectly capture basic human emotions in a euphoric and romantic way.
Lindsay Rapp – the first artist's work I fell in love with on socials; I was instantly drawn to her use of colour and mother-of-pearl, the dynamic energy of her brush strokes and the magic she captured in her oil paintings. I looked upon and drew strength from her piece 'Misty Copeland' countless times when I was going through challenging times. In addition to Klimt, her use of gold also influenced my style when creating digital paintings.
Relm @relmartist – the first artist I came across who creates unorthodox vulnerable, erotic pieces – some of her ideas were unusual to me at first, but the more I looked the more I loved the concepts and creativity; her work has also encouraged me to feel more comfortable exploring this side of myself through art.
Who is your favourite NFT artist? What makes this artist unique?
There are so many NFT artists I highly admire! In choosing only one, it would have to be WLOP – his work holds an insane level of attention to detail; I'm most impressed by his rendering, and techniques in tying the environment and subject matter together as it would be in the natural world.
Talitha King Art on Foundation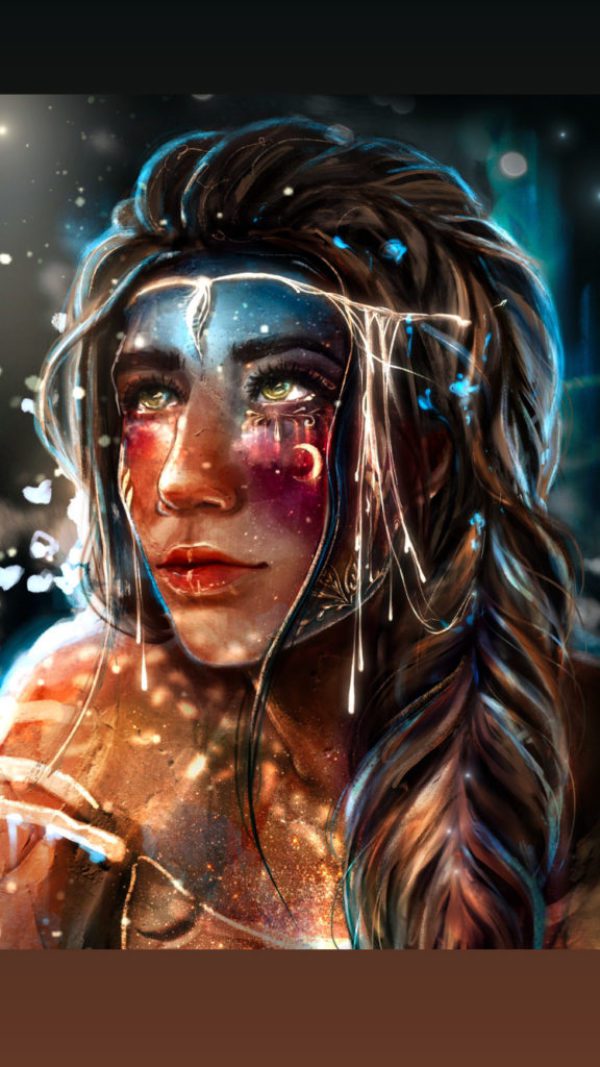 ALEYWA
ALEYWA: the thriving pulse of life, interconnecting every breathe, spirit and story.
Dimensions: 2480 x 3508 px
The first collector of this NFT will additionally receive the original digital painting and a physical fine art giclée print of ALEYWA.
The Keeper of Souls
💫 The Divine Deities: The Keeper of Souls 💫
A collaboration between Regina Wamba and Talitha King Art
Holding a spiritual presence as the gatekeeper, she guides all souls to their truth & light. There is a comforting feeling of history, flowing energy, & ancestral presence. She is wise yet so in-touch & grounded. Her divine presence is sacred, as she devotes her whole being to guiding all souls for eternity with her enchanting light.
Incl: full-res digital painting + fine art print ✨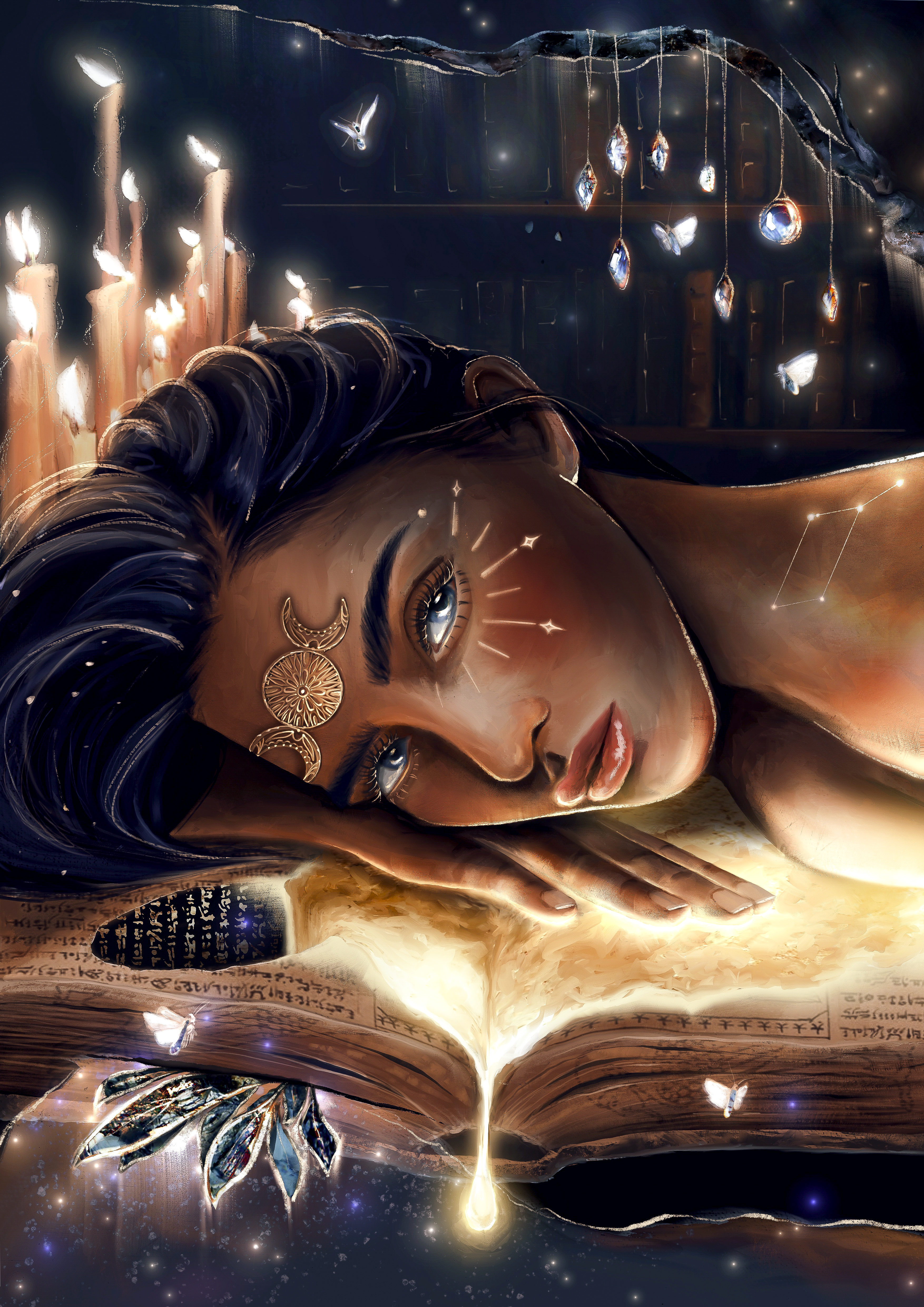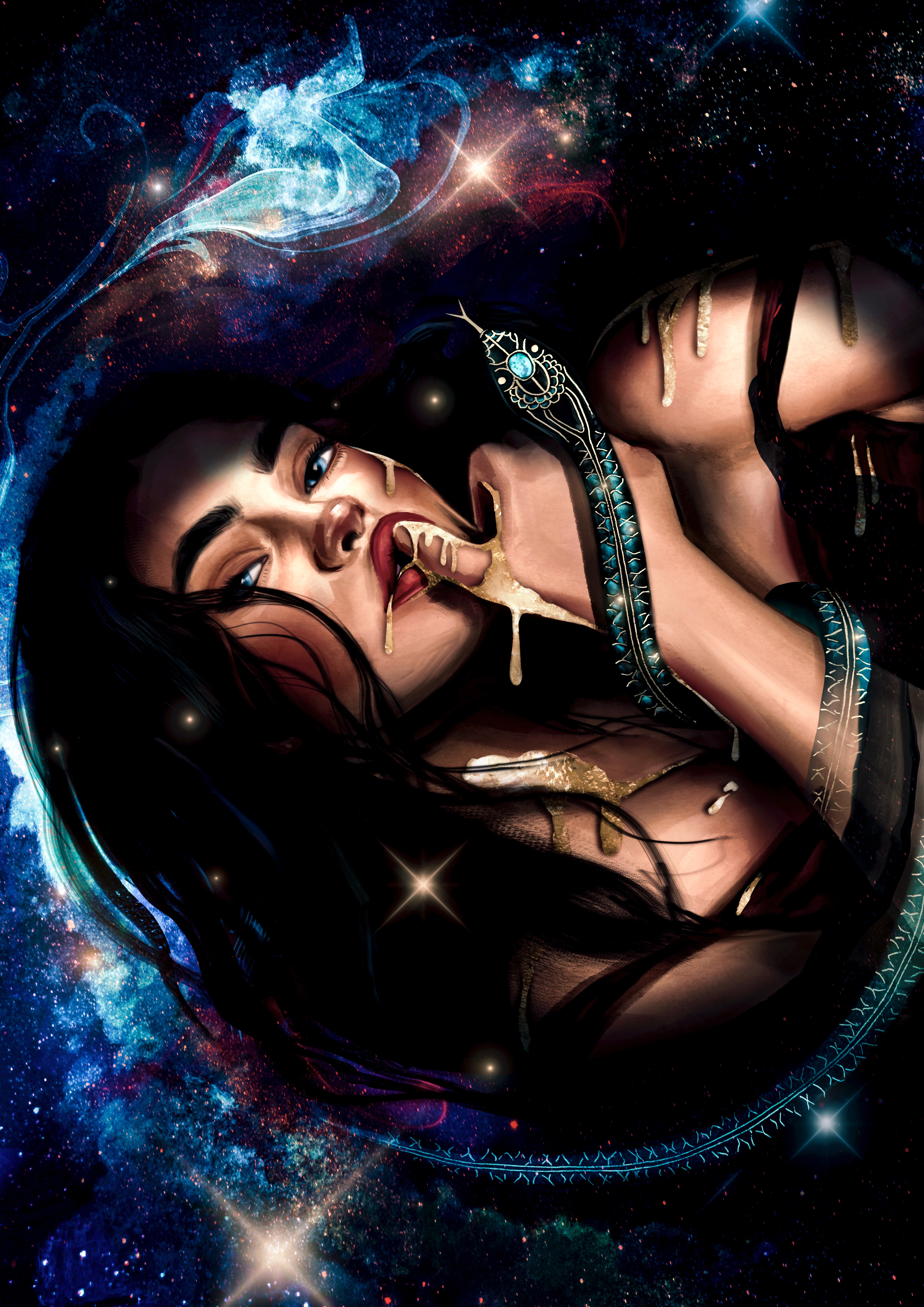 Seductress of Temptation
💫 The Divine Deities: The Seductress of Temptation 💫
A collaboration between Regina Wamba & Talitha King Art
Our youngest Deity sister is The Seductress of Temptation. She & her energy sourced through the celestial serpent know exactly your desires. She wants you to feel so fucking empowered. To realise your uniqueness, your strengths & your determination. Now is your time. Fucking own it & while you do, make it nothing less than incredible.
Incl: full-res digital painting + fine art print✨
What made you pursue NFT art?
I was creating commissions through my art business on Instagram – one of the art collectors introduced me to NFTs as they are a crypto investor themselves, and pushed me to sell my art through the NFT space and get a part of the NFT Twitter community. I created a Twitter account, started connecting, finding online events, shilling my work/art process, and supporting as many artists as I could – a whole new world of creativity opened up and couldn't believe the amount of incredible and passionate individuals I was meeting!
What is the one piece of NFT art you wish you had purchased but missed out on?
A handful of pieces from the "ABOVE PARADISE" collection by Jess Loiterton (@jloiterton) – I instantly fell in love with the Hawaiian seascapes, especially the pieces with vibrant rainbows and calm water. She captures my dream escape perfectly. I was saving up to purchase them but was too late!
If you could travel anywhere in the world where would you go? Why this location?
All of Europe and Egypt – completely fascinated with the rich history of these countries, the creativity throughout Europe, and the spiritual connection with Egypt's land and ancient structures. 
Japan – to experience both the exciting city night life, and the beautiful rural lands and nature. I love their culture so much!
In all honesty though, I would love nothing more than to travel and experience all of the countries around the world; every culture holds their own unique beauty. 
What are your other passions besides art? Why?
Health, fitness, mobility – I learned how important it is to find that balance in taking care of my physical and mental health to be my best version for my family, community, and my art business.
Hiking, travel, adventure and the outdoors – I haven't done nearly enough of these things because of finances and the course of our family life so far, but I know I will and hopefully very soon. I'm excited for the experiences!
Do you make other forms of art?
I currently create digital sketches and paintings, and am stepping back into learning 3D and portrait photography. I also love working with clay, wood carving with hand tools (hatchet and knives), embroidery, sewing, and DIYs around the home.
How did you come up with your specific style?
With no pressure to form a specific style and to just to enjoy the process of experimenting. Any time I came across an artwork or portrait photograph I liked, I would make a mental note of what it was I liked about it – whether it be the lighting, eye structure, rosy cheeks, dynamic pose, expression, colours, textures, etc… Slowly I've been piecing together what I admire and making it into my own, in combination with my own sensual vulnerability, and moody or spiritual energies. We're dynamic, multifaceted beings and it's so much fun sharing all these sides of ourselves through art!
How has your style evolved over the years?
I went from a flat, cartoon style to sketches/paintings that convey more emotion – I found a sense of confidence and freedom in creativity where I don't have to be afraid of letting go. My art is all about embracing who you are in all your beautiful, vulnerable, edgy, empowering, and emotional stages… wherever you are in your life. There's so much depth to each of us.
What was your greatest failure and what did you learn from that?
Within this NFT space: I rushed to create more artworks when things were going well for me during the NFT hype of 2021 – I put too much pressure on myself to "keep up" and struggled to produce pieces that I felt completely confident in. I burned out, struggled with my health and started losing the love for creating. One of the reasons why I started this 100-piece "For the Sake of Art" collection – I brought things back to basics. What may seem like a step back in art style at first, has actually been such a liberating experience. I stripped back the use of colour to rediscover myself and build upon who I am as an artist. It's been beautiful and I feel so excited to continue experimenting with different mediums and ideas as the year goes on!
What is coming in the near future?
Over this next year, I will have completed my 100-piece sketch collection on Open Sea. I also plan on pushing myself that bit further by speaking in more Twitter spaces, participating in virtual events, creating my first 3D portrait artwork, and finishing up my website for those wanting to collect physical fine art prints of my work. 
If you could collaborate with one artist, who would it be?
I can't limit it to one here! There are three portrait photographers I admire incredibly; Regina Wamba, Mannat Singh, and Moody Dark Room; the quality of their work, ability in storytelling, and how they're able to draw out such deep, vulnerable emotions conveyed by their models blows my mind – I can only imagine how amazing collaborating and working alongside them through photography would be.
Do you have any upcoming drops?
Besides the 100-piece sketch collection I'm continually adding new pieces to, I will also have a few larger sketch artworks and digital paintings which I will release as 1/1s on other platforms such as Foundation, PRISM NFT Marketplace, Makers Place, or Known Origin throughout this year. These pieces will combine similar themes of sensual vulnerability, mythical creatures, moody energy, or magical experiences.
Where can collectors find your work?
Link to Website:
All of my links: https://linktr.ee/TalithaKingArt 
Social links:
Instagram: https://www.instagram.com/talithaking.art/ 
NFT marketplace links:
Open Sea: https://opensea.io/collection/forthesakeofart
Foundation: https://foundation.app/@talithakingart 
Follow us on Social Media