The Residence DAO is reshaping the way people experience the world by providing community members (i) direct access to a portfolio of luxury properties in premier travel destinations, such as Miami, New York and more, (ii) crafting personalized experiences for guests and (iii) fostering a community of nomads and world travelers.
The team includes a Harvard Law School alum, current and former employees of Google and Goldman Sachs, full stack developers and real estate investors. The team has worked with Foley & Lardner, a top international law firm that specializes in real estate, hospitality and NFT law. Foley has worked on many notable NFT projects in the past.
Residence DAO Details
Membership to The Residence DAO is unlocked by purchasing the NFT.
Membership NFTs will generate a daily token yield that members can use to reserve nights at the luxury properties.
Prior to their stay, each member will receive a customized itinerary generated based on their tastes and desires.
Premium services, such as a personal driver, table reservations at a nightclub and various activities, can be purchased with ETH or USD.
Being a member of the Residence DAO comes with certain governance rights, such as voting on which cities the DAO expands to, what IRL events the DAO hosts and more. DAO members will also have a say in key decisions the DAO makes regarding the properties and experiences.
Miami Membership
3000 total
Enjoy the perks of Residence DAO including:
Access to reserve all of our Miami properties
Governance rights via Membership NFT
0.1 token per day yield
Personalized experiences based on your tastes and desires
Access to members-only Discord channels
More to come!
0.305 ETH
Global Membership NFT
500 total
All of the perks of a Miami Membership plus…
Access to reserve ALL of our global properties
5x governance rights via Membership NFT
2x token yield
Access to premium concierge service during your stay
Priority reservation access
Whitelist to future mints and more!
1.25 ETH
Tokenomics
The formula for reserving a night is a time-driven function that puts a premium price on reserving nights early and discourages last minute reservations. This ensures that both holders of multiple NFTs and holders of only one are able to reserve available nights.
This formula operates similar to the traditional hotel model, where there is a balance between planning ahead and timing. As more properties are acquired, there may be opportunities for the DAO to vote on changes that will affect availability and token costs per night.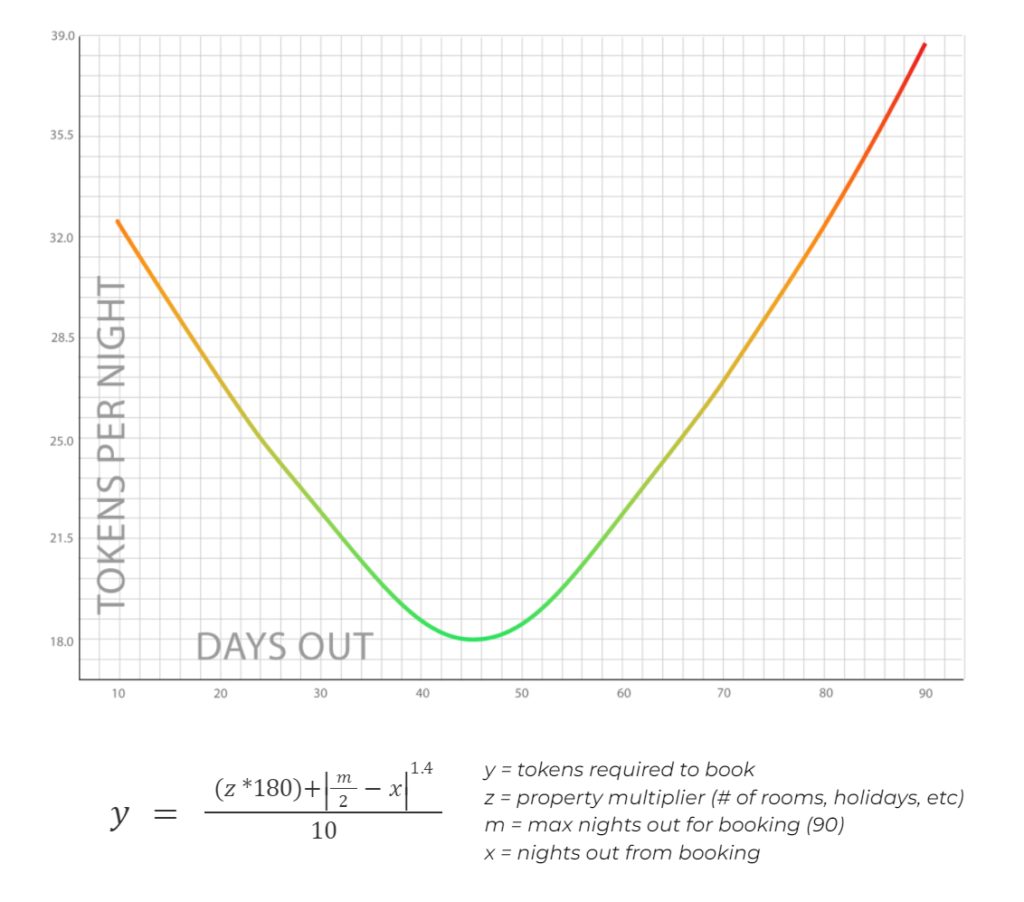 100% of the net proceeds from the primary sale of NFTs will be used to:
Acquire luxury properties
Build the infrastructure needed to ensure a seamless member experience
Cover operational and other expenses (like lawyers, accountants and other boring stuff)
Further initiatives as approved by the DAO
As soon as practicable after minting, ETH will be converted into a stablecoin or USD to ensure the proceeds are not subject to ETH price volatility.
There will be a 5.5% royalty on any secondary sales. This will be used to subsidize ongoing operations of the project, such as acquiring additional properties, property management costs, insurance, taxes and HOA fees. Since it is impossible to accurately project secondary sales volume, the team is not relying upon this royalty alone for ongoing expenses. Whenever the property is not being used by NFT holders, the team will list it on short term rental platforms to generate cash flow. This will be the main source of income for ongoing contingencies.
The Team
Ash (Shah) is a graduate of Harvard Law and a former corporate attorney at the #1 law firm according to Vault rankings. He currently works on Wall Street as an investment banker, and he has investment experience in real estate and equities.
Anthony (NonFungibleTony) is a people expert who specializes in Community and People Development at Google. His people skills are extraordinary and he's critical for the development of member experiences.
David (GLM) works on Wall Street as a bond trader specializing in mortgage-backed securities. He has extensive investment experience in real estate and has invested in many successful Web3 projects.
Tyler (Buc) is a full stack developer and an early investor in many successful Web3 projects, including BAYC, Kongz, and many other top-tier projects.
Sandro (AltAssetAnon) Is an early participant in the Web3 community. He has helped Co-Direct the Sneaky Vampire Syndicate Alpha and helped collaborate with various projects. He has also been in construction/development for 5+ years and brings a great real estate perspective to the project.
Follow us on Social Media