Sares, thank you so much for taking the time to speak with us! Why don't we start with where you are from.
I was born in Argentina and that is where I live. But I believe that we are more than where we live, because the experiences that form and feed us are outside of our comfort zone. Taking this into account, it was that at the age of 21 I decided to give my life a radical change and venture to break with the borders. That is why I moved to Colombia and I was there for 2 and a half years.
Although I always had an inclination for art, I think that's where my career changed completely. At first everything was shining, but over time the situation got a little more intense. Due to the need to move on, I gave up my career as a photographer, a difficult but necessary decision to continue, since I had to sell my camera in order to pay the rent. They say that the most complex moments are where the best ideas come from, and that's how it was. Because after going through several jobs as an assistant, sales manager for an image bank, photography teacher and assistant on a farm; I started, thanks to a friend, to learn about Art Direction. After a while I returned to Argentina, but I must say that I had two unforgettable things: a career that allowed me to grow and a friend whom I still consider today the older brother I never had.
At the beginning it was strange to be back in my country, but thanks to the effort, perseverance and hard work, I got my first job as a creative and art director in an advertising agency. I must say that it was quite a personal achievement since all my education was self-taught.
Today I still live in Argentina, but my sights are set on breaking the borders again thanks to art.
Can you tell us about your background and what lead you down the path to becoming an artist and ultimately experimenting with NFTs?
Following the line of those that I told you before, my life is divided into two great moments: Before and after my departure from Argentina.
If we talk about before, I must say that since I was a child I have had an inclination and appreciation for art, something that I am really grateful to my family since they encouraged me to look beyond what is seen, and thus also to defend my ideas and values. Without going too far, there is a story that my relatives always tell that since I was a year and a half old I sat looking at a book that was in my grandmother's house where there were some reproductions of works by Rembrandt. Also that my aunt taught me the colors with pencils. This is how the need to create and express myself was born in me, thanks also to my parents who supported all my artistic hobbies: drawing, painting, miniature painting, etc.
Already as a teenager, around the age of 15, I began to take this more seriously. I spent hours drawing, because at that age I grabbed my first spray can and went out into the streets. Although graffiti is something that I find fantastic, it had much more connection with the portraits using the aerosol as a technique. That's where I found a passion and a direct link to art, making me choose to major in Art within my school studies.
Having spent a few years and after leaving the fashion designer career (I love fashion as a method of communication) was that I began to approach photography. My grandfather gave me my first camera for my 18th birthday, an analog Konica. And with it I began to try self-taught. I liked it so much that I decided to study fashion photography, it combined the two things that I was passionate about and it was something that focused on the human portrait, something that, as I said before, always captured my attention, because I think that people speak without words when they are in front of to a lens.
With publications in Argentina, coverage of Buenos Aires Fashion Week for two consecutive years and editorials in Colombia prior to my trip, it was that I decided to leave.
After my return, and after working with my dad in his construction materials business, I worked and currently work as an art director, at first in advertising agencies, until life put me on the path of the entrepreneur after that I was fired from an agency, causing me to set up my own creative studio: BORK Studio.
I think that there was always a transversal line during more than 10 years of career in the world of advertising: the link between creativity and technology. Something that I always tried to include in my work for clients like L'oreal, Adidas Originals LATAM, Renault, Supervielle, Unilever. That combination is something fantastic and I was able to fully apply it when, thanks to BORK, I got to know and entered the 3D world. It was always my biggest fear, but they say that things happen when we break barriers.
I remember that thanks to a colleague, who one day spoke to me and my wife, Barbi Ares (@barbiares) about NFTs back in 2020, it completely captured my attention and I began to investigate to understand how to enter, there was not much information at that time and Twitter was not very good for me, but I decided to accept the challenge and join. Meanwhile, and taking advantage of the pandemic lockdown, I sat in the chair to learn everything I could in record time. Once again I had chosen the hard path: Learn Houdini and enter a world I was completely unfamiliar with.
At that time we worked together with Barbi under the name of SNTG, until a friend told me: build a strong branding. And by combining Barb's last name and my first initial, SARES was born. Nowadays everyone manages their own account with their personal style, I run SARES and Barbi under her own name, but we continue to work side by side (Literally, we share the desk in our house hahaha)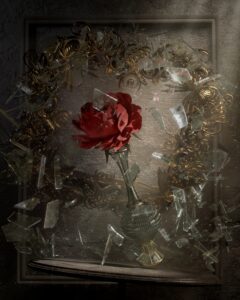 " Once again I had chosen the hard path:
 Learn Houdini and enter a world I was
completely unfamiliar with."
When did you mint your first NFT? What platform did you choose and why? 
On August 22, 2021 to be exact, I still remember the nerves of that first mint.
My genesis was in KnownOrigin, I had been researching other marketplaces but they didn't quite convince me: Foundation was by invitation, SuperRare was with an application and it felt unattainable, OpenSea didn't quite convince me for 1/1 art.
The day my friend told me about NFTs, he told me that he was in KO and had very good user support and artist support on social media. It sounded really great for someone just starting out. So I decided to take a risk and send the portfolio I had, days later they contacted me to tell me that I had been selected.
Who is your favorite artist(s) (Non NFT)? What about their style resonates with you? 
If we are talking about an artist who absolutely resonates with everything I do, I must say that Caravaggio is my favorite. The strength of each piece seems fascinating to me, that environment focused on drama and tension; accompanied by the lighting technique and the general concept, they make a mix of elements that generate an atmosphere charged with visual and conceptual intensity. These features, in my opinion, are incredible. Since it loads the canvas with a message that takes the viewer out of their comfort zone, generating that necessary discomfort to reflect, while making them a witness to what happens on the scene.
From a photographic point of view, Tim Walker is an artist who has captivated me since my beginnings as a photographer. His dreamlike scenes and concepts, and how he integrates different aesthetics and attitudes is truly inspiring. I think his pieces speak of the past and future in the present.
And Ale Vidal, an artist that I discovered relatively recently and it was a connection at first sight. Her way of working movement, light and atmosphere in each piece has a mix between delicacy and a strong spirit where aesthetics shines in truly exquisite compositions.
And I must also mention Alyssa Thorne and Tanya Gomelskaya, they seem to me to be two artists who take a mix of classic styles to another dimension. Literally speaking, their style and how they carry it out seems to me to be something truly inspiring, really strong, impressive and innovative works in my opinion.
Who is your favourite NFT artist? What makes this artist unique? 
Here I could mention many artists to be honest, although I don't believe in the distinction between artists and NFT artists, everything is digital art. But focusing on the community, there is an incredible amount of talent, which is why naming just one would be impossible. To name a few, I could tell you:
Billelis
Min Shi
Daria Antypenko
Vittorio Bonapace
Foleee
Beryl Bilici
Barbi Ares
JJ Ribi
Ergin Ishakoglu
Each one of them has a defined and consistent style, be it with the technique, with the composition or with the conceptualization. But what, in my opinion, makes them truly unique is that their works generate the need to see and analyze them in depth, a quantity of details that arouse a thousand emotions when one is immersed in the pieces.
What made you pursue NFT art?
For a few years there has been a need within me to express what I think and feel, although I always put things into words, and sometimes in a somewhat crude way haha, I began to feel that I wanted to break the routine of creating for others and start creating for me. And in this way to be able to give a place to the externalization of those feelings, emotions or situations that at some point in life made a change in me, making me who I am today.
Although I love being part of the world of advertising, for some years now it began to happen to me that I needed to change my perspective and my actions because, day by day, I was mutating to a side where I was not interested in being. And at the moment I decided to become independent as a professional, the need to create without depending on other people's observations or confusing feedback also arose. A rather big break since I began a new personal search: the construction of a path as an artist. And I say path because I believe that this is not something that has an end, as one develops it mutates, and that is how it becomes something constant; but unlike advertising, this path leads to the construction of a balance between the self and the other, due to the link we generate with our values ​​and ideals.
This duality in constant movement is what leads me to work in 3 times, that is, learning from the past while thinking about the future, but always capturing the present. That fair point of the chaos of the passage of time.
In short, the need to find freedom and a space where I can express the essence of what I believe.
What is the one piece of NFT art you wish you had purchased but missed out on? 
I remember that when Transcendance, by Billelis, came out, I fell completely in love with this piece, it was clearly out of my financial reach, but if I could buy it, I would not have hesitated for a moment.
Transcendance by Billelis: https://superrare.com/0x71017b774639e586628e436fc1091155586c2cbf/transcendence-1
If you could travel anywhere in the world where would you go? Why this location?
 There are 3 places that I have yet to visit: Armenia and Lebanon. Although I could say Italy is one of my fav European countries, it has a strong culture that marks the aesthetics of what I do. I feel that the link is more tied to identity than the search for roots. And in my case, the countries that I mentioned above define part of my identity, since my family has descendants from both places. A few years ago I began to investigate and learn more about where everything that has been building me since childhood comes from, especially after the loss of my great-grandfather at the age of 18, who left me teachings that really marked me as a person. Both countries have a truly incredible culture and the development of a particular aesthetic; And that is precisely where I am currently searching: finding a point where the aesthetic development that has guided my work since I began and the aesthetics that define my identity as a person come together.
What are your other passions besides art? Why? 
Apart from art, I think there are two great concepts that are my other passions. On the one hand, there is knowledge: I really love constantly learning, it is something I dedicate at least an hour a day to because I think it is the best exercise to keep my mind active and fresh, a key characteristic when creating what be. And on the other hand, I could say that fashion is something that has captivated me for several years, I think it is a great social and artistic expression. And beyond the fact that I materialize it by collecting sneakers, it is real that it captures in garments each cultural moment of society.
Do you make other forms of art? 
Yes, in fact it is what I use as a tool when I have blockages or feel overwhelmed in the head. Writing and putting thoughts into words is something that I find fantastic. The ability to express ourselves and communicate with words is one of the characteristics that defines us as a species. And as an exercise it is really interesting because it helps us develop conceptualization and narrative.
In fact, my inspiration in general terms comes mostly from Rio de la Plata Literature and the lyrics of the rhymes that Spanish hip hop has. It seems exquisite to me, the concise and precise construction that both things have to make daily descriptions in a really beautiful and synthetic way, is something that awakens the imagination in a very particular way.
How did you come up with your specific style? 
I honestly believe that it was a progressive construction that was put together over the years.
As a first general approach, since I was a child that I have been very aware of classical art, as I told you before there was always an art book at the home of a relative. At the same time, I always had a very close link with classical architecture thanks to the fact that my godfather, a very influential person in my life, studied architecture when I was little, so I remember being very connected from that side as well. I remember that he had a painting that was an architectural sketch of Versailles, I always kept looking at it when I passed by.
On the other hand, time is present in my work, this is because over the years I developed a certain appreciation for nostalgia, which in fact is one of the main triggers of the concepts I work on. A connection with those places detained in times of forgotten glory that reflect the passage of time in the crudest possible way, destruction as creation. Above all, because since I was a child I have been curious about how time is freely represented independently. I usually analyze it by looking at the behavior of humidity on objects or the deterioration of fruit, for example.
This developed over time. As the years passed and some of the most important people in my life left, the appreciation for what it was, grew. And that's when I began to embrace my roots even more, as a way of clinging to the construction of a real identity and keeping the memory alive in one way or another.
Another constructive element of my style is nature, this is where life and beauty come into play in their maximum splendor; I generally make use of flowers that I remember from my childhood, those that were in the garden of my house or that were the favorites of a loved one. The rebirth after chaos, that moment where we begin to rebuild ourselves. This is due to the willpower put in more than once throughout my life to get ahead after complex situations that changed my life in a decisive way. To give you a specific example, the day I ended my relationship with the last agency I worked for, I didn't see what happened next; 9 months without a job was not an easy situation, especially having to pay rent. But from that moment of bankruptcy where there was not enough money, the independence that I currently have arose, because that was when I was encouraged to jump and undertake. Getting ahead is always a complex task, but when you realize that you are not alone and that you can do it, the situation changes completely.
And finally there is chaos. The present at its best, that moment where destruction is expressed, the disorder of everything that happens in an instant but we do not get to contemplate. I have always been curious about entropy, seeing change and the process that leads to change from state to order to disorder. I owe this to my country, my character and how it was formed throughout my life: I must say that I grew up among people of strong character, firm convictions and an enormous appreciation for values ​​and ideals; This sometimes led to moments of tension, for example, which I understood more as an adult as moments of explosion. People sometimes need to release those thoughts that are usually destructive. The country where I come from is also added here, because as we all know, Argentina is characterized by being constantly unstable, always changing and this leads to life sometimes becoming a stress trigger that leads us to need to express ourselves. This is where the expression of the harshness of the reality that everyday life here comes into play.
How has your style evolved over the years? 
I would tell you that it unfolded as my life developed, as I grew up. For this reason, I believe that it is a constant evolution that will last as long as I last. It is completely based on personal experiences that make use of a combination of classic styles, to give rise to the representation of an instant triggered by the past but that impacts the future carrying a message that adds to whoever witnesses the piece. And I say witness, since I seek to bring an experience that envelops the viewer, a journey towards those deep thoughts that we usually have but do not share, instead of giving them an image to contemplate.
In my beginnings as a photographer I had an essence similar to the current one but I oriented it towards a neat side, towards full splendor, combining it with contemporary themes that were a trend at that time.
After a few years, and executing other types of graphic design and illustration techniques, I began to execute the destruction under a more rustic application, but it was carried out with contemporary aesthetics: new wave, grotezk, etc. Much more contemporary to tell the truth.
And at one point, when one Sunday morning in 2020, I set out to do an introspection job and create a personal branding without looking at any type of reference that comes from the graphic design side. That's when I found this style that I've been working on for 3 years, which organically expresses identity. Although it will continue to mutate for the first time, I feel that in each piece I make, I can express my deepest and most sincere part, my true self. And in this way generate a real interaction with the witness spectator, in order to create a sincere bond.
What is coming for you and your work in the near future? 
For now, there will be a series of drops shared with other artists for the launch of a new selling methodology on one of the marketplace I'm in.
And the launch of two series that I'm working on, which will come out on the dates that I usually mint year after year: one for September and another for the end of the year in December. I don't usually take many pieces for different reasons, one of them is the production time that 3D has.
And finally, we are in communication with a space brand to be able to do a collaboration between one of its products and its intervention with my style.
If you could collaborate with one artist who would it be? 
It's a bit difficult for me to just name one, I think I would love to collaborate with Vittorio Bonapace. The way in which he works the compositions, the scenes and the atmosphere that he generates in his pieces seems truly incredible to me.
But here I could not ignore the desire to collaborate with Min Shi or Billelis.
Do you have any upcoming drops? 
Yes, at this precise moment I am working on the post-production of a new series that I plan to launch during August / September, based on the concept of: Tombs of Glory. A series of pieces that talk about how oblivion makes those constructions that were formed generation after generation disappear, and the importance of keeping those memories alive so that we are not the ones who fall there tomorrow.
And I am already working on the conceptualization of a series of pieces that will close 2023 and open 2024. It has not yet been defined because I am debating between two ideas, but I am sure of one thing, I want it to be something big.
Where can collectors find your work? 
Link to Website:
Social links: 
https://instagram.com/sares_at
https://thehug.xyz/artists/sares
NFT marketplace links: 
https://superrare.com/sares_at
https://makersplace.com/sares/gallery/created
Biggest piece sold?
My biggest sale was AMARE, my debut piece within SuperRare.
I remember the excitement when Eth.co started the auction on that piece, I really couldn't believe it.
https://superrare.com/0xa9cf3fb2c4538ac95e0c822758ec745fcfed8360/amare-188
 What was your greatest failure and what did you learn from that? 
Since I started, I think I made a thousand mistakes, in fact that is how you learn in my opinion. From hitting our heads against the wall, the best lessons come out.
When I minted my genesis, I had no knowledge of how the pieces were priced. I remember that the gas was 100 usd at that time, I had put the piece in editions. Ten to be precise, at 0.1ETH. Crazy. Until chatting with a friend who was already in space for a long time, he explained to me how I could quote.
On the other hand, I spent shilling the piece instead of creating a place within the community. I remember my feed had completely mutated into tweets that were just Engagement Farming. Until one day a colleague explained to me how to move little by little to start connecting with the community.
I also think I made a mistake that I haven't been able to fix yet, but it's something I'm working on. I mean the way and the attention that I give to my social networks, I think they need a little more presence and content to be able to reach more people.
But if we talk about the biggest mistake, I would have to tell you this: when we started with Barbi Ares, we both shared the same wallet. She created a profile in Foundation to be able to develop her own style and I continued in KO; then I put together another wallet since I needed to put together a profile on Foundation as well. But, it turns out that my first sales and collectors look at his Foundation profile. Rookie mistake, very rookie, but that's how I learned how things work when organizing our channels as artists.
Anything else you'd like to share?
During the last few years, things have happened in my life that I imagined would be possible, and all thanks to having made the decision to change my life and start this path. Exhibiting in NY, Canada, China, Los Angeles and Italy was a great achievement indeed.
There is one more thing that I would love to share, and that is gratitude. Because nothing that has happened in recent years would have been possible without some people who gave me their unconditional support and left me great lessons. For example, if my mom and dad hadn't taught me the true value of standing up for our ideas and that hard work is what gets results, nothing would be the way it is in my life in general.
All of this is possible thanks to the constant support of my family, to my parents, to my sister, to my wife Barbi Ares, JJRibi, Hernán Ortiz, KRIEZ, Foleee, DDO, The Crypt Gallery and their entire team. And, above all, thanks to each of the collectors who believe in my work.
Follow us on Social Media