Many people are wondering if Late February / Early March represents the peak of NFTs. In our quest to answer this question, we realized that NFTs very closely conform to the prototypical "Hype Cycle".
NFT enthusiasts in the market research / IT space are probably familiar with Gartner Research's "Hype Cycle" concept, which is a way of representing the maturity, adoption and social applications of different technologies.
NFTs have officially been around since the adoption of ERC-721 Standard in January of 2018, but that standard itself was inspired by the release of CryptoPunks in June of 2017. The adoption of the ERC-721 Standard can be considered the "Technology Trigger" for NFTs represented in the chart above.
Other initial successes after Crypto Punks, such as Crypto Kitties, Decentraland and OpenSea led to massive amounts of research and innovation in the space, including the launch of Nifty Gateway in March of 2020 which aims to bring NFTs to the masses. Late in 2020, news of significant sales began reaching into the mass media. We would place December 2020 as the mass media hype phase of the initial peak.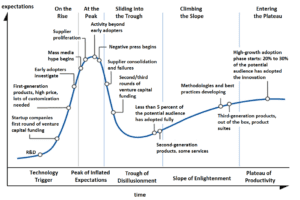 Next up, as we all have experienced, are the waves of new artists and creators joining the NFT scene, including the founding of this very website. The beginning of 2021 saw extensive activity beyond the initial early adopters, and this current phase culminated with the launch of Beeple's work EVERYDAYS: THE FIRST 5000 DAYS on Christies.com.
Beyond exasperated commentary regarding why a Beeple video would sell for $6.6M (See Beeple breaks another NFT record with Crossroad #1/1 selling on secondary market for $6.6m), we haven't quite reached the negative press phase that could be a leading indicator that we are on the downslope of the initial peak. NFT Culture staff is very carefully watching the Christie's auction. If the Beeple work exceeds $20M or so, it is very likely that the amount of media hype related to that sale would catapult the scene as a whole. If that ends up being the case, we are in fact just in a local downslide presently, a natural part of a much larger peak.
Further considerations to look out for in determining if we are past the initial NFT Hype peak and moving into the Trough of Disillusionment:
Collapse of Crypto Prices (BTC <$10,000, ETH <$500)
NFT Exchanges shuttering or consolidating
Highly publicized incidents of artists abandoning NFTs to return to physical works (its important to note that a few artists doing this as a form of contrarian art itself is not indicative of the overall art scene exiting the space)
Decreased or non-adoption by big players (No further professional sports leagues entering the space, no further mainstream musical adoptions, etc.)
Collapse of "Blue Chip" NFT Art prices (CryptoPunks / Beeple Works / Picasso's Bull / etc.)
NFT Culture staff is split on exactly where we are on the curve, but we are watching the latest events very closely, and will update this article as we feel confident in changes of direction.
Follow us on Social Media