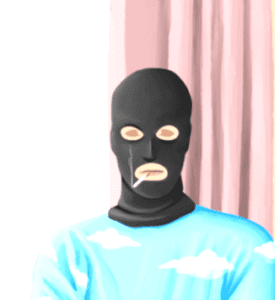 TL:DR: DotPigeon is doing a simultaneous drop with Plan X Art Gallery  (Physical art) and NFT drop on Nifty Gateway.
For this interview we were lucky enough to sit down with the Italian Nifty Gateway artist DotPigeon. We excited about this drop that is including collaborations with a number of other published NG artists, in fact DotPigeon is slated to release his second NG drop this evening. Before dipping his toe in the cryptoart space, DotPigeon enjoyed a meteoric rise in the broader art community by producing vivid, provocative, and controversial art that interprets many issues that resonate our current obsession with fame, money, and culture.
Thanks for agreeing to this interview, why don't we start with the basics… tell us about yourself.
I'm a 33 yo artist with a full time job as art director supervisor in an advertising multinational agency. I started my art career in 2017 when i first opened my Instagram page @_dotpigeon.
At first DotPigeon was a relief valve from my job
At first DotPigeon was a relief valve from my job: I used to create artworks just to escape the daily routine of briefs and clients. The page was successful, I reached more than 25K people in the first two years and got published on several big Instagram pages. I got contacted by Plan X Art Gallery (that still represents me), I had my first group show and began evolving. I started exploring new styles and sharpening the idea behind them and after one year I reached what DotPigeon is now.
So you have two upcoming drops today, tell us about them.
My first ever solo show and my second drop on Nifty Gateway will happen on the same day: March 6th. I'm so excited about this actually mostly because the two shows are linked.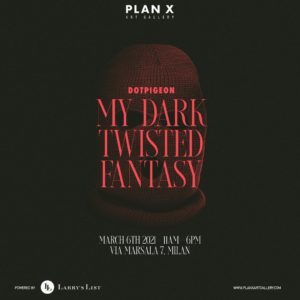 Artworks from the solo show and from the drop are the same, but different: physical ones have different sizes, they are unique pieces printed on canvas and they feature contemporary art. Those released on Nifty are the same size, they are animated and they feature crypto art by amazingly talented artists. There will also be an auction on Nifty and the winning bidder will bring home also the correspondent physical 1/1 artwork from the solo show. Cannot be more excited actually 🙂
From Nifty Gateway:
After many group shows, on March 6th DotPigeon launches its first solo show and simultaneously its second drop on Nifty Gateway. For the first time a traditional art show will have a meaningful digital correspondent. It's not just a website where you can see and eventually buy the artworks of the exhibition. Indeed all artworks, while remaining the same, are completely different. In the physical show they have different sizes, they feature contemporary artworks and, obviously, they are not animated. On Nifty Gateway they all have the same size (2024 x 2700px), they are animated and they feature crypto artworks.
What makes this unique is that the winning bidder from the auction pieces will get both the NFT as well as the physical art when the solo show ends.
So let's get into the personal aspects. what makes you tick?
Like many artists, I haven't yet been able to focus on this fulltime. I have to find ways to spend my nights and weekends creating and curating this art. It's excited to see so many collectors appreciate my unique style and hopefully at some point in the future I am able to spend more time on the art.  In between the pressures of the job and my creativity, I love going to restaurants and clubs with my girlfriend and friends.
Who is your favorite Non NFT artist?
That's a tough question.  If I had to pick one, I'd have to say Basquiat (Jean-Michel Basquiat). He was an American artist that pioneered graffiti and epigrams in NYC during the 1970s.  Much of the cryptoart community is inspired by this period of growing expressionism in America.  Basquiat resonated with me in particular, the dichotomies of wealth vs poverty and other socioeconomic issues that still ring true over 30 years later is an inspiration.  I often pay homage to him in my physical pieces.
Who is your favorite NFT artist?
I can't say there's just one favourite artist, I really appreciate many of them for different reasons, just to mention a few: Baltay Steven, Mad Dog Jones, Tom Yoo… there really are too many to name!
What made you pursue NFT art?
Curiosity. I discovered NFTs with the first drop of Slime Sunday. I reached out to Nifty Gateway to better understand this world and when I chatted with Duncan I was instantly enraptured by the idea and the potential of all this.  I was lucky enough to have been successful before NG and also become an early featured artist.  Those to factors gave me time to really take a step back and figure out what I wanted to do with my next release.  I hope the collectors appreciate the beauty and collaboration with those that let me use their work as well.
What is the one piece of NFT art you wish you had purchased but missed out on?
Absolutely Prime by Baltay Steven. I'm in love with this artwork and more generally I like the way he used pop culture characters inside his pieces.
How can collectors learn more about you? 
Link to Website: 
www.dotpigeon.com
Social links:
Twitter: https://twitter.com/_dotpigeon
Instagram: https://www.instagram.com/_dotpigeon/ 
NFT marketplace links:
https://niftygateway.com/profile/dotpigeon 
Follow us on Social Media