Takashi Murakami just released an update on Murakami Flowers project and an update on his collaboration on Clone X with RTFKT.
We were aiming to release in February, but at this rate, it looks like that won't be possible.
I thank you for your patience for a little while longer.
RTFKT prepared everything so smoothly, seemingly overcoming all obstacles with ease and releasing 20,000 NFTs with great success. And I thankfully benefitted from it as well.
I had assumed that our own NFT release, which my team and I have been working on, could be executed smoothly, just like RTFKT's. But barriers after barriers stand in the way. I see, there are these kinds of problems! we would say, faced with the inner workings of a project that one would never think of by just being a user. We have to gauge the right distance from regulations on crypto assets and virtual currencies. Then, there is the concept of art itself, as well as the decisions about the whitelist, structuring the rules, and scenarios with risk calculations. Once we are on the side of executing the project, there's so much to deal with that all the creators who are releasing their NFTs started to look like geniuses to me.
And so we are still fumbling and stumbling along. Sorry.
I truly enjoyed working on Clone X, a collaboration with RTFKT. I would prepare images and 3D files in response to their requests, and as I gave feedback on the images and videos they worked on, they grew increasing wonderful; I was blown away by the quality of the resulting images. I encountered a worldview I knew nothing about that RTFKT was trying to achieve and, through that experience, also got to learn about what CryptoPunks had done, as well as how to format dialogues and build stories in the NFT market.
Takashi Discord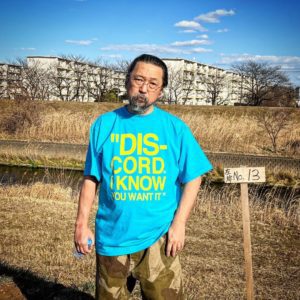 Takashi also provided an update on discord
"I know you want Discord."
🌸
"But listen, if I opened a channel, it'd be flooded with countless spam messages, a lot of kind-sounding scammers would reach out, and, above all, my mind won't be able to survive the psychological stress. So for now, I can't set up a Discord channel yet. Sorry about that. Won't you wait for me a little while longer, be it a few months or a few years, until I become familiar with the world of NFT? Pretty please?
Follow us on Social Media