BOOHOO PARTNERS WITH PARIS HILTON'S VIRTUAL FASHION WEEK FOR THEIR FIRST INTRODUCTION INTO THE METAVERSE 💅🤑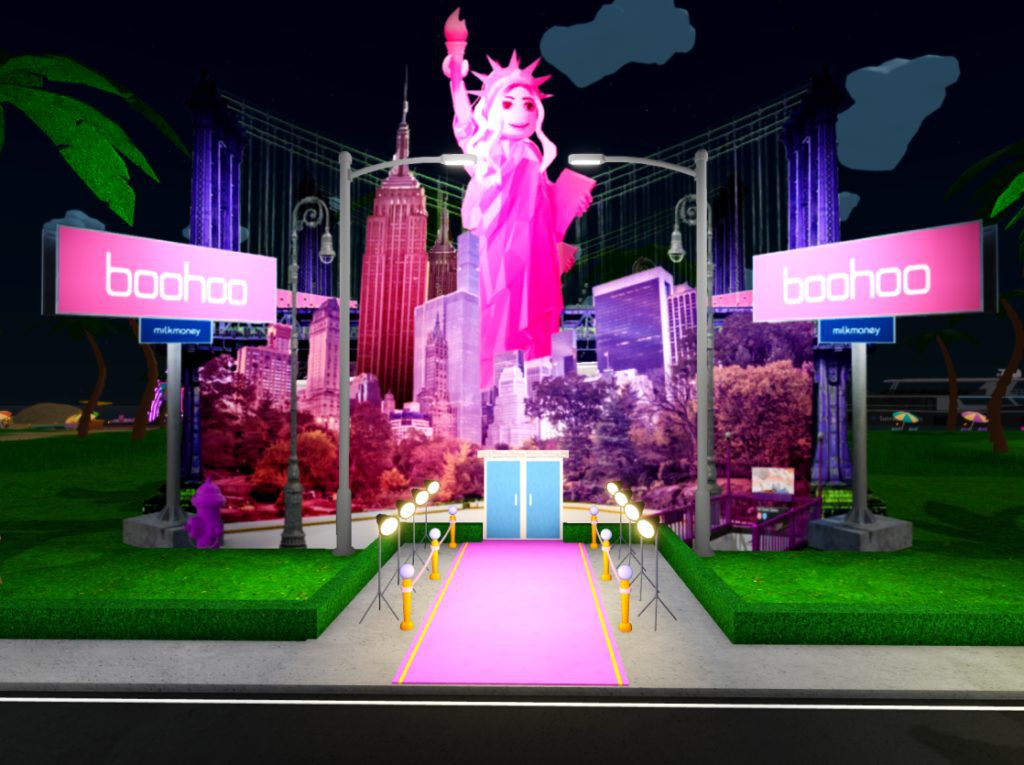 Global fashion retailer boohoo is teaming up with entrepreneur, CEO and former boohoo ambassador, Paris Hilton, for Paris Hilton's virtual Fashion Week to be held in Paris World. Boohoo worked with MilkMoney, the leading marketplace for out-of-home (OOH) media buying, to secure the billboard inventory in the Metaverse. This marks boohoo's first foray into the Metaverse and is the first brand to advertise in the Metaverse during Fashion Week, a natural and strategic next step for the brand.
Paris Hilton's Paris' World on Roblox is positioned to become the leading persistent always-on celebrity world in the Metaverse with updates daily, live events weekly, and specialty programming. Boohoo will display two prominent billboards in Paris' World during virtual Fashion Week, which will be located at the entrance area to the event.
"Billboards are a part of our everyday lives and it should be no different in the metaverse," said Paris Hilton. "When I spoke to Sam and the MilkMoney team, it was clear they shared the same vision for what Paris World can offer and how to reach consumers and fans, and it's awesome to be launching our first billboard campaign with boohoo, a brand I've always loved."
The Fashion Week event in Paris' World will be open to the public and will give fans and customers access to a VIP Fashion Show event featuring Paris Hilton and other top Roblox designers, celebrities and influencers on Friday, February 18th via a private server. A virtual Fashion show will be filmed and premiered on Paris' YouTube channel on Saturday February, 19th which will be public and available to viewers everywhere.
About the boohoo Group
Leading the fashion e-commerce market and founded in Manchester in 2006, the group started life as boohoo.com, an inclusive and innovative brand targeting young, value-orientated customers. For over 10 years, boohoo has been pushing boundaries to bring its customers up-to-date and inspirational fashion, 24/7. In early 2017, the group extended its customer offering through the acquisitions of the vibrant fashion brand PrettyLittleThing, and free-thinking brand Nasty Gal. United by a shared customer value proposition, our brands design, source, market and sell great quality clothes, shoes and accessories at unbeatable prices. This investment proposition has helped the group grow from a single brand, into a major multi-brand online retailer, leading the fashion e-commerce market for 16 to 30-year-olds around the world. The boohoo group has continued to further strengthen its multi brand platform, in 2019 the group acquired online womenswear retailer Miss Pap and UK brands Karen Millen and Coast. Today the boohoo group sells to over 8 million ever-growing customers globally.
About Paris World:
The original influencer Paris Hilton has built her very own Roblox island. 'Paris World' on Roblox is positioned to become the leading always on persistent celebrity world in the metaverse. Users are able to feed animals at the zoo, ride the Paris Wheel, play mini-games, stay at Paris' mansion, drive her luxury cars, & much more! The world is updated daily with new features including celebrity appearances, limited edition clothing drops, games, special events, & areas.
Follow us on Social Media