2021 is an interesting time for the NFT community. With so many marketplaces coming into fruition, It's hard not to get excited about new drops. Earlier this year, we wrote an article about counterfeit non fungible tokens, as a guide to help new collectors make sure they are not accidentally buying an NF T from one marketplace that may have been plagiarized on another nft marketplace. Today, it's time for us to take a deeper look at two intertwined issues around copyright and counterfeit NFTs . The main reason that this is important is because with more market places more confusion is created. In our first article, we focused primarily on the major concern around buying Beeple NFTs  on rarible or opensea.  The challenge we run into is when NFT Marketplaces are unable to help collectors identify if an artist is a real authentic artist or not. The latest example of this was a popular NFT artist xcopy allegedly released a NF T on fast growing marketplace HEN. It turns out that this was a fake NFT by an imposter, and xcopy, had to go on their discord, to explain to their audience that this was not in fact real. It is an unfortunate reality that until some of these verification methodologies are fixed, collectors should proceed with caution buying unverifiable art and these challenges persist, regardless if they're  pseudo anonymous creators like xcopy or not.

NFTs and Copyright Issues
*declaimer again, we are not legal experts. If you are seeking legal advice, reach out to an attorney.
An additional NFT related event that we were recently notified about was a Twitter thread by someone named Joe( their handle is @niftymiki) exposed an artist who is popular on the foundation NFT marketplace. In fact, this artist has over 900 followers and has created numerous pieces of work, selling for anywhere from.5 ETH to multiple ETH in certain instances. Their work is objectively beautiful, but a sleuth discovered some discrepancies. The problem is that their work is similar enough to other successful artists that some consider it stolen. Joe was able to create a very long Twitter post that was able to succinctly describe and dissect how this artist was imitating art from other artists, augmenting it just a little bit, and then repurposing it as their own NFTs. This gets tricky, as we start to consider copyright laws, and what is considered fair use, and what is a true derivative, especially with non fungible tokens. The majority of these pieces of art. In our opinion, do cross the line. They were not intended to be used in this capacity, And it appears to be a conflict. Joe reached out to the artist in question to understand if they had consulted the original creators and it appears at the time of this writing that never occurred.
While we are not lawyers, and we cannot speculate on what the ramifications could be. There has been precedent set in certain instances where artists are able to successfully protect much of their work.  Some of the other challenges that people have, are just the fact that the artist in question, lacked sympathy or empathy in their responses.
NFT Collectors need to understand the marketplaces and where they are buying their art.
This brings up an interesting challenge where collectors need to understand where they are buying their art, and if that art is protected. If there's an artist that you really like, but you don't know them very well. They don't have strong presence in other areas including social media like Twitter, like Instagram, and a website, or even a deviant art page. It's worth researching them further before making an NFT purchase. We don't want to speculate on the intention of this, the artist in question may have thought that their derivative artwork was unique enough to warrant its own art, but as a collector it is worth taking a closer look. You can do Google reverse image search, and otherwise, to see if other types of this work have been created by other artists, then you can decide if you want to support this artist or not.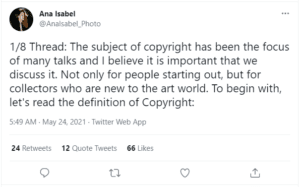 The point of all of this is just to say do your own due diligence, it's incredibly important to think about it from that standpoint. Our final thoughts on this topic, are an interesting thread that Ana Isabel, who is the founder of the NFT goddesses movement, we had on the podcast recently and she has some comments on just the focus of copyrights and what artists should be doing to protect their, their art.
When creating art, it's important to know if you're giving up the commercial rights, or just the piece of art by itself, and she uses the example of buying Nike shoes. And just because you buy a pair of Nike shoes doesn't mean you can go and replicate those shoes in perpetuity and then go and sell them and the logo, and otherwise. The same could be said with certain pieces of art. And just because you buy a piece of art, doesn't mean that you have the right to go and reproduce reprint, etc.
It's a tricky time for NFT collectors and artists alike and this is why we do like the Bored Ape Yacht Club, and their openness to create derivative art on the apes that you own. And as we've stated in other podcasts, and video streams, it's probably in your best interest to keep it simple and if you're going to create derivatives of art, like BAYC, you probably don't want to sell that art, because it's unclear what happens to those derivatives. After you make that sale.
Possible Outcomes To Help Collectors
Marketplaces should get better at verifying artists.
If you are unsure if a piece is by a particular artist ask them on social media, or join their discord.
Reach out to NFT Culture.
Don't purchase unless you're completely confident.
If you are an artists, dont steal other artists work. Ask to collab, most would be incredibly excited for the opportunity.
Know your Customer (KYC) and Know Your Artist (KYA)
The final consideration here is meant to minimize confusion. As more and more artists enter the space and more marketplaces are created the anonymous aspect to collecting is coming under massive scrutiny.  From bots buying drops on Nifty Gateway to money laundering concerns around NFTs, The idea around Know Your Customer (KYC) is taking center stage.  The premise of KYC implies that the marketplaces you're purchasing from can verify your identity. Candidly, we believe this is an if not when scenario as regulators continue to learn more about the crypto / NFT space.  It will also be interesting to see how much KYA or know your artist becomes prevalent on platforms (especially the lower tier NFT marketplaces) to insure that even if xcopy hasn't done a drop on HEN. their profile is accessible so collectors know they havent dropped.
Stay safe, and if you have any questions about what types of NF T's you're collecting or you're unsure if a piece of art is authentic or not, never hesitate to reach out to the NF T culture team, and we will do our best to help you figure this out to the best of our ability.
Follow us on Social Media