8787 samurai with music. The genesis of an interactive story and NFT art collection.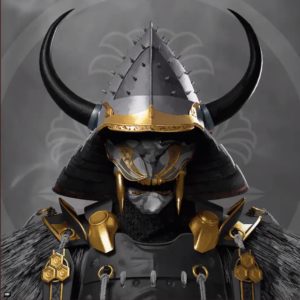 The Samurai were a warrior class that originated in Japan during the feudal period.
Samurai warriors served as the elite military force of feudal Japan. They were skilled in combat and served as personal guards to their lords and masters. These warriors had a strict code of honor and loyalty to their master, which they followed until death. They were also expected to be able to read and write, as well as perform rituals such as tea ceremony or ikebana flower arranging.
The samurai were a very special class of people. They were part of the nobility and had a great responsibility to protect the country and its people. They also had a duty to protect the Emperor and his family. The samurai class was born out of the need for warriors who could fight in battles and defend their land from invaders.
The samurai's weapons included a sword, bow, arrows, spears, halberds or naginata, yari or naginata, katana or tachi swords as well as knives called tanto knives. In battle they would wear armour made from leather, metal plates or lacquer tree bark which was light but very strong.
• Blockchain Ethereum
• Price? 0.087 ETH per Samurai
• How do I get whitelisted?
• Wen presale? 15th & 16th January
• Wen public? 17th January
• Wen reveal? 22nd January
• Where's the website? https://rengokulegends.com/
---
Rengoku NFT Project Roadmap
🕐 20% Minted — Interactive Story experience
The bread and butter of our first roadmap. We will act as the dungeon masters for the community of Rengoku, as we offer an ever evolving story that the Samurai and Ronin will be able to take part in. Kumo and Hatsuki at war? You decide who wins. A raining forest or suspicious cave? You guide us. Using our clan war system and future avenues of participation, every created collectible such as art, music and physical items, will be available for all Samurai and Ronin holders.
🕑 50% Minted — World of Rengoku environment collection
We will dive into the world of Rengoku in an immersive environment collection that will combine art and sound. Explore not only the clans and their histories but the world of Rengoku itself.
🕒 75% Minted — The Curator's Collection
Using the Unreal Engine, we will create and design an in-game environment that will act as a curation of our journeys in Rengoku. Players will be able to download and explore the environment to learn about the histories of the clans, discover secrets and step foot into the world of Rengoku for the first time.
🕓 100% Minted — The 4747 Ronin
The second of our generative collections, The Ronin will be a smaller but unique collection. The Ronin and Samurai will act as tokens that will grant the user governance and participation in the story of Rengoku, as well as whitelists for the entire Rengoku collection. Only those with either a Samurai or Ronin will be able to participate and be able to collect Rengoku artworks
---
Rengoku Team
Connor Sheehan — founder/artist — https://twitter.com/conpatshe
Drasko V. — founder/artist — https://lynkfire.com/drasko_v
Johan Belin — website — https://johanbelin.com/
Cankat Oguz — website — https://cankatoguz.com/
William Vucevic — graphic designer — https://www.vukan.studio/
Marko Bilal — smart contract — https://twitter.com/markobilal
Joey Williams — bot developer — https://twitter.com/squeakerdev
Follow us on Social Media