Tengoku Club
Tengoku Club is located in the seedy underbelly of Shibuya, Tokyo. Every character from the Kiwami lore has been spotted at the Club. Whether they're hanging on the patio after leaving the dance floor, mingling with rising Yakuza henchmen at the bar, drowning in the pulsating beats and spellbinding synth waves, spraypainting the emblems of their affiliation, or simply serving as club bouncer; Tengoku Club has found a way to unite them all. Rich or poor, artisan or salaryman; the Club sheds all egos.
They may not realize it, but their stories and lives will soon be intermingled in ways they never imagined.
What is Kiwami?
Kiwami is a next-generation collective of artists, builders, and rule-breakers. Carefully designed in the metaverse & born in Japan, Kiwami is redefining what it means to be an authentic brand. For those who are Kiwami; extreme, loyal, driven, and ineffable⎯ you've found your people.
Like any artistic movement, Kiwami is foremost driven by our community-first mindset. Every one of us brings our own stories, passions, and dreams. Kiwami is here to connect us and nurture the finest culture, rooted in a love for crypto-art that is built both with supreme artistic provenance in the metaverse, as well as in the real world.
Kiwami is a collection of 10,000 NFTs, comprised of hundreds of unique visual traits designed by an anonymous Japanese team of street art mavericks. The aesthetic character is guided by cyberkinetic, urban pop art, and inspired by traditional Japanese elements.
The Team
VivaTokyo: Founder & Creative Director.
Artist: Anonymous.
Mil: Head of Design.
Scythe: Operations & Community.
Mouse Dev: Smart Contracts.
Detailed Mint Info? https://kiwami.notion.site/The-Kiwami-Improved-Dutch-Auction-Mint-Information-7c76c80d248148f68908cbd15efcf528
Website / Roadmap? https://kiwami.app/
OpenSea? https://opensea.io/collection/kiwami-genesis
Treasury? Royalties? 50% of all Primary Mint and 50% of all Secondary Royalties go to the Kiwami Treasury. Secondary royalty fee will be 5%.
Official Links
Dutch Auction Details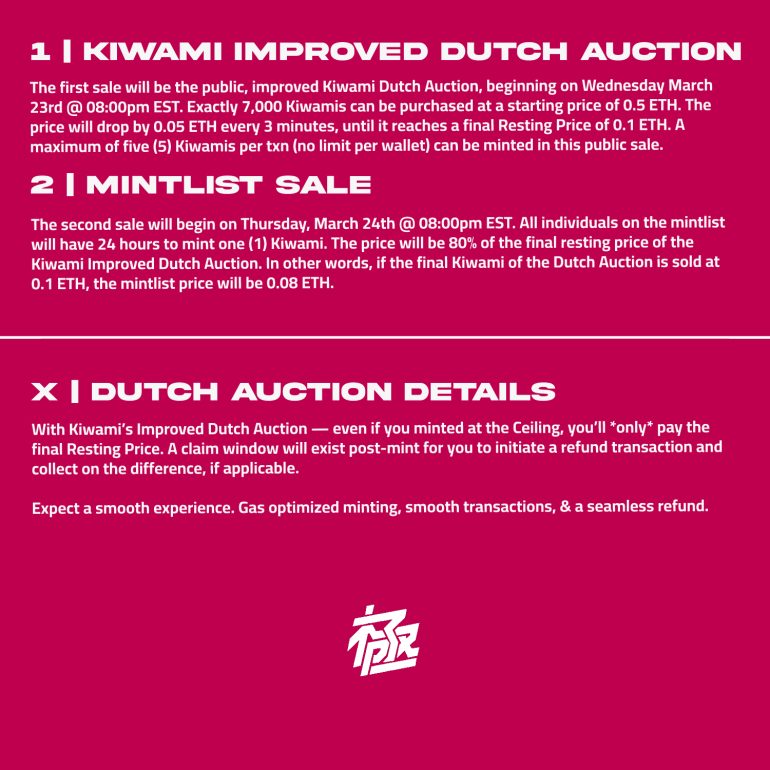 Follow us on Social Media