Metamask is the most popular Ethereum wallet and starting earlier this month, users of iOS devices could start funding that wallet and buying cryptocurrency directly through apple pay removing the need to transfer ETH from a centralized exchange. The company owned by Consensys will use Wyre and Transak (both payment gateways) to allow both debit and credit card transactions.  The kicker is that the maximum daily deposits will be set at $400. For NFT curious collectors this is a fantastic entry point and will allow collectors a more seamless experience.  One of the biggest challenges in the space today is onboarding users.  The number of steps required for a collector to actually mint their first NFTs is tedious to say the least.
Metamask allows you to Buy, store, send and swap tokens
Available as a browser extension and as a mobile app, MetaMask equips you with a key vault, secure login, token wallet, and token exchange—everything you need to manage your digital assets.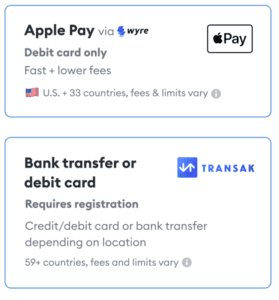 📣 MetaMask Mobile v4.3.1 is LIVE with some exciting updates:

Buy crypto on iOS with Apple Pay (@sendwyre), more transparency when interacting with sites, & support for gasless transactions where relevant.

Does it get any better? Yes it does! We now have dark mode! 🌑

1/🧵

— MetaMask 🦊💙 (@MetaMask) March 28, 2022
About Metamask / Consensys
ConsenSys is the leading Ethereum software company. We enable developers, enterprises, and people worldwide to build next-generation applications, launch modern financial infrastructure, and access the decentralized web. Our product suite, composed of Infura, Quorum, Truffle, Codefi, MetaMask, and Diligence, serves millions of users, supports billions of blockchain-based queries for our clients, and has handled billions of dollars in digital assets. Ethereum is the largest programmable blockchain in the world, leading in business adoption, developer community, and DeFi activity. On this trusted, open source foundation, we are building the digital economy of tomorrow.
Follow us on Social Media