BendDAO wants to help collateralize NFTs allowing you to borrow against them to earn yield. The project launched in mid march but is gaining momentum as users are finding value in claiming the token.  Wallets that have bluechips also get a multiplier effect that makes the quantity of tokens substantial. Do your own research but they may be worth claiming if you were a power user in 2021.
BEND Airdrop will be the first move of the BEND Fair Launch.
500,000,000 BEND (5% of the BEND total supply) will be allocated to the whole NFT community in terms of Airdrop.
To avoid the unnecessary GAS cost, eligible users can claim BEND during a window of 90 days starting from March 20th, from 2022-03-20 16:57:03 GMT+0 to GMT 2022-06-18 16:57:03 GMT+0. All unclaimed BEND tokens will be reallocated to the DAO Treasury.
OpenSea users who traded between Ethereum Block 13162318 on September 5th, 2021 and Block 14323604 on March 5th, 2022.
Users who hold the bluechip NFTs on March 5th, 12 am UTC. Bluechip NFTs are Crypto Punks, Bored Ape YC, Mutant Ape YC, Cool Cats, Doodles, CLONE X, Azuki, World of Women and CyberKongz.
NFTfi
Borrowers and lenders who joined P2P NFT lending before Block 14323604 on March 5th, 2022.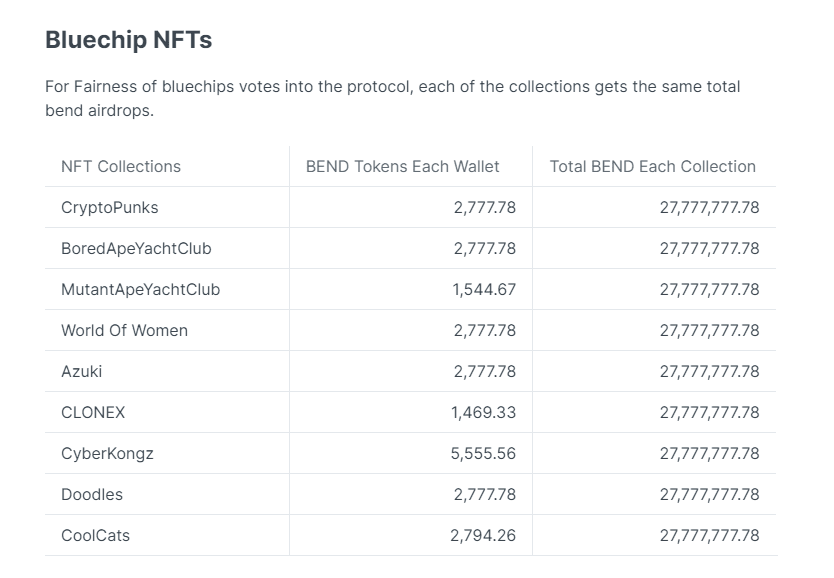 Follow us on Social Media