SuperRare, a pioneer in the NFT space, has grown into one of the premier NFT art platforms, with $200M+ of art collected and $5M+ in artist and collector royalties paid to date.
Embodying the true ethos of Web3 and shifting governance to the community, SuperRare introduced Spaces, storefronts voted in by $RARE holders with the goal to curate independently.
Expanding their reach to yet another marketplace, The Crypt Gallery recently announced the launch of their SuperRare Space. This Thursday July 20th, will mark their first ever release and exhibition featuring renowned Dutch artist, Daniel Martin. 
As their network and influence further grows, The Crypt Gallery continues to support, curate and strategically onboarding artists across platforms. Stay up to date with their latest projects and collaborations by signing up for their newsletter here.
One and Three NFTs by Daniel Martin
Inspired by Joseph Kosuth's One and Three Chairs, the collection consists of three digital versions of the same physical work – a still image, a video and a 3D model.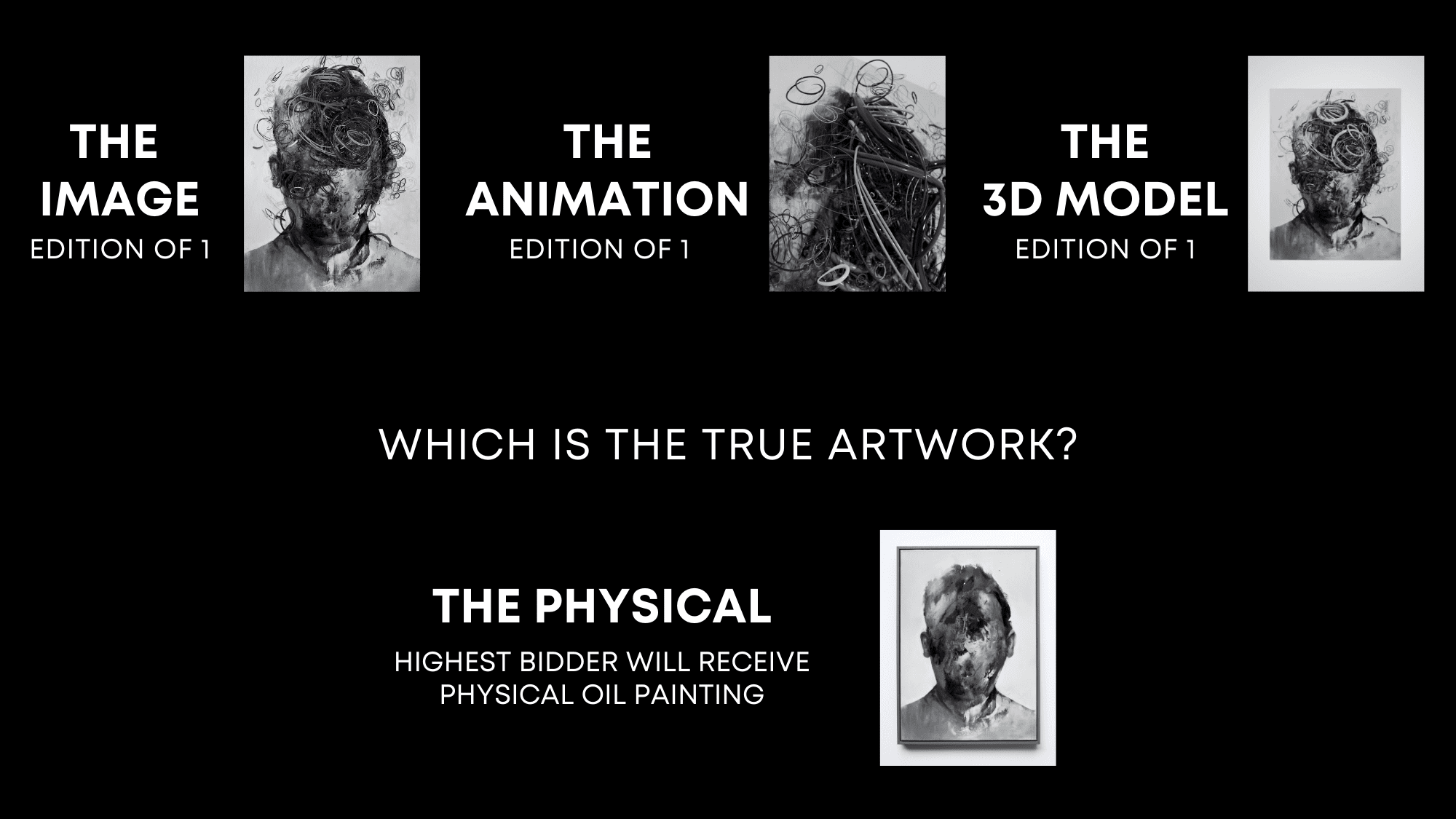 This provokes the question, which representation of the same artwork is deemed most valuable? 
In the world of digital art distributed as NFTs, we are faced with new and similar questions regarding the true essence of an artwork. In the realm of traditional, visual art, the artwork is typically defined as the physical object. However, the advent of NFTs has blurred this line, ushering in a variety of new art forms and mediums enabled by the purchase of a digital token.
The nature of this auction challenges collectors to ponder and determine what they believe is the true artwork. Does the true artwork exist within the still image, the animation, or the 3D model? Alternatively, are all three NFTs fused into a singular work of art, as they are all based on the same physical piece? Perhaps one collector may choose to purchase them all, uniting them into a cohesive whole, but still with the possibility to sell them separately again later.
Ultimately, art remains elusive and the decision rests with each individual's interpretation. 
Auctions begin Thursday July 20th 2023 at 11:00 AM est 
Each of the 3 NFTs are editions of 1 with a 1 eth reserve
Highest overall bid will receive the physical painting + Augmented Reality overlay through the free app Artivive. The winner will be announced after all three NFTs have had bids.
Drop details
"One and Three NFTs" by Daniel Martin
Curated by The Crypt Gallery SuperRare Space

July 20

th

at 11am EST

Three Total NFTs will be auctioned:

The Image, The Animation, The 3D Model

Editions 1/1
Reserve 1 ETH
Exhibited in LA and NYC
As the world's first NFT gallery in hospitality, The Crypt Gallery reaches beyond just the digital realm. This collection is also currently exhibited at their two gallery locations in Los Angeles and New York City. 
Make sure to  visit Dream Hollywood or Dream Downtown for an in person experience.
Drop details
"One and Three NFTs"
The Crypt Gallery Spaces

July 20

th

at 11am EST

Editions 1/1




Reserve 1 ETH
Follow us on Social Media