Is a Series of Four Unique Physical Diary Spreads Minted as 1 of 1 ETH  NFTs. 
This is the first release of these diaries as NFTs. 
Associated images running as Open Edition NFT Photographs 
By American Sports Photographer 
Walter Iooss Jr.
To Be Offered on MakersPlace
For his latest Release on MakersPlace, Walter Iooss Jr. Presents "Sporting Life: The Diaries of Walter Iooss Jr.," a mixture of his collaged personal diaries released as 1-of-1 Auction pieces, and four iconic images pulled from those diaries spreads as standalone NFT photographs offered as Open Editions.
On Auction Beginning January 26 at 3:30 PM PT
SAN FRANCISCO, January 24, 2022 – MakersPlace, the premier marketplace for digital art, is thrilled to announce the latest drop of digital NFT photography, and for the first time, mixed media, from the legendary American sports photographer Walter Iooss Jr., who is widely considered the world's greatest sports photographer. This collection features four unique mixed media collages created by Iooss in a daily Standard Diary between 1991 and 2010. These diaries, which offer a glimpse into the inner thinkings of the photographer with his notes on the shoots, were then rephotographed by Iooss and are now minted as NFTs for the very first time. Mr. Iooss has been keeping and creating these diaries for over 40 years. 
The four 1-of-1 auction pieces feature renowned athletes Magic Johnson, Eddie George, Michael Jordan, Kevin Garnett, and Kobe Bryant. In addition to the four diary spreads, Iooss offers a single standalone image featured in each diary spread as a beautiful photography NFT. This iconic standalone image is offered as an Open Edition.
"Sporting Life: The Diaries of Walter Iooss Jr." is set to release on MakersPlace on 01/26 at 3:30 PM PT. 
About Walter Iooss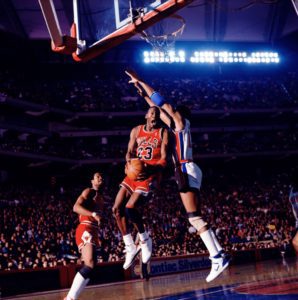 Widely considered the world's most influential sports photographer and dubbed as "the Rembrandt of sports photography" due to his use of light and shadow, color, and composition, Walter Iooss Jr.'s images transcend the fame of his subjects and have come to represent modern sports culture. But the secret to his success is a carefully crafted rapport with his subjects. As a result, his work has forever changed the definition of what a "good sports photograph" should be.
Born to a family of sports fans in Texas in 1943, Iooss discovered photography aged 15 when his father gave him a camera. Within a year, he had begun photographing professional football games, and at just 17, he got his first assignment for Sports Illustrated. By 20, he was shooting the magazine's covers.
Iooss's images have appeared on over 300 covers of Sports Illustrated—more than any other photographer in the world. In a career spanning more than 60 years, he has worked with almost every athlete at the top of their game, including Muhammad Ali, Michael Jordan, Pele, Cristiano Ronaldo, Michael Phelps, Tiger Woods, Serena Williams, and Kobe Bryant. 
Iooss has photographed every single one of the first 52 Super Bowls; published a book on the 18 months he spent following US athletes as they prepared for the 1984 Olympics in Los Angeles called Shooting for the Gold; created a New York Times bestselling photo essay, Rare Air, with Michael Jordan; and shot campaigns for the likes of Nike, Adidas, Coca-Cola, and more.
In more recent years, his pictures have been the subject of several gallery shows and a solo artist auction at Christie's New York in 2020 called Athlete: Photographs by Walter Iooss, Jr. The exhibitions include Athlete: The Sports Illustrated Photography of Walter Iooss at the Newseum in Washington, D.C. in 2009; Sport: Iooss and Leifer at the Annenberg Space for Photography in Los Angeles in 2009; and LEGENDS: The Sports Photography of Walter Iooss at the Lyman Allyn Art Museum in Connecticut in 2019-2020.
In 2018, Iooss was inducted into the International Photography Hall of Fame.
About MakersPlace 
MakersPlace is the premier NFT marketplace for digital art. Launched in 2018, MakersPlace utilizes blockchain technology to facilitate the sale of authentic, original digital artwork, ensuring rarity and ownership for both creators and collectors. MakersPlace has emphasized accessibility since its inception and has attracted a large mainstream audience as the first NFT marketplace to accept both cryptocurrency (ETH) and non-cryptocurrency (USD) payments, which it facilitates through crypto wallet and credit card transactions, respectively. MakersPlace helped catapult digital art and NFTs onto the global stage, with the historic sale of Beeple's Everydays: The First 5000 Days for $69.3 million in partnership with Christie's auction house in March 2021 – the record price for any digital artwork. Our mission is simple: to enable a vibrant future for digital creativity.
Follow us on Social Media