Leading NFT Brand Fan3 Announces Diverse NFT drop & Communi3 Membership
On February 1st, Fan3 is launching their INCLUSION curated drop with Nifty Gateway. This drop will include art from 8 unique and diverse artists with individual styles.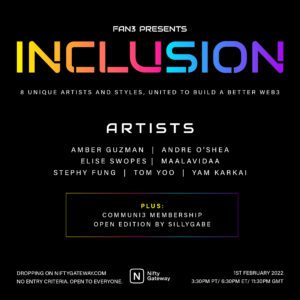 The Diverse NFT artists include:
Mark Your Calendars
Drop Date: February 1st, 2022
Drop Time: 6:30pm ET
www.niftygateway.com
Follow Fan3 on twitter
---
It's All About Communi3
Fan3 are launching a Communi3 Membership pass to build a community of diverse individuals with shared values. United in a commitment to create a better future together, and find connection in building a more inclusive Web3. Communi3 members will enjoy IRL events, exclusive access to our curated drops and most importantly play a part in the future of the space through our Gen3 project. Gen3 has been created to support emerging artists and celebrate diversity in lived experience and creative form. Finding the stars of tomorrow, whatever their background. The Gen3 journey for creators will be a complete pathway; from our Emerging Artist Grant, a 6 module metaverse education programme, mentorship from leading creators, to finally a genesis drop. Our IRL events will be memorable, our impact together will be a legacy.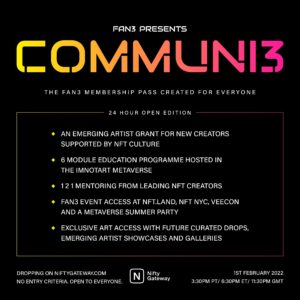 Gen3 
A pathway for emerging creators. 
Emerging Artist Grant → Education → Mentorship → Genesis drop on Nifty Gateway. 
The Communi3 Membership Pass includes something for everyone.
Emerging Artist Grant
Breaking down the economic barriers to creativity and democratising access. 10% of the total drop revenue will be put aside as a grant fund for emerging creators. The grant will be application based and judged by the artists and Fan3. 0.5 ETH per grant allocation. The application form will be hosted by our partners NFT Culture on their website. 
NFT Education
Education is an emerging creator's passport to the future. Leading artists and organisations will be supporting us to deliver a 6 module artist education programme. Sessions will cover all aspects of a creator's journey including technical advice, building a personal brand, connecting with collectors and looking after your mental health. Metaverse hosted workshops in Cryptovoxels thanks to our partners ImnotArt. 
Mentorship
Knowledge and experience are gifts worth sharing. An amazing lineup of leading creators will be providing guidance, advice, encouragement and support for the next generation of NFT stars. A huge thank you to all our mentors Bill Elis, Jason Ebeyer, Swopes, Maalavidaa, SillyGabe, Swolfchan, Young&Sick, Vector Meldrew, Amber Guzman, Andre O'Shea, Stephy Fung, Pixel Lion, David Bianchi, Tina Eisen and Tom Yoo. 
 Emerging creators from minority communities who would like to benefit from Gen3, and the emerging artist grant and mentor programme. you can fill out this form.
Events
Fan3 specialise in creating community and connection through events and experiences. Communi3 members will have access to future Fan3 IRL and digital events including:
NFT.Land, NFT NYC, VeeCon and a metaverse Summer Party with DJ and VJ sets from NFT Artists including Vector Meldrew and SillyGabe. 
Art Access
Fan3 will continue to push the boundaries of curation with a focus on supporting diversity and inclusion in both line ups and storytelling. Communi3 members will have exclusive access to the genesis drops of the emerging artists we support as well as future pieces on curated drops. We believe IRL galleries and art experiences are essential to grow artist prosperity and Communi3 members will have unique access opportunities. 
Communi3 Membership Pass. 24 HR Open Edition.
Follow us on Social Media