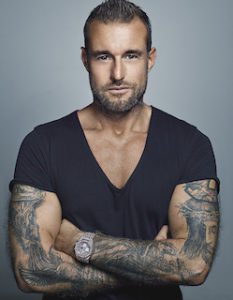 Philipp Plein may not be the first designer to bring clothes to the metaverse. But, he is the first designer to have a brand new line, made exclusively in Decentraland by humanoids, less than a month after his $1.4M virtual estate acquisition. As a leading crypto advocate, Plein was also the first fashion designer to accept crypto payments last year.
Today, Plein is taking another giant leap, launching Plein Sport in partnership with Portion, the NFT auction house, and Antoni Tudisco, creative director and 3D digital artist, are collaborating to bring his vision to life: No models, no catwalks, just humanoid robots taking you into Decentraland for an exclusive look at the Plein Plaza – a prime district covering 65 Decentraland parcels. We are now starting to see why these major brands are investing millions into the metaverse, including Portion's own $1.2M digital estate acquisition.
This launch will feature rare, high-end drops on NFT Auction House, Portion, and digital wearables designed by Antoni Tudisco, as well as exclusive experiences and rewards for early collectors. The sneakers will be available also for purchase in the physical world later this year.
This collaboration will offer:
Monthly sneaker drops, with the first drop taking place on Portion on February 24th

Digital wearables in Decentraland

And the auction for the Monster Gang collection will take place on Portion on March 3rd
 Portion, a 21st-century blockchain-based auction house and collector's community for rare high-end physical and digital art items, partners with fashion icon Phillip Plein to unveil the world's first collection created exclusively in the Metaverse at Milan Fashion Week.
On the heels of his $1.4M USD acquisition of Decentraland's Plein Plaza, a prime district covering 65 Decentraland parcels, the fashion entrepreneur extends his collaboration with Portion by unveiling the first phase of the development of the Plein Plaza, a 120-meter high virtual skyscraper. The first establishment in the building will be the Philipp Plein founded Museum of NFT Arts (MONA), designed as an open forum for the development of digital art aimed at encouraging and showcasing young NFT artists.
The inauguration includes a guided tour of Plein's immersive art world in the Metaverse together with an exhibition of a series of unreleased NFTs designed by the 2022 established art duo "Crypto Kings" a pseudonym for the collaboration between Philipp Plein and world-renowned NFT artist Antoni Tudisco.
To inaugurate the initiative, a state-of-the-art humanoid robot called Romeo 0.1 (the first-ever built and one of only three currently existing) will kick off Plein Sport's first show and introduce the newest Metaverse-native Plein Sport sneakers collection. The launch will feature rare, high-end drops on Portion's NFT Auction House, digital wearables designed by the Crypto Kings, as well as exclusive experiences and rewards for early collectors. This first collection drop features a combination of physical and digital items and will take place on Portion on February 24th at 12pm PST, 3pm EST, and 9pm CET.
The vernissage will be combined with a digital buy-as-you-see event in which each early collector can buy a combination of a unique NFT paired with physical sneakers. Purchasers can later choose to keep the NFT or "burn" it into digitally wearable shoes that can be sported by their Metaverse avatars in Decentraland. All the above in a truly innovative and osmotic intertwining of physical and digital fashion.
This venture into the Metaverse falls in line with Phillip Plein's continued dedication to fashion innovation. In 2021, the company became the first major fashion group to open up to cryptocurrencies, accepting more than 20 different coin types at both its physical stores and online platform. In the same year, the company's e-commerce system generated a record turnover of 100 million euros. The last digital fashion shows of the Maison have marked a further milestone in its exploration of new technologies. The first luxury brand to work with Antoni Tudisco, Philipp Plein has used these digital fashion shows to project its brand in a new, fantastic virtual world populated by glossy and racy creatures.
"The Metaverse is allowing us to digitally reproduce the most precise and minute subtleties, which is a crucial part of respecting the design's uniqueness," says Philipp Plein. "Just like the way we represent the tiger in 3D, the attention to detail is something we can achieve seamlessly by properly utilizing the new virtual world to our advantage."
"People are continuously doubting the metaverse and all that can be accomplished in the digital world," says Jason Rosenstein, CEO of Portion. "Just two years ago we thought the market cap of NFTs would be floating around $2B, and now experts are saying by 2025 it will hover around $80B. Soon enough, people will think of the metaverse and all these experiences the same way we think about email and social media."
"I have watched NFTs become just as valuable as traditional art," says Antoni Tudisco, creative director and 3D visual artist. "I am excited to help Plein Plaza become a reality and see how many other fashion brands quickly follow Philipp's lead."
Viewers can tune into the metaverse show on February 24th at plein.com.
More on Plein Sport's Metaverse native line and platform:
The launch is a result of a consistent and material investment in research and development that the Plein Group has made for many years in order to be at the forefront of digital innovation in the luxury industry. This involved the creation of a specialized digital department in Lugano which employs 25 out of the 700 employees of the Philipp Plein Group and which is dedicated to developing, implementing, and testing the most advanced software and engineering solutions applied to fashion and retail. The Plein Sport project represents the peak of this process of brand digitalization that has been consistently pursued by the Philipp Plein Group for many years. In the vision of Mr. Plein, Plein Sport is truly the brand of the future in which the physical and digital experience are combined and blended into an inseparable aggregate with the aim to create the most advanced tech brand in the luxury industry.
Plein's e-commerce system, relative to the size of the Philipp Plein business, is one of the best performing directly developed and operated platforms in the luxury industry. In 2021, it generated a record turnover of 100 million euros. The last digital fashion shows of the Maison have marked a further milestone in its exploration of new technologies.
Follow us on Social Media