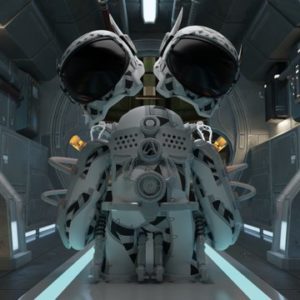 Antonym is the type of project that becomes very risky (pre launch) because they are hiding their website and information about the project. The logical web2 choice is to just google Antonym NFT and look for the website manually.  If you do that, you're likely going to get scammed or rugged. Currently a search for this keyword will result in a myriad of scam sites trying to get you to enter your wallet with FOMO behind a quickly falling calendar.  Caution should be taken in all things.  Never jump right into anything.
Antonym is releasing its first drop, a "phygital" art toy that bridges the gap between digital NFTs and physical designer collectibles. Check below for an exclusive first look at the IRL collectible
Antonym Drop Details
Twitter 
March 1st, 2022 11:00 AM
Price 0.185 :eth: /8,888
Antonym is currently incorporating pre-sale access and upon completion of the drop will open the public sale with a new concept. 20% above current floor dutch auction.
Let's not sugar coat it. Many in the NFT community have very negative feelings towards Dutch Auctions. Despite incredibly successful launches seen by projects high quality projects like @AzukiZen, the ENTIRE SPACE has been burned by DA that continue to be fatally flawed.
Flawed you say? Let's dive deeper. In its truest sense, a DA is a type of public sale intended to do two things: – Cut down on gas fees – Give projects exposure to the fair market value of a portion of their NFTs
There is nothing fundamentally wrong with either of these objectives, especially if a project has been transparent about its plans for delivering REAL VALUE to the holders. Those who align are free to purchase at whatever price they are comfortable, just like on secondary.


So what is this issue that is ruining DA and hurting the space? Project created FOMO.

Let's face it, in the short term from a project's perspective, FOMO works great. People ape in at significantly inflated prices and the dev wallet just gets fatter and fatter.

However, FOMO also contributes to creating an unsustainable group of over-extended minters who, if they don't see immediate returns on their investment, experience massive buyer's remorse & dump on the floor which has a cascading effect that causes mass undercutting & panic.
Sure, this would probably mean more money upfront, but this causes a domino effect of people coming in too soon which leaves projects hanging in the balance during its most critical hour.

Furthermore, projects consistently make the mistake of starting the price at a reasonable range, which bypasses the price discovery phase and leads to people jumping in too soon. This sets off the FOMO chain reaction that projects should avoid for long-term success.

So, how would a proper DA work then?

Counterintuitively, the DA needs to start at a price that NO RATIONAL PERSON would buy at. By starting at 20% above floor, any person buying the initial price is literally throwing 20% into the wind.

There is and will be NO incentive to mint on public vs. buying on secondary. At this point, the price SLOWLY and continually drops until the fair market purchases all the supply.

Likewise, there is and should be NO REASON for people to buy the top of our DA, and that is by design. People should and will have plenty of time to purchase where they feel comfortable, and are actually incentivized to purchase off of secondary before buying from DA.

So to close, DA will always be used by unsavory folks and projects looking to milk the FOMO and make a bag. The real solution? Find projects you support, understand the long term, educate your self on the risks, and don't over-extend.

There will always be another successful project. So if you come join us at @AntonymNFT, do it because you understand what we're about. Not because you're following the herd. Be different. Think. Like. An. Antonym
Follow us on Social Media