I am 40 human years old and started creating my first digital art in 1999. As for my heritage, let's just say that I'm a citizen of the world. I partially grew up in London, UK, then much later moved for a couple of years to South East Asia and then finally settled in Germany in 2015. 
Can you tell us about your background and what led you down the path to becoming an artist and ultimately experimenting with NFTs? 
Starting from the age of 10 I was becoming a computer nerd messing around with Basic on a ZX Spectrum, then had my first 486 PC at the age of 15, then I went to university to study Banking Information Security. I romanticized the ways of hackers, crackers, phreakers and all that "dark side of the nets": BBS, FIDO and eventually the Internet. So I decided to make a website dedicated to the Cyberpunk subculture and this is how I discovered Photoshop (later I found out that it has layers). My first website design was pretty horrible which was pointed out by some kind souls on the internet but they did provide some references to what "good" design should look like. This is how I discovered projects like Surfstation, Kaliber10K, ThreeOh, Pixelsurgeon, Design is Kinky, Australian INfront and so on. These were the pioneers providing exposure to some of the most talented digital artists of that time (around the year 2000). I was very inspired by that visual content and soon began creating art for the sake of art which led me to quitting my university and starting a job as a web and then flash designer, remember Macromedia? 🙂 As much as Flash was cool I found it rather limited and started my first experiments with 3D and AfterEffects which helped me land my first job as a Motion Designer at MTV. Since then I have worked for a few other TV channels, established a pretty successful freelance business, moved to Germany, started working for Sky TV Channel as a Senior Motion Designer / 3D Generalist. In February 2021 my friends called me and told me
about NFTs. At that time I was mainly producing music in my free time and thought I'd give it a go and came up with an idea for my first NFT series. As of now I am a full-time NFT artist, I don't experiment with NFTs anymore, I'm a true believer.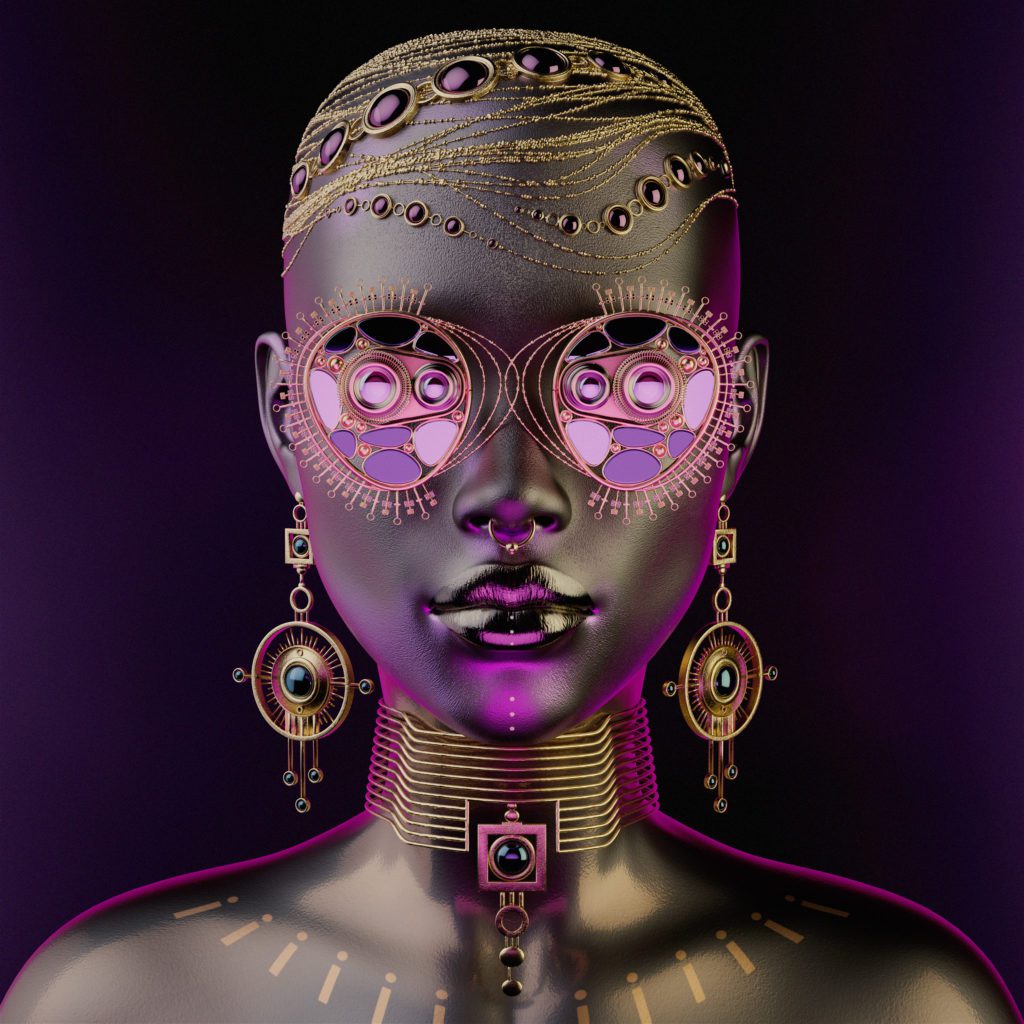 When did you mint your first NFT? What platform did you choose and why? 
My genesis was minted on March 3, 2021, it was a multi-edition piece that I dropped on Rarible. I didn't really like OpenSea's UI so I was looking for a popular non-curated alternative. My early investors were stalking me and I sold out within a few minutes 🙂 Little did I know that this journey was going to require my full commitment and dedication. 
Can you tell us one thing you cannot live without? (and why) 
Being a robot I can't live without a task I need to perform. My work completes or even defines my life. I find it hard sitting and doing nothing as well as enjoying "free time". It's probably not that good for my mental health but "I produce and therefore I am". 
Who is your favorite artist(s) (Non NFT)? What about their style resonates with you? 
Since childhood I have been fascinated by the work of Arkhip Kuindzhi. I would spend a considerable amount of time staring at "Moonlight Night on the Dnieper". The implementation of light and colour on that painting is staggering. I do love expressionism so I must mention Paul Klee, August Macke and Franz Marc. Why does their work resonate with me: it's bold in colour and form, it's as vivid as it gets, it defies realism. 
Claude Monet from the impressionist crew is definitely a weakness of mine, his "Sunrise" and "San Giorgio Maggiore at Dusk" are mesmerising to say the least. Staying on the topic of impressionism, I recently discovered work by Olga
Novokhatska, a contemporary French artist, and was instantly blown away by her style and technique. 
Who is your favourite NFT artist? What makes this artist unique? 
This is a very tough question and it would be nearly impossible for me to single out one person and should I answer with a list, I'm sure I'll miss someone out. I believe that all artists who stay true to their calling and craft are unique. Also to begin answering this question I would have to define the criteria of "favourite": is 
it the art, is it the personality or is it both? I will just say that on my journey I met some incredible people and they are all my favourites 🙂 
What made you pursue NFT art? 
I am convinced that every artist needs an audience and validation, be it in the form of a compliment or monetary rewards . The NFT space provides all that as well as the amazing community of people connecting on different levels. This is the best thing that happened to me in the last 7 years. Not to mention that I got addicted to collecting art too. 
What is the one piece of NFT art you wish you had purchased but missed out on? 
DesLucrece https://twitter.com/DesLucrece 
Enough sa(i)d 🙁
If you could travel anywhere in the world, where would you go? Why this location? 
Portugal. Best. Food. Ever. And I like food. 
What are your other passions besides art? Why? 
Do you make other forms of art? 
My other passion is MUSIC. I am an avid listener of a wide variety of genres from jazz to leftfield electronica. And I create music too: orchestral arrangements and liquid/intelligent drum & bass. Not doing much of that lately because I'm 220% focused on the NFT Space.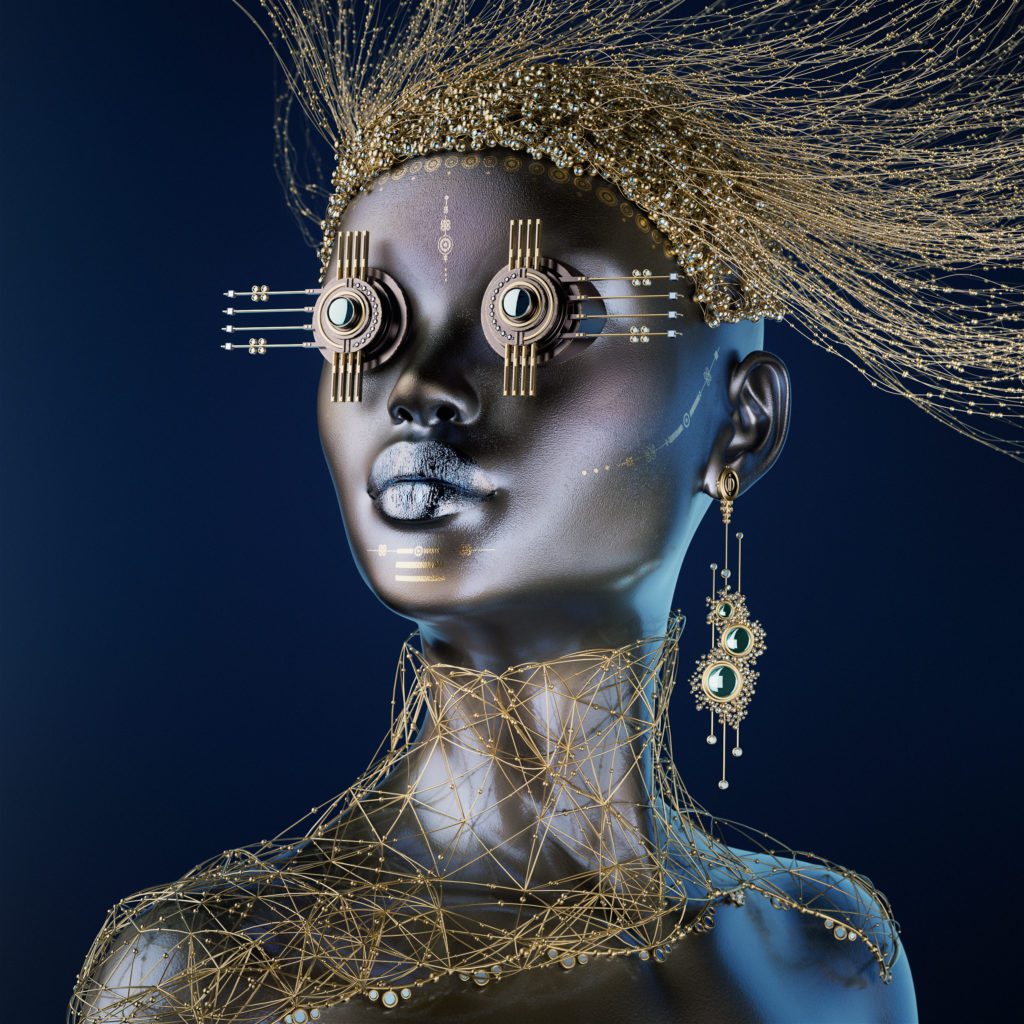 How did you come up with your specific style? 
My professional activity made it challenging to land on one particular style. Due to the nature of my job I can work in a broad range of techniques and directions and deliver a quality product. But I knew the time had come for me to choose. Just before I started in the NFT space I was developing a self-directed short film that would have become a tribute to the 50s-60s Sci-fi B-Movies, so my first series was called Retro-Future and featured UFOs, space monsters and robots. Later I experimented with glitch and abstract art until at one point I decided to combine procedural/generative graphics with the human form. After a few "human experiments" I decided to combine two things I am fascinated with and that is African Tribal Culture and Hi-Tech/Cyberpunk. Speaking of the latter I wanted to come up with a fresh direction and give it a somewhat luxurious feel as opposed to grungy cable bundles and worn metal so I mixed it up with elements of fashion and jewellery. This direction was very well received and what's more important is that I really enjoy making art in this style which I call "Cyber-Influenced Chic fused with Afrofuturism and Conceptual Fashion".
How has your style evolved over the years? 
As I mentioned above, I've worked in many different styles all my life and the main transition happened a few months ago when I settled on the "Cyber-African-Chic" direction. 
What is coming in the near future? 
If we are talking in the general context of NFTs and Crypto, I see mass adoption happening in the next 5 years or so. We will transition from the Wild West to a well-oiled economic model. However I don't see "real" decentralization happening anytime soon and that is due to the chaotic element of human nature and governments wanting to be in control but I hope that some sort of agreement will be reached along with a set of rules and laws that we will agree to adhere to. In any case there's no stopping the Blockchain and we are riding this wave big time. 
If you could collaborate with one artist who would it be? 
I'd say it's Natalie Shau: https://twitter.com/NatalieShau 
I've been a huge fan of her work and the Bad Girls Club series in particular. 
Do you have any upcoming drops? 
Yes, at the moment I am working on 3 more pieces for my Age of Robots collection (ETH) and one more piece that will be airdropped to some of my collectors. I am also developing an idea for an ongoing series on Solana as well as planning more TEZ pieces for the Tribal Interface collection. The goal is to establish a solid presence on three blockchains: ETH, XTZ and SOL. There are a few other things planned but I'm not ready to reveal them yet 😉
Link to Website: 
Social links: 
https://www.instagram.com/onerob0t/ 
NFT marketplace links: 
https://opensea.io/collection/onerobot-age-of-robots 
https://opensea.io/collection/onerobot-classics 
https://knownorigin.io/onerobot 
https://foundation.app/onerobot 
https://objkt.com/profile/onerobot/ 
Follow us on Social Media