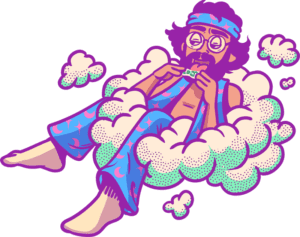 Cheech and Chong are transporting you to Dreamland: a whimsical world just beyond our own. Dreamland is full of weird and wonderful energy, and even weirder new homies!
Cheech and Chong are a comedy duo who became famous for their stand-up routines and films.
Cheech Marin (born Richard Anthony "Cheech" Marin on September 16, 1946) is an American comedian, actor, voice artist, writer, director, musician and activist who gained recognition as part of the comedy act Cheech & Chong during the 1970s and early 1980s with Tommy Chong. He has since become an actor in numerous movies and television shows.
Tommy Chong (born October 24, 1938) is a Canadian comedian/actor/director/producer/musician best known for his slapstick humor as half of the comedy duo Cheech & Chong during the 1970s and 1980s. He has also released several solo albums and directed several films.
Today, they are excited to launch their NFT project. Homies in Dreamland is a collection of 10,420 NFTs designed by artist Jermaine Rogers, inspired by the legendary duo Cheech and Chong.
Join us on an epic trip, as we meet the Homies in Dreamland!
10,420 Homies will be stored as an ERC-721 token on the Ethereum blockchain
Each NFT will cost .1420 ETH
Max purchase numbers of homies per transaction is 5
There are no tiers or bonding curves related to pricing
Metadata and images will be hosted on IPFS
The Dreamland NFT Roadmap
WINTER 2022
– Personalized Video Messages from Cheech & Chong
– First (1st) Poster Airdrop – Billy Perkins
– Second (2nd) Poster Airdrop – Billy Perkins
SPRING 2022

– Cheech & Chong Video Call Token Redemption
– Third (3rd) Poster Airdrop – 4:20 Special
– 40 Hand Screened Art Prints Delivered
– Fourth (4th) Poster Airdrop
SUMMER 2022
– Fifth (5th) Poster Airdrop (710 Special)
– Glass Pipe Distribution
FALL 2022
– Sixth (6th) Poster Airdrop
– Seventh (7th) Poster Airdrop (Halloween Special)
WINTER 2023
– 1 Year Anniversary (8th) Airdrop
– Roadmap 2.0 Released
2.0 POSSIBILITIES
– Tokin' Tokens
– Comic Book Run
– Liquidity Pool
– Character based products
– In-real-life events
– More Homies Collections with preferred minting
and pricing for MHID holders
Follow us on Social Media