NFT-MAKER is creating a multi-chain NFT ecosystem focused on reducing the entry barrier to NFTs for end-users, artists, brands, and corporations by building tools to cover the full range of onboarding, minting & secondary market selling. NFT-MAKER PRO was the first public 'Mint-on-Demand' tool run on the Cardano Blockchain that has since evolved to become the powerhouse behind around 50% of all unique projects and nearly 20% of all CNFTs that currently exist.
This interview is with NFT-MAKER, the team behind the minting of Non-Fungible Tokens on the Cardano blockchain. Their projects happen to be one of the most anticipated projects in the Cardano ecosystem. We asked them a series of questions about their projects and how they came up with the ideas. Here is what they had to say!
Can you tell us about your projects?
Our launch of the NFT-MAKER PRO platform – the first-ever public 'Mint-On-Demand' on the Cardano blockchain does not only make it easy for anyone to create an NFT, but it also provides a wide range of features and options that make minting truly unique. 
The best part? Projects can not only let their clients mint tokens on demand but also get a chance to enable sales conditions, e.g., whitelisting and royalty rates, among other options for those who want them – it just makes sense! 
Whether you want to mint a collection of a few unique artworks or 10k, you will find the right tools to onboard without needing any coding knowledge with NFT-MAKER PRO. As the minting happens on demand and the fees are deducted during the sale/mint, the creators don't have to pay in advance. One can also create fungible tokens with NFT-MAKER PRO that can be registered in the Cardano token registry. 
Some of our coolest launches are yet to come and our whitepaper outlines some of the more interesting use cases for NFTs on Cardano, such as marketplace launch, NKMR stake pool, and our $NKMR token all set to release in the coming months.
What inspired you to start these projects?
We love Cardano! NFT-MAKER strives to be a voice for our community, listening and learning about what they want at their fingertips. We believe that by minting NFTs on the Cardano blockchain, we will be able not only to provide an affordable but also simple way of creating digital assets but also improve the user experience to encourage mainstream adoption of NFTs and also support a variety of Web 3.0 use cases. We do understand that the concept of Web 3.0 is still in a formative stage at the time of this writing.
​​What do you think are the benefits of using Cardano?
There are many benefits to using Cardano. 
Cardano is a blockchain that can adapt and evolve to meet the needs of today's technology-driven world. It was built with low fee costs, endless scaling possibilities in mind. It's on its way to becoming more popular than Ethereum because it already contains many features which make this possible – such as Ouroboros Proof of Stake algorithms, for instance (which can decrease transaction times).
Moreover, the Proof of Stake method deployed on the Cardano makes it more sustainable and environmentally friendly. 
With these strengths combined with high development activity levels within Cardano itself, we believe we'll see a great future ahead. We are very proud to be part of this ecosystem!
What makes your projects unique?
The challenge we see with most blockchain-based projects is that they are often too difficult for the average user to get involved. This is one of the reasons we are so focused on creating a simple and user-friendly experience when it comes to minting, buying, and storing ownership of NFTs.
All of the NFTs we mint within our ecosystem will give them a unique identity and help to prevent counterfeiting. In addition, our minting process is entirely customizable so that NFT creators can mint assets that are truly unique and reflect their own style.
How did you come up with the ideas?
We have a solid team of diverse backgrounds and skillsets that come together to create some truly amazing projects. We are always exploring new ways to push the envelope and expand the possibilities of what can be done with NFTs. Our team is always dedicated to seeking new ways to bring value to the Cardano ecosystem and adapt to the competitive landscape of blockchain technology and the demands of web3.
How big is the team and what are their roles?
We are 40+ people on the team with a wide range of skillsets ranging from expertise in front and back end programming, design UX, marketing, project management, team management, finance, amongst many others. We all come together to work on different aspects of the project that are important for its success. Our team is passionate about blockchain technology. We are always expanding our team to improve our capabilities and expertise in order to better serve our community.
What is the price and is it fair?
We have a variety of price points for minting fees. The first tier is 2 ADA per NFT, and it goes down depending on how many tokens are minted in total each month, plus Cardano Fees 0,175 ADA and the regular MinUTXo of 2 ADA that is sent with each transaction that contains only an NFT.
Importantly, we do not charge monthly subscriptions! There's no need to pay upfront when you can always take advantage of our constantly improving infrastructure with its reliable features at your fingertips – all while supporting our users first and foremost.
Overall, Cardano transactions are much less expensive than those on other blockchains, making them more cost-effective and practical.
What are your future plans?
We have a lot of exciting plans for the future including the launch of our marketplace, integrated payment gateway, game launchpad, licenses, and many more features that will improve the user experience when it comes to owning, creating, and buying NFTs. Our goal is to provide a comprehensive ecosystem that makes it easy for anyone to get involved with NFTs and participate in a decentralized system. We believe that this will not only help to drive mainstream adoption of NFTs but also improve the overall quality and variety of NFTs available.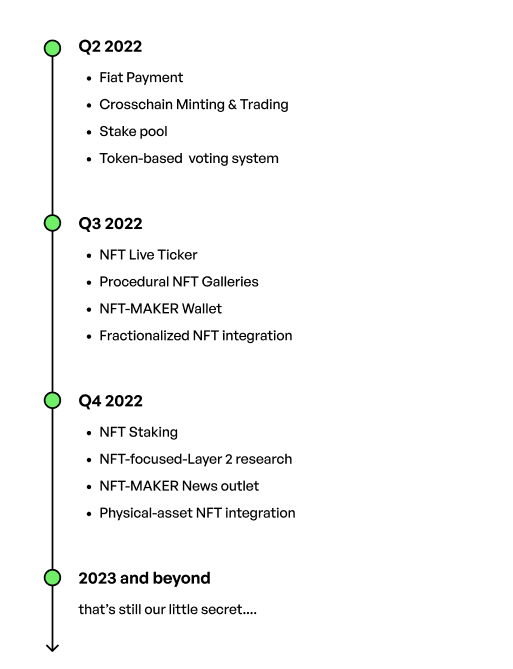 Our team is passionate and always looking for the next big thing to bring to the table. Look out for more amazing things to come from NFT-MAKER in the near future!
Do you have any interesting stories or projects that you would like to share?
NFT-MAKER has recently served as a technical partner to a scarce NFT asset: 17k Emerald Horse Sculpture – The Zamarad. This unique piece is sold through a 'Dutch Auction format.' The pricing format will begin at its introductory price, which starts high and then reduces every hour until sold; these auctions are different from typical ones where you start low before increasing with each new bid (e.g., auction houses). The starting price is 50 million ADA, making it one of the most expensive NFTs.
What is the Mint Size?
We have currently minted over 800k NFTs and the mint size is constantly growing. Our unique and customizable minting solutions make it easy for anyone to create an NFT, so we expect this number to continue growing rapidly in the near future. We are committed to helping grow the Cardano ecosystem. Look out for more amazing things to come from NFT-MAKER in the near future!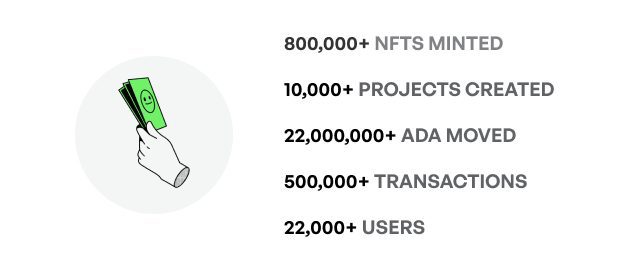 Who is your favorite artist (Non-NFT)?
Some of us really love Picasso because of his unique perspective and the way he changed the course of art. Others really enjoy Andy Warhol paintings of Andy Warhol paintings. Interestingly enough, the Budja project allows people to possess a fractionalized part of a Warhol painting as an NFT. For example, we could create a digital painting that is made up of many smaller pieces, each owned by a different person. Stay tuned!
It was a pleasure to interview NFT-MAKER and we are excited to see what they will bring to the world of NFTs in the future. Their unique minting solutions and commitment to challenge the status quo to make them a valuable addition to the Cardano ecosystem. We look forward to seeing what they will do next!
Links to NFT-MAKER's social channels:
Twitter: @nftmakerio
Instagram: nftmaker.io
Discord: discord.com/invite/fHeSuBw2A6
Youtube: youtube.com/channel/UCMGkPFLjlU10FDo8ESRZLgQ
Linkedin: linkedin.com/company/nftmakerio/mycompany/
Follow us on Social Media