*Disclaimer: This is a preview and not a review as we have not been able to get our hands on a display at this time.

One NFT Display Frame to Rule them All?
Where do we start with this one? We knew it was coming, we're surprised and delighted it happened so quickly. QONOS has announced the "world's first custom digital frame for NFT art and collectables."
From Beeple to LeBron, display your investment the way it deserves: on Qonos
While we can't formally comment on all the features of the Qonos NFT Display, a  key differentiator is that they allow you to display your actual NFT collection as well as many other NFT pieces of art.  Meural and Samsung Frame offer  a similar service that comes via subscription but only focuses on classical art.  Candidly, we like the ability of collectors and fans to display curated NFTs agnostic of ownership as long as attribution is handled properly.
QONOS NFT Display Details
Seamlessly curate NFT art and collectibles from device to display with Qonos frameplay™ technology. Effortless aesthetic re-invention in real time.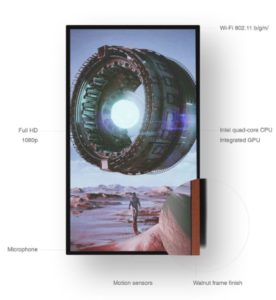 Qonos. A digital wall display that gives your room, office, or home creative expression. Place it anywhere in your house and watch as your space transforms into a living gallery of creative expressions. With a simple software interface, you can choose from thousands of artworks to customize any space.
The QONOS NFT Display currently comes with two options.
QONOS 17.3" at $999 USD
QONOS 24" at $1,499 USD
Both feature the following:
・ Dynamic 1080p display w/ 16.7m colors
・ Ultra-slim 15mm silhouette
・ Dedicated processing unit
・ Super-fast WiFi 802.11ac
・ Smartphone integration
・ Unlimited media types
Compatible with iOS, Android, MacOS, and Windows.
*Skepticism around 1080p display is currently unwarranted as we've seen many displays handle digital art. we will pixel peep when we get a unit for review.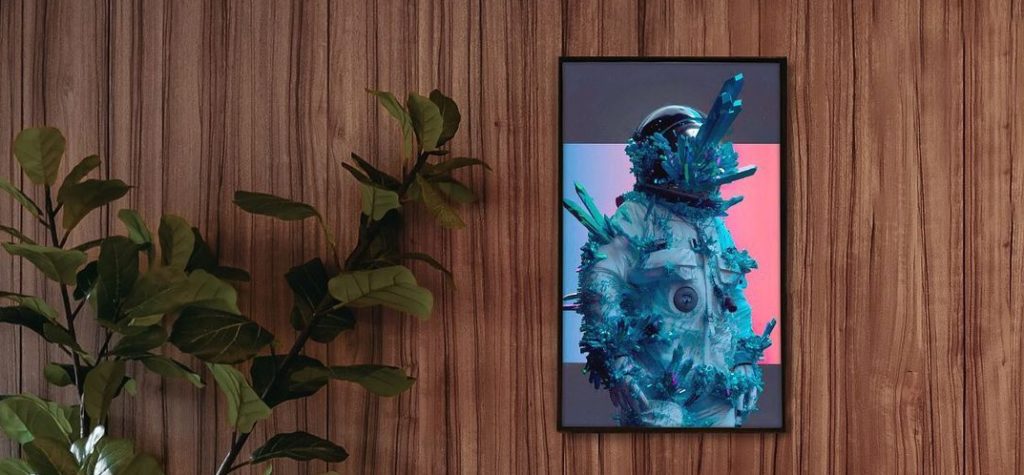 NFT Display Delays
The massive influx of nft collectors, agnostic to source (we're looking at you Top Shot) have already created massive demand for every type of display. We are already seeing shortages on the aforementioned Samsung Frame, it's primary competitor in meural, and the opensource options available via Raspberry Pi.
Currently, the QONOS displays are experiencing massive delays, their small version will ship in 6-8 weeks while the larger 24" version is delays as much as 12 weeks to 4 months.
NFT Bottom Line
If you're willing to spend thousands of dollars on NFTs and don't mind a short delay, the QONOS is a gamble, but a good one.  As we've stated we haven't been able to get our hands on a review unit yet, but QONOS shows promise. Plus the fact that they incorporate a sleek and elegant design that fully embraces and NFT first eco-system makes the risk worth it.  As we learn more, we'll let you know.
Follow us on Social Media