Even if you don't know who Alessandro Pautasso aka Kaneda is, you've probably seen his work.  Having been featured in numerous publications from the LA Times grammy profiles of Beyonce and Adele to Paris exhibits and everything in between.  Alessandro has finally graced the NFT world with his presence and we don't see his art going anywhere but up.  We want to thank him for his time to participate in this profile.
Alessandro, your work is incredible and we're thankful to watch you publish your first NFT on Foundation.  Can you provide a little background?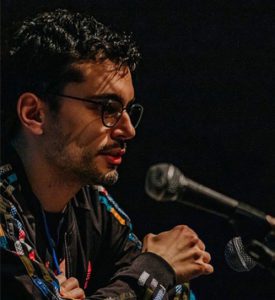 I started drawing as a child, when I discovered an illustration book on the Beatles by Alan Aldridge at that moment I became aware of the profession of an illustrator, as well as being a comic-book devourer (with age I somewhat stopped), All this happened also because my father who worked in a screen printing studio had brought home the old Mac (LC 475) that was used in the company, was now an obsolete machine and therefore I learned as a self-taught on the programs installed above including an Adobe Photoshop 2.5, then with the advent of digital I became more and more interested in transposing the "paper drawing" on the Mac. Dave McKean was the one in the '90s who really made me understand the power of Photoshop + scanner, now we take everything for granted but many years ago digital was still very embryonic.
Who is your favorite artists (Non NFT)? 
That is a tough question! I am a huge fan of James Jean and Marco Mazzoni as well.  But I also have a deep passion for old movie posters and therefore I love the art of Renato Casaro, Piero Ermanno Iaia and Alselmo Ballester.
Who is your favorite NFT artist? 
It's really hard to name a few without forgetting others, Mad Dog Jones, Signalnoise, Billelis, Aeforia but having been in the NFT world for relatively few days I'm sure I don't know a lot of extraordinary talents.  I look forward to getting to know more about the NFT art community and the amazing artists in more detail.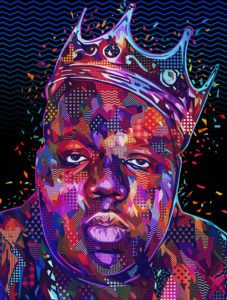 You admit that you feel like you're late to the NFT world (Even though you're still incredibly early) What made you try this space out? 
I got involved very late, I've just entered it recently due to a very intense working period I had in the last 4-5 months which forced me to limit a lot Instagram and many other social networks, unfortunate that exactly in this period the story was being written of digital art, so as soon as I finished my previous work commitments I started studying NFT art.
If you could travel anywhere in the world where would you go? 
This question takes on a very different meaning (given the times we are living in), now at this moment I live in the full red zone in lockdown and honestly I would settle for any destination, as long as it is far from my studio.
What are your other passions besides art? 
Once I was a great lover of photography and I can say that I was also a collector of vintage cameras, now due to work I tried to concentrate all my time on illustration and digital art.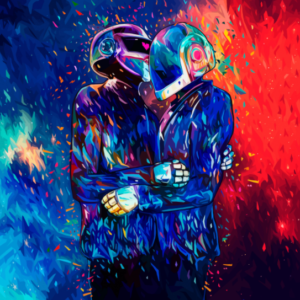 How did you come up with your specific style? 
As far as my abstract style is concerned, everything started from a stylistic research on portraits of old icons of Cinema Bette Davis, Cary Grant, Marilyn Monroe I refined the abstract art technique but maintaining a degree of recognition. I consider my style a modern conception of pop art developed by Warhol and Lichtenstein but I always try to focus on the portrait and not on the object of everyday life. To all intents and purposes I consider myself a portraitist, and my main works on commercial art / editorial illustration focus mainly on portraits. In fact, prestigious magazines and world newspapers such as the New York Times, Los Angeles Times and Washington Post have commissioned me to portray portraits of sports and political icons, from LeBon James to Kendrick Lamar, from Adele to Jay-Z and many more.
You've already done one NFT drop, what's next? 
At the moment I will try to keep my page on Foundation updated.  If you've seen my work on instagram and my website, I plan on adding some of my back catalog as NFTs on there.  Keep an eye out for your favorite piece. It may be coming up soon.
https://foundation.app/kaneda99
Alessandro, Thanks again for your time.  Where can collectors learn more about you and find your work?  
Social links: 
https://www.instagram.com/kaneda99/
Kenada99 Accolades:
2020
The New York Times – Illustration "Mahomes/Jackson duel of a new era"
September IdN v25n6: Music Graphics Issue – January
2019
Award – "2019 California Journalism Awards" "third place" category illustration
Award of excellence – 41st SND Print Competition
The Washington Post – Illustration "Can Hideo Kojima save us?"
Just Humans catalogue "100 illustrazioni senza confini"
Game of Thrones Tribute – Monsa publications
The New York Times – "A shooting star smothered" 21 May
Los Angeles Times "Oscar cover " 22 February
Los Angeles Times "The sneaker issue " 17 February
2018
Los Angeles Times "L.A.'S new king " 2 July
Los Angeles Times "NBA All Star Game" 18 February
Los Angeles Times "The grammy's hip-hop gamechangers " 26 January
2017
Los Angeles Times "The grammy's " 12 February
Seattle Times "NFC Playoff " 6 January
2016
Seattle Times "NFC Playoff " 8, 13, 15 January
Follow us on Social Media