Tom Brady is joining the NFT Marketplace fray.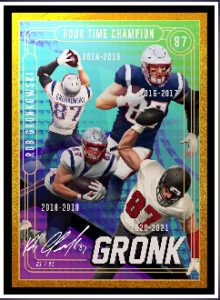 This morning, he announced plans to launch yet another non fungible token platform called Autograph (which is a fantastic name for a sports themed NFT marketplace). This particular platform aims to enable, big, big names across a variety of industries to sell collectibles. Patriots and Bucs teammate Rob Gronkowski made waves earlier this year by releasing his own set of NFTs. As the media hype around NFTs reaches critical mass, it's not surprising that famous personalities are trying to take advantage of the space.  While most are trying to launch their own tokens, Tom Brady is taking it to a new level with the launch of another platform.
Tom Brady will likely partner with other athletes, musicians and celebrities across pop culture to align their likeness with the new digital tokens based on blockchain. This presents an interesting challenge, as artists and performers, as well as athletes try to make money on their likeness, well likely under contract with recording studios, professional sports leagues, and more. We recently interviewed Mark Cuban, about these topics and he provided some interesting insights on how the future of non fungible tokens and celebrities will be handled.
Right now, the space is incredibly convoluted, with more and more marketplaces, entering almost daily. This creates challenges for collectors from a counterfeit perspective (especially on open platforms and marketplaces) overlap between what is real and authentic vs counterfeit NFTs becomes harder for collectors to decipher (which candidly is why we traded nifty culture.) We want to help our audience decipher, where artists are producing work across all of these platforms in order to find the best value for the community.
Finally, the Tom Brady Autograph platform is partnership with co founder and CEO. Dylan Rosenblatt, who stated that autograph plans to bring together some of the world's most iconic names and brands with best in class digital artists to Id create the launch nifty, and allow collectors groundbreaking experiences based on a community of fans and collectors.
Follow us on Social Media