Showdeer was one of the earliest NFT artists we were able to interview. His unique style have quietly made him one of the strongest NFT artists in the space. To date he has sold 540 of his 1,000 creations. Currently the collection has a floor of .5 ETH and total volume traded closing in on 300 ETH.  We were lucky enough to sit back down with him to learn more about what has changed over the last 6 months!.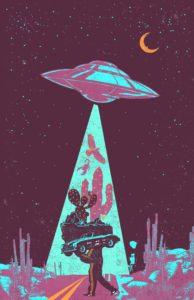 Hi Chris! What has changed since we last spoke?
Hi Mal! A lot of crazy stuff has happened and changed in the last six months since we last spoke back in April! Since then I sold my Genesis to a collector and friend Foobazzler for 20 eth ($64,000). I was featured on the front page of OpenSea twice with a now verified collection. The President of TIME Magazine Keith Grossman contacted me directly and picked up two of my pieces off secondary. My collection continues to sell out every drop even during bear market which people seem to be astonished by. Maybe scarce and quality artwork can outsell aped in community pfp 10k projects? My collection also reached a milestone of $1 Million volume traded. Which to me is just insane.
What new art are you working on and plan to work on?
I recently finished my first minted Genesis piece with Foundation. This is the first fully new Showdeer piece that isn't part of the main 1000 collection on OpenSea from 2008 – 2020. It shows a new direction I am moving in. I do have OpenSea Special Edition 100/100 pieces I have created and remixed from older pieces but this 1/1 is completely new. I have also finished my second Foundation piece which is the most elaborate piece of digital art I have ever made. Also the most meaningful.. It deals with feelings I have experienced in life with things like anxiety and the chaos and beauty of this world. The Genesis piece is inspired by this Digital Renaissance and the possibility of a new world and currently on loan with Mint Gold Dust for an auction at NFT NYC. I am extremely excited to drop it and more on Foundation and new art on bigger platforms in the near future.
What do you see for yourself and your art as it grows?
I'm excited to expand my art into a more meaningful and personal direction. Where the collection of Showdeer pieces made in the last twelve years did tap into ideas and feelings I had in small moments of life, these larger more elaborate animated pieces will expand on bigger ideas and feelings including anxiety, depression, excitement, sadness, and beauty.. Social behavior and patterns, ideas of being appalled by greed and toxic human behavior, evolution, spiritualism, esotericism, and all of the feelings and ideas we experience which can sometimes be too much to deal with or articulate verbally. Or at least for me. The pieces will be reflecting on society as all great art can and should. As well as giving homage and being inspired by the master painters of classical art, and art movements like Surrealism, Expressionism, Dadaism, and Contemporary Art. I also am very excited to dive into 3D rendered art and animation.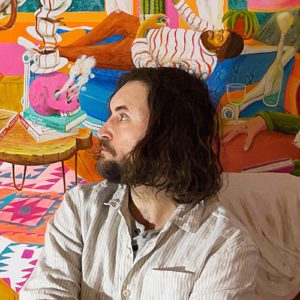 What do you see for the future of the NFT space as a whole?
I think we will see a lot of ups and downs and possibly a total crash and complete revamping of the system of selling NFTs by early 2022. Maybe even with eth 2.0 but who knows. Perhaps a more efficient network and platform will emerge. Yet I also see NFTs becoming more popular and accepted by the mainstream. Even to the point that everything will be an NFT. And it will completely change how we interact with our world. The metaverse and the world will become more symbiotic. NFTs are just the building blocks of something bigger. The nodes of a larger structure of physical reality, metaverse, augmented reality, a decentralized economy and eventually true AI all interacting together in harmony with us. Everything in the new world will have a smart contract like NFTs that are connected to the real world which we will also discover is just as artificial as the metaverse and AI is only a reflection of ourselves. Meaningful and important art and artists will rule and be celebrated and remembered with history while most cash-grab 10k pfps collections will turn to rubble and dust on the floor or just blend in homogeneously into our culture and system.
Any advice you can give to aspiring artists wanting to excel and succeed in the NFT scene?
Make great art. Make art that says something and makes people feel something. Actually put in the work. Stop checking Twitter. Stop complaining and comparing yourself to others and creating drama for yourself. Work on your time management. Spend the time even if it takes you years to get good. When you follow your passion the universe works in your favor because you are doing what you're supposed to be doing here on Earth.  If that is art, put in the work and get good. Not good, but great at doing it. Many doors will open for you to get where you need to go just by putting in the work. Might not even be NFTs but it probably will. If it is, be patient. Keep making art until your style finds you. Don't follow trends but be inspired by others. Let your authentic voice shine through your art. Help other artists as you grow and expand. 
Any other artists we should check out?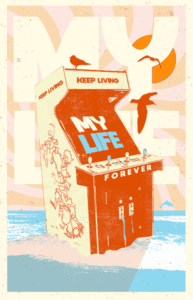 Yes! Check out my homies here in Portland Zachary Winteron and Pop Wonder! Also friends Toppy Eton (amazing digital repaints of classical paintings with tons of allegory blended with social ideas and references to the meme universe),  Empress Trash (fun and important art and helps donate money to orgs), Dario.eth (Super fun illustrations representing interesting people of NY), Perpetual Dream Maze (beautiful collage pieces), OpusOuch (next level animated Digital Renaissance art), and Dogs Unleashed Project (Super smart 11 year old artist creating art to help save dogs) and so many more! Check out my retweets on my Twitter!
Any upcoming things we should know about?
New 1/1 pieces minted on Foundation, I'm also currently on #0538 of my 1000 piece Showdeer collection on OpenSea.. I drop every Sunday around 2pm (pst). Best of the 2500 pieces I created in the last twelve year span. Possibility of working with some bigger platforms in the near future as well. Thank you Mal!!
Follow us on Social Media