Always Spooky, Forever Fresh 
What is the project's launch date?
SPKY FRSH is releasing a Beta Series of 333 'Spirit Guides of the Metaverse' on Sunday, Oct 31st. Collectors can mint from our website at www.spkyfrsh.com or purchase them on the Secondary market on Opensea. 
What is the price? Why is that price fair? 
SPKY FRSH can be minted for 120 MATIC (Apx $220) during the initial launch. This equated to roughly the price of gas fees when  purchasing and NFT on ethereum.. Our goal is to reward early Genesis collectors by giving them early access to future FRSH Packs, airdrops of exclusive traits and asynchronous layers roll outs. Our vision is that as adoption grows, the value of our NFTs will sky-rocket, benefiting early adopters and non-traditional collectors.
What is the Mint Size? 
Our Genesis Launch will consist of 3 out of 18 Spirit Forces: Light, Gravity and Time. A total of 3,333 SPKY's (1,111 each)  will be summoned during our first drop.
A total of 18 Spirit Forces will be summoned over the next two years, consisting of 1,1111 of each species. See the 'Teslaract' for a breakdown of each Spirit Force, and its corresponding theme. Once these NFT's are all released, we will allow the FRSH-DAO to decide if  and when we open portals and fill coffers of the community DAO. The goal draws back to building value, ownership and leadership in the community.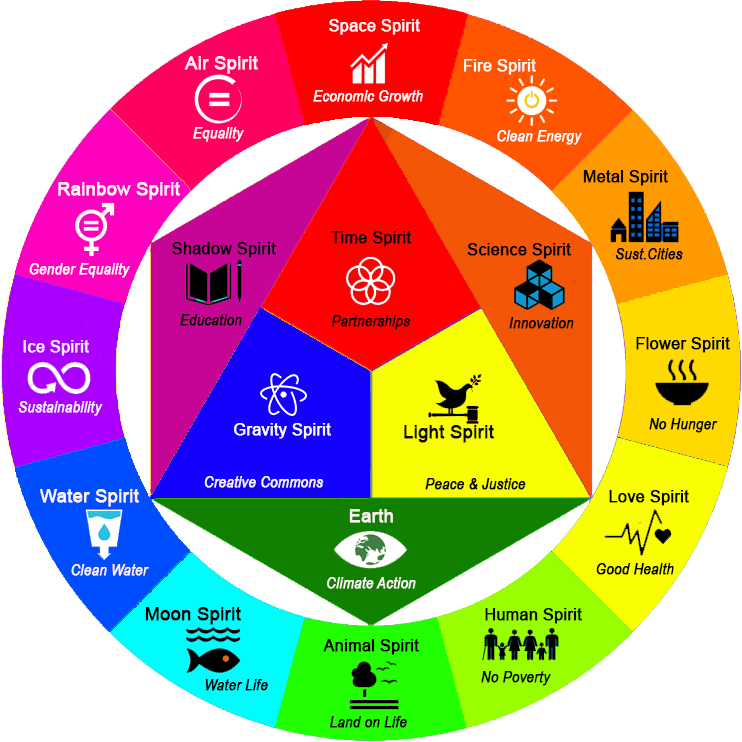 Genesis Launch Spirit Force Breakdown
Gravity Spirits | Creative Commons  
Elevating artist communities is central to our mission, making it the perfect fit as the gravitational force that pulls us to our center.  All Gravity Spirit Forces will support the 'Creative Commons.' Resources will be used to support artists bounties for future drops and to aid the development of our co-creation platform that will allow artist and impact driven organization to submit new layers to include in our FRSH Pack Drops.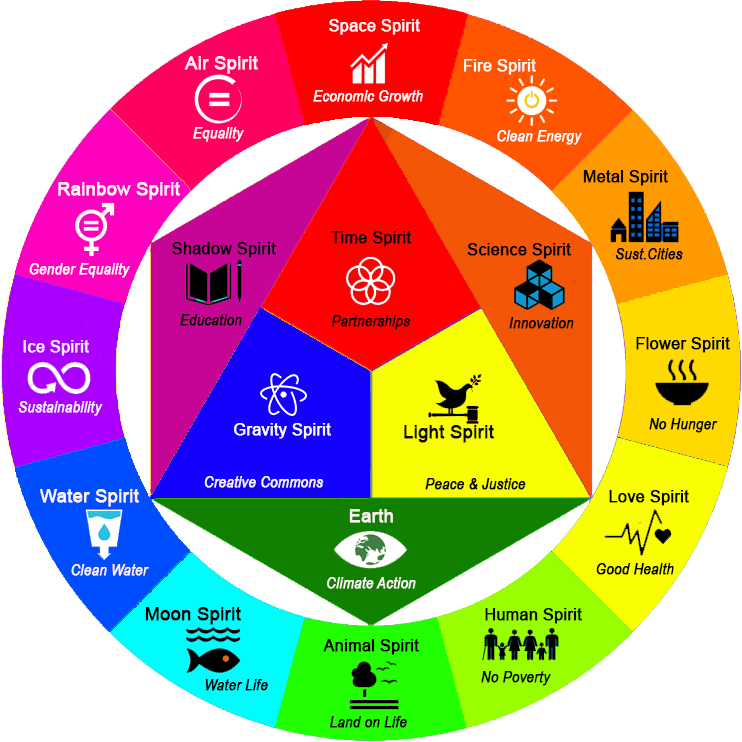 Light Spirits | Peace and Justice 
Light Spirits support the UN Sustainability goal of Peace and Justice. As a core belief that art can change the world, we aim to empower creators and our community to combat injustices around the globe. Police Brutality, Racial Inequity, Violence Against Women, the list goes on and on. We as a community will work with leaders in those spaces to help fund projects to reduce inequities and fund creative projects that bring these issues to the forefront of conversation.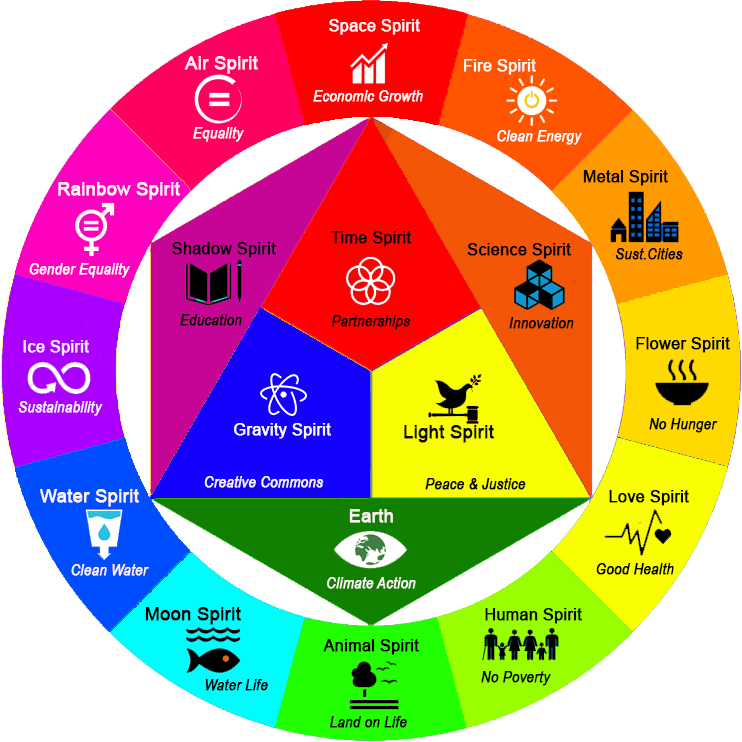 Time Spirits | Partnerships
Time Spirits serve to unite us all. Where they go they form new alliances and build stronger connections for the entire community. These NFTs support the UN goal of Partnerships. Resources allocated will support the onboarding of nonprofits and community-based organizations in order to leverage blockchain technology for fundraising and branding initiatives. In addition, Time Spirits will fund Open-Source Bounties to aid SPKY FRSH to globally expand and develop an interoperable NFT ecosystem that scaled our social impact.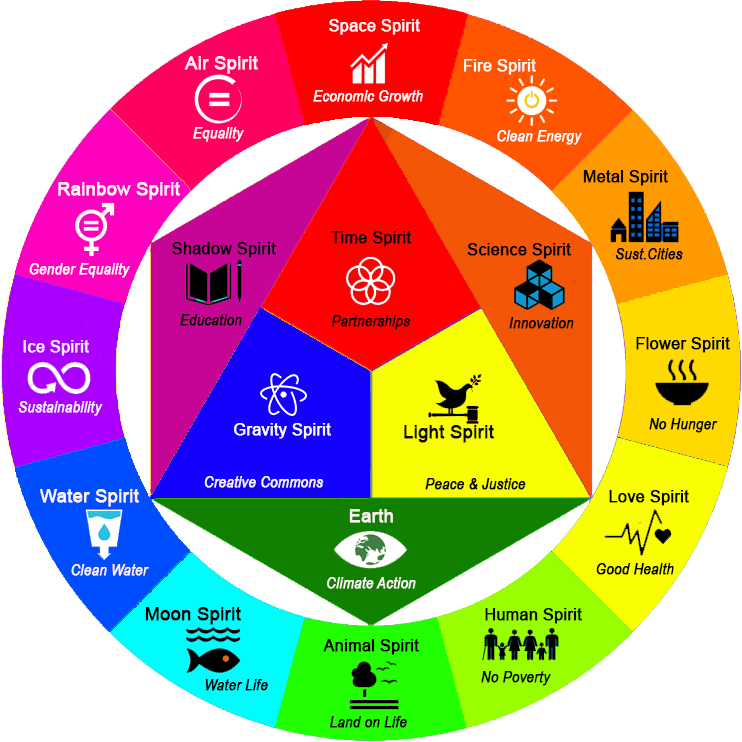 What makes this project unique? 
NFTs x Social Impact:  Each Spirit Forces in our collection is staked to one of the 17 UN Sustainability Goals or the Creative Commons. Secondary sales are allocated to the FRSH-DAO to support impact causes around the world. The total contribution will be 6% with a breakdown of 3% designated to social impact initiatives, 2% dedicated to the team  and 1% earmarked for the Artists to foster a sustainable model. 
Minority Owned: Diversity is central to innovation and our brand. We embrace this as our superpower! SPKY FRSH is majority owned by multiple minority groups. #BlackFounders, #WomenLed #VeteranOwned  
Scalable IP: Our intention for this project is to build scalable IP that allows artists, mission driven organizations and brands to contribute to generative NFT's drops. Our unique proprietary genome is built upon ERC1155 architecture, which provides near limitless utility possibilities. 
FRSH-DAO: Each of our Spirit Forces are staked to a different UN goal. NFT holders of the corresponding  Spirit Forces will have access to support curatorial decisions, elect Chiefs of Freshness, and vote on impact strategies for their corresponding communities.  
Co-Creation Model: Building generative art on the blockchain is not an easy task. Our goal is to eliminate and knock down the barrier to entry to artists and creatives that want to enter the space. Our platform provides an avenue for artists to contribute to PFP projects without the steep learning curve. Simply design custom layers and submit them for consideration.
World's First Kaomoji Genome: We work to continue to bring life to our SPKYs. These ghosts of the machine, exist in both text form, as well as highly rendered visuals. We built a custom genome that expresses each of its traits through the form of a kaomoji.  Super fun and easy to share via social media. So dope!  ⪻⦅⁙⍟𑄙⍟⁙⦆⪼
Fully Doxed Team: Trust and transparency are core principles to our brand. Our project founders possess decades of experience leading and growing diverse communities of artists, collectors and organizations. We choose to lead with transparency to who we are, what we have created and believe in order to dispel the mistrust among collectors having the rug pulled by anonymous developers.  But don't take our word for it, do your own research. Check out our website and visit the team's LinkedIn pages from our LinkTree.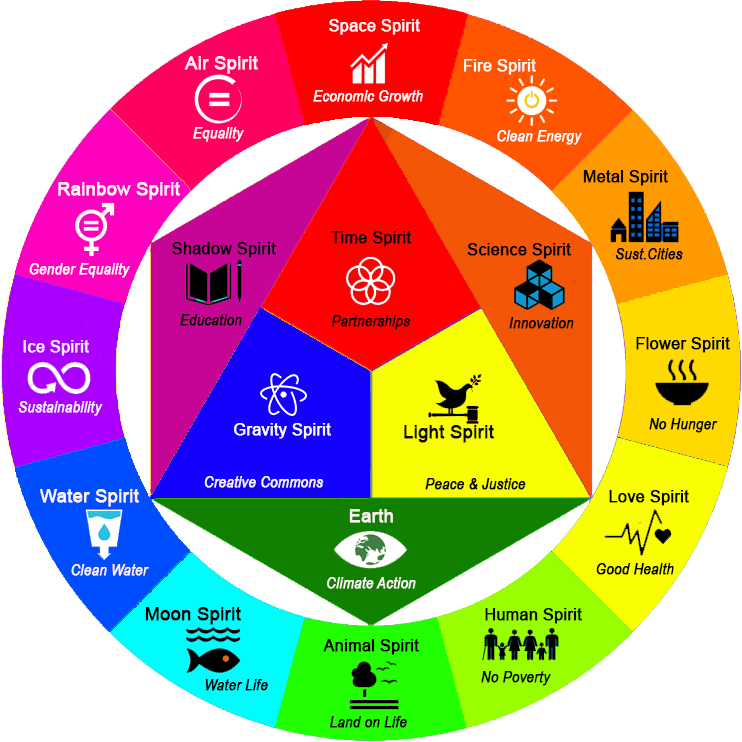 Are there any mechanics we should know about? 
Composable NFT: Our NFTs are built on the ERC1155 standard. This allows each trait in the NFT to be a tradable and upgradable asset. While SPKYs remain scarce, FRSH (aka features and layers) flows in abundance. Collectors will be able to customize their avatar through future FRSH Packs and farm rarity, collect exclusive artist edition traits, or compete in campaigns by collecting layers that support a variety of impact causes. 
Evolutionary Avatars:  Just like your Pokemon or old school Tamagotchi, SPKY FRSH NFTs will evolve over time. We coined this 'Spooky Actions at a Distance," but most know this functionality as asynchronous.  Imagine for instance, when BTC dips in value, your SPKY is sad, but when BTC price rises sharply it gleefully vomits coins. 😉  This feature and utility is targeted for the first half of 2022.
Dynamic Image Generation: While our Genesis NFTs are 'Pre-Revealed' don't be misled to think this is their final form! In fact, each of these SPKYs were pre-generated and uploaded to IFPS prior to launch. The next step in our roadmap will be to build a dynamic image generator so that when a trait is changed by the collector the metadata and image file changes in real time.  This same mechanism allows our team to update the IFPS file for each trait in order to fix bugs and upgrade each layer into higher and higher fidelity. 
How did you come up with the ideas? 
The project was originally created by Richard Best & Florcy Morisset. For us, the conversation began with questions on how might we improve the NFT industry and more importantly, how might we diversify the NFT market in order to assure equitable access and opportunities for underrepresented communities. Luke later joined the conversation, validating our focus to address key problem areas within the NFT space. 
All MICA Alumni, who are passionate about human centered design and practices, step 1 and 2, were for us to underscore our why by understanding the communities we wanted to serve and the problems we wanted to solve. We quickly brain-stormed concepts and ideas, later began talking to potential customers and investors soliciting their feedback. The story is history now but joining forces to launch a product that would foster: co-creation among artists, community ownership, eco-friendly technology, and drive social impact with real world use began as a rally-cry. Our hope is that we will disrupt and elevate the marketplace by challenging the status-quo.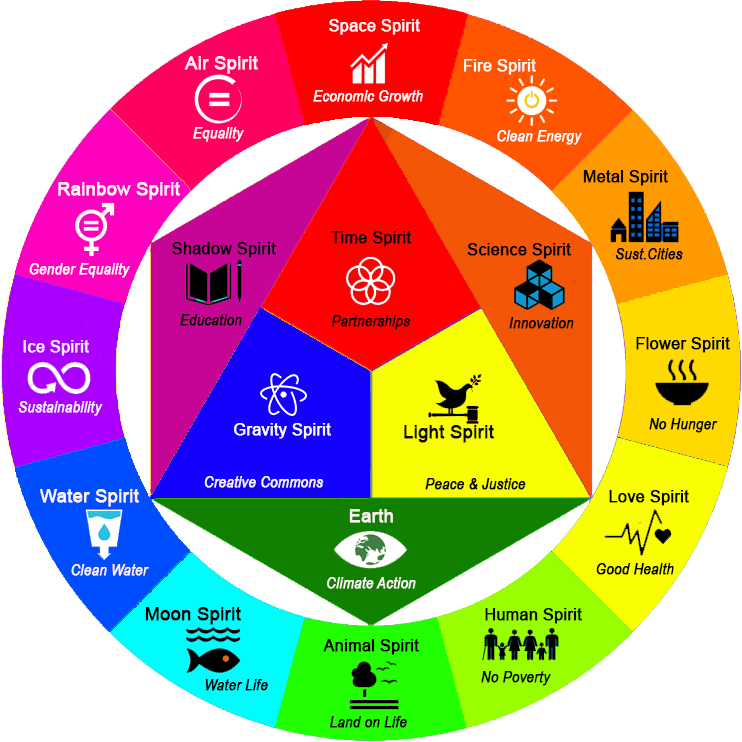 How Big is the team and what are their roles? 
We have an allstar crew of 8 team members and are growing fast! We are human-centered designers, product developers and marketers with a collective experience: creating innovative products, solutions and services across various industries. Collectively, we have worked in the creative arts space and have built a community of artists, collectors and community leaders.The team has been working on the project for the past 6 months, while also holding full-time jobs. We are all very eager to transition to developing SPKY FRSH full time and committed to disrupt the NFT industry by building a co-creation NFT ecosystem that enables collectors, brands, and mission driven organizations to engage in social impact causes.
Richard Best  MBA|MA – Chief of Freshness, Co-Founder (Product)
Rich is an artist, creative director, social entrepreneur and Army veteran. His mission is to uplift artists communities and transform the future and local communities. Rich began his career in the military, later moving into the design space as an Executive and Art Director, in which he founded these ventures, creating immense impact. Rich's newest target is set on designing scalable blockchain solutions that have a positive and beautiful impact.
Florcy Morisset MBA|MA – Co-Founder (Marketing/Ops) 
Florcy has worked, lived, and played in ArtTech for 15 years. She began her career as an art gallery owner, transitioning into big tech at Dell Technologies and Netflix, where she led Enterprise Support, Program Management and Product Innovation teams and initiatives. Florcy is an angel investor, coach, philanthropist and serial entrepreneur working on her 3rd venture, Spky Frsh.
Luke Maderia,BFA, MPS – Co-Founder (Brand & UI/UX Lead)
Luke is a senior designer with 10+ years of experience in UX, UI, graphic design & front-end development. Luke began his career as a sign artist, transitioned into visual design, finding a passion for UX and becoming a sought after Design leader. His rich, diverse and scrappy career in the digital space, spans large companies, boutique agencies, small clients and most recently start-up space at Spky Frsh.
BlockCo Labs – Blockchain Development Partner
BlockCo Labs is apart of AppWorks Accelerator #23, a partnership with Flow. Their mission and core expertise is empowering developers, entrepreneurs, and SPKY FRSH in the Blockchain Economy. They specialize in incorporating token-based economics, proprietary end-to-end solutions and value-added blockchain features into game/web/mobile applications. 
Tobore Sefia – Business Development  & Marketing 
Tobs is an experienced film and media production professional with an extensive background in business development, production management, events management, and marketing. He has worked in a myriad of functions, across major media outlets Al Jazeera, Good News Baltimore and Fox News Channel and Public Broadcast Service.
Sidney T. Hale – Social Media Manager
Sidney is a marketing manager and social media content developer with a track record of authentic, powerful and humorous storytelling. She has worked for big creative brands such as August Wilson Center for African American Culture, Vivant Art Collection, and now, Spky Frsh building content, communities, and followers across social media. 
Gavi Crane – Lead Illustrator 
Gavi is a visual artist, who has been drawing and sketching since the age of 16. Frustrated with the time and references, he transitioned to become a digital illustrator that focuses on creating psychedelic and meditative inspired imagery. 
Sergios Phobos – Lead Illustrator 
Sergios artistic focus and medium of choice are pen and ink. He explores techniques involving the hand to be guided by sound, music, and vibration to create a sort of liquid geometry. Sergios splits his effort between creating intricate single pieces and graphic novel work.
Bianca Salle – Community Manager
Bianca Mae is a filmmaker, photographer and community builder. Over the last 7 years, she has worked on various video production sets mastering pre-production to post-production. A creative, illustrator and graphic designer at heart she paints and designs communities that are collaborative, culturally diverse and creative.
Links to discord, social, etc. Links to creative we can use on the website 
Follow us on Social Media