As amateur photographers, we have a soft spot for professional photographers that find success in the difficult NFT space. We've had a great time getting to know the amazing UK (now living in Germany) Photographer and NFT artist Richard Powazynski
How did you start getting into NFT photography?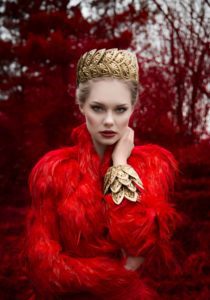 I have been in the photography space since 2012. I started taking landscape photographs whilst on my travels. Eventually I started working with models and things grew from there. I loved working with a subject and then slowly building in a team of people, hair and make-up, designers, stylists. Now I combine both of these, I love to shoot fashion and editorial work on location, and I am inspired by all the work I see in fashion magazines. It is definitely challenging but creates work that is unique and memorable. Also, each piece of work has a hidden story and experience that only the team have been able to be a part of. When I look back at my work it brings back a lot of memories. I general I strive to create strong, bold and rich images and I love to play with colour palettes.
How did you come up with your Photography style?
Trial and error, only through making mistakes can you learn what works and what doesn't. I also am guided by the things I like or I'm inspired by, whether that is a movie, music, a landscape, a colour, anything. I also like to let my style be organic and grow and change over time, I don't want to put any restrictions on it.
How has your style evolved over the years?
Over the years it has become more refined and has also become more my own. What I mean by that is I now try to create work that is more personal rather than being guided by clients.
Who is your favorite artists (Non NFT)?
Francisco José de Goya is one of my favourite artists, the way he tells stories and uses the light and dark in his artwork is stunning. I was lucky enough to see some of his pieces with my own eyes in the Museo Del Prado in Madrid and that was truly a special moment.
Who is your favorite NFT artist?
Jason Ebeyer (@jasonebeyer) is one of my favourite NFT artists. To be honest I have been super impressed with the 3D artwork that is being showcased.
What made you pursue NFT art?
I have been involved in the crypto sphere for a few years now and when the opportunity came up to combine my love of photography with blockchain technology I thought I would jump right in.
What is the one piece of NFT art you wish you had purchased but missed out on?
'Gaderel' by @pokraslampas is an amazing piece, I especially love the rich black and gold colours.
What are your other passions besides art?
Everything I do revolves around my photography work. However, the NFT space is inspiring me, so perhaps in the future I will dabble in something.
I have two relatively new passions that don't require being online, one is baking and the second is growing indoor plants, so thank you pandemic for those.
What was your greatest failure and what did you learn from it?
With my kind of work the thing that has caused the most problems is the weather. It can be unpredictable, it can change in an instant, you can't control the light. What I have learned is to be prepared for everything equipment wise, have a back-up plan, be patient and most importantly be agile. Some of my best images have come out of a situation where we have had to change the location or concept to match the weather.
What is coming in the near future?
I plan to list some more of my artwork, but I am taking my time listing new pieces. I also don't want to overdo it. I'm also still in the early phases of discussions regarding some collaborative work. Nothing specifically planned as of yet, I drop quite spontaneously. Follow me on Foundation and you'll get notified by e-mail when I drop.
Anything else you'd like to share?
On Tuesdays I have started to run a post that highlights and supports NFT photographers using the hashtag #NFTTogsTuesday. People can tag themselves or other, share their work, their drops, whatever they wish. It is a very supportive community.
Where can collectors learn more about you? 
Link to Website:
www.richardpowazynski.com
Social links:
Twitter: @rpowazynski
Instagram: @richardpowazynski
NFT marketplace links:
Foundation: www.foundation.app/rpowazynski
Showtime: www.tryshowtime.com/rpowazynski
Follow us on Social Media