Thank you for agreeing for this NFT Culture Interview. Please give our audience a bit of your background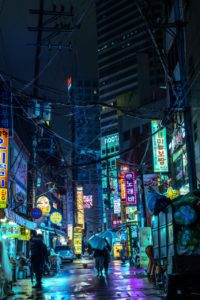 My name is Noe Alonzo, aka Noealz on my social media, and I am probably known best for my rainy cyberpunk and infrared photography. 
I was born and raised in South Texas, in a small city called Mcallen. My parents are from Mexico and growing up I had to work to help my family make ends meet. I remember using some money from selling aluminum cans as a kid to buy gardening tools, then going around the neighborhood asking people if they needed yard work. Once I turned 12, I started selling newspapers in the corners and I remember that upon turning 16, I felt a sense of relief because  I could finally get a decent part-time paying job to help my mom pay for the rent. I spent most of my high school years working up to 3 jobs at a time to help out, but somehow I still managed to do well at school. It wasn't until I reached the university that I decided to focus entirely on my studies. I took some loans, ended up with a master's degree and I moved to Korea as a teacher. I felt that if I lived abroad, I could earn more to help my family back home in Texas, while being able to live a little better.
Thanks for that detail. What made you pursue art?
One fact I had forgotten was that I had been taking photographs for many years since my childhood; I came across a shoebox full of photographs that I had taken during my trips back home.   As a child, I would often shoot with those old-school rectangular cameras that looked like a small cell phone case and during high school, I would almost always have a Kodak disposable camera and would use it to capture photos of my friends and life.  I would take photos of my friends skating and eventually, I bought a small 3Mb camera that allowed me to take short clips of them doing skateboarding tricks.  As a university student, I dedicated my entire life to studying, so I had no time for hobbies or interests; however, I also had the chance to take some film courses which rekindled my love for film during my last year of study.
Things got serious once I graduated from the University and was able to record and capture things freely. Initially, I was making videos about food and travel in Korea, but once I  upgraded to a DSLR, I began to take photos during my time off.  On a trip to Taiwan,  I took a photo that came out beautifully. Since that moment,  I wanted to learn how to recreate what made that photo beautiful, and so I started to teach myself photography and take it more seriously.
What is one thing you cannot live without and Who is your favorite artists (Non NFT)?
Perhaps the one thing I cannot live without would be spicy food, I need it in my life. I don't think I can go a few days without something with a strong flavor. I think perhaps many people would expect me to say my camera, but I can take photos just as nicely using my phone. I challenged myself to shoot exclusively on only a phone for 6 months once. I cannot say the same for some good spicy food. If I go a few days without it, I start to lose my mojo and can't think clearly until I have something nice. 
For my favorite artists, I think I would struggle to answer that one because one of my favorite artists right now is now doing NFTs. I've always admired the photography of Liam Wong because of his images and he has been my favorite artist for a very long time and he was one of the inspirations for taking photographs in the rain. I think he is moving towards film now, so it makes me sad he does not release any new works, but I think it is funny because I moved away from video.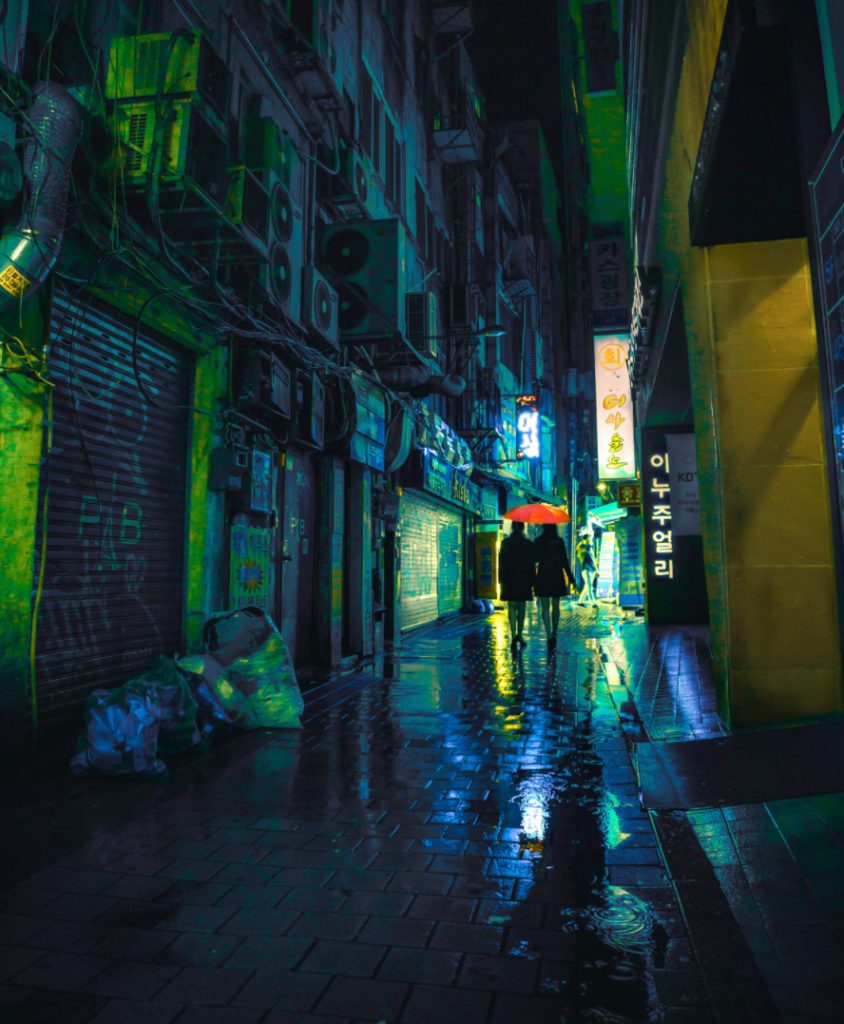 Who is your favorite NFT artist?  
Mad Dog Jones is my favorite NFT artist, actually, I really love colors and I feel like no other artist comes close to capturing that perfect blend of palettes. Not only that but I like the mentality he has towards the NFT space, his mindset of putting the collectors first, and how he is always pushing to do some new things – such as Replicator. That and he says hi from time to time, it is cool when someone you admire does something as simple as a reply to you. So it further enforces the positive image I hold of him as a person and artist.
What made you pursue NFT art?
 I had known about NFT art since last year, but at the time I was working on a book and to get it done in time, I had to focus on that entirely. Around the time I finished my book, Beeple had his big breakout auction and I knew that if I did not immediately get into NFTs, I might be too late in catching up. My friend Judy helped me get in and I appreciate her for that.  I spent a long time researching and to be honest, at the time there wasn't any clear concise information written in a way that a normal person could understand. So I took everything I knew and made some video guides to help others after I had learned the process.
What is the one piece of NFT art you wish you had purchased but missed out on?
 I am not such a large artist that I can afford to purchase many pieces; however, there are many pieces by artists in Asia that I see from time to time, and hope that someday I can collect many of them. There are some pieces that I like but the ones I have seen are priced a little beyond my means. I am confident those artists will continue to put out new pieces though, and hopefully, as this space grows I can help them out. I have been thinking about this for a while, how can I make a difference besides simply buying one person's work? So I have this idea, I would like to build a website where it gives simple instructions on how to mint in different Asian languages since they have the hardest time getting started. It could even include certain phrases so they know how to share their work on places like Twitter and such since many have trouble with English.
 If you could travel anywhere in the world where would you go?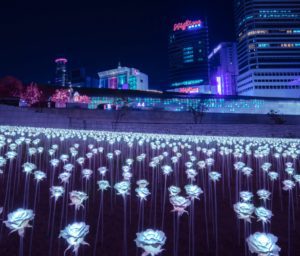 I would love to go to Brazil someday, I am very interested in photographing the slums and all the colorful homes there. I am a little worried about my equipment getting stolen as many of my friends living there have warned me about that, but I do not think that would deter me from visiting someday. What does stop me is the time, the money for the flight, and the fact that the flight is close to 27 hours. I do not think I could be able to handle that flight from Korea. But perhaps someday  I might get the chance. I usually travel in Asia, but traveling to South America would be super awesome someday. 
What are your other passions besides art?
Before the pandemic, I was very interested in health and nutrition. I would wake up to go to the gym at 6 am and eat very balanced, but that is not the case anymore. I should not go to the gym due to the pandemic, and it isn't very fun to exercise while using a mask either. Once this pandemic is over, I would like to get back into the routine of exercising regularly and cooking more often. Besides that, I like walking around and exploring new places, I usually always carry a camera with me, so if the conditions aren't very nice, I like to come back again another day.
Do you make other forms of art?
 I am not sure if it is considered art, but I like making Youtube videos. Occasionally I make some video projects such as time-lapses or animations, although I am not very good at it. Currently, I am studying a bit more on After Effects animations, but I would like to maintain stills as my primary form of art. I think many people are animating their works these days and I do want to dabble in it from time to time, but I also think that since many people are animating their work, I would stick out if I improve on my current works. Besides that, I do draw from time to time and occasionally like to mix paint with my photography. I don't do it very often but sometimes when I get an idea stuck in my head.
 How did you come up with your specific Photography style?  How has your style evolved over the years?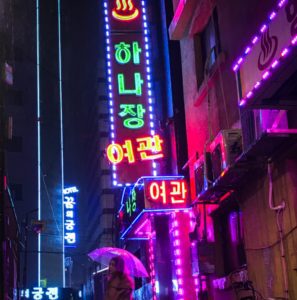 I don't think it is something that I came up with, but rather something that came about many years. Been doing photography for 10 years now, when I began I was shooting videos which then evolved into landscape and cityscape photos. From there I started doing timelapse and dabbled into film and street photography from time to time. Eventually, I started going out and doing that street photography at night, and ultimately, rain entered the equation and changed everything for me. I also do infrared photography, the reason being that I just love colors so much. But daytime photography is just so boring to me, which is why infrared and anime-style images are what I am interested in. In terms of night photography, I have become much pickier about what I like and don't like. I think being critical of my work is what helps me evolve and become better.
 What is coming in the near future?  
 I have quite a lot of projects planned for the future. Many of them are long-term projects but primarily I want to continue traveling around Asia while taking photos of the different cities and compile them into various books for people to enjoy. There is a daytime photography book that I would like to complete. The estimated time to finish it is around 5-6 years if all goes well. I would also like to make one more nighttime book but of various cities, not only Seoul.  I am always looking for new ideas for my work, there are a lot of things I cannot do so the best way to bridge those gaps is to do some collaborations with various artists.
 If you could collaborate with one artist who would it be?
 Well, I've always admired the work of Mad Dog Jones. I noticed that he painted one of my friend's images long ago and I thought it'd be pretty cool if he did one of mine too. That was before NFTs though,these days he has gotten so far so I don't think I could ever reach him at those heights. But there are many awesome more talented artists out there that I can probably get to know and work with.  I like collaborating with people I have seen around or had contact with for quite some time. I often get messages from people but they often have empty portfolios and I feel like they are just trying to use my influence to get some quick sales, so I prefer it to be with people who have put some time into their work. Perhaps others might feel the same way about me, but I have 10 years of work behind so I think my work can speak for itself.
 Do you have any upcoming drops?
 I am currently only loading on locations like Foundation and Known Origin, but I tend to release my content slowly as pieces sell out. I don't want to flood my pieces too soon, although I have many years of photographs to work with. I am very picky about the things I put out and would like to drop only my best. There are plenty of collaborations coming out though, some are pretty big and I can't wait to tell people about them but I think I should hold back on my excitement. In fact, this entire month has been almost only collaborations.
Any Final Thoughts?
Support artists in Asia! Particularly women artists, many of them don't have the language to be active in these communities. So please actively look for them and support their work!
Where can our collectors find your art and follow you?
Cryptoart: www.linktr.ee/noealz
Socials: www.linktr.ee/noealzii
 Link to Website: www.noealz.com
 Social links: 
www.instagram.com/noealzii
www.youtube.com/noealz
www.twitter.com/noealz
NFT marketplace links: 
tryshowtime.com/Noealz
foundation.app/noealz
knownorigin.io/noealz
Follow us on Social Media