Born in 2000, Diana Virlan (Dianave) is a multimedia artist, a graphic designer  graduated from the National University of Arts George Enescu. She is  passionate about ornamental art and mandalas, studying and experimenting  with traditional and digital mediums of cretion. Her work was displayed at  "Creative New World by Mirinda" exhibition in Bucharest, Romania, and The  Crypt Gallery in LA, United States. 
Name (Display name) 
Diana Virlan (Dianave) 
Where are you from? (Provide a little bit of your background, have you moved etc) 
I am from Moldova, a small country in Europe and not a lot of people know about its  existence haha. My family wanted me to become a doctor but I moved to Romania  and did my degree in Design at George Enescu National University of Arts. Because  of the pandemic we did most of our courses on-line and I was able to move in with  my boyfriend in Canada.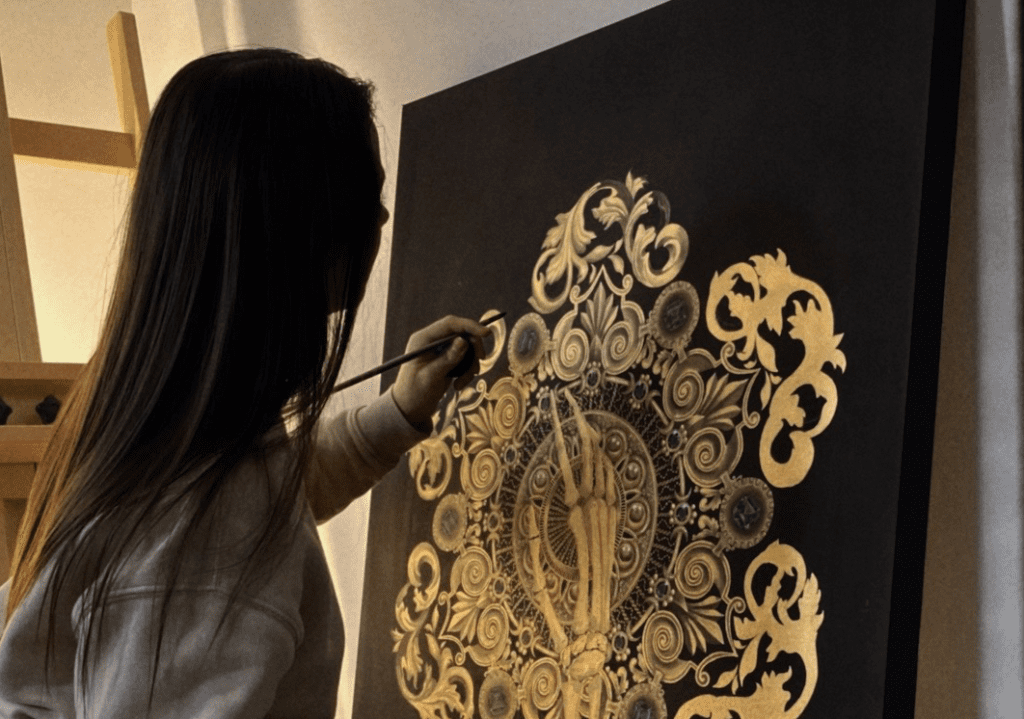 Can you tell us about your background and what lead you down the path to becoming an artist and ultimately experimenting with NFTs? 
I always loved to create, and wanted to be an artist but everyone around was telling me that  artists are poor and they starve and that I'm not going to make it. I was in middle school  when I first got a graphic tablet as a gift and I couldn't be happier. I was painting on it using  an old computer and a fake photoshop version and that was the moment I decided that I  want to make a career from drawing on a tablet. So I applied to study Graphic Design. I kept  traditional painting as a hobby and then I learned how to combine the digital with traditional  art and meanwhile a friend of mine told me that I should learn about NFTs and mint my  mandalas. 
When did you mint your first NFT? What platform did you choose and why? 
I minted and sold my first NFT in February 2021 for 1.9 ETH and that was life  changing. I chose to mint on Rarible because it was user friendly, and it didn't require  an invite or application. Shortly after that I got a Foundation invite and minted some  1/1s there which were attached to the original paintings, meanwhile I minted editions  on Rarible and released limited edition prints attached to the NFTs.  
Can you tell us one thing you cannot live without? (and why) 
Can't choose between art and travel. I love both very much and I think my life would be  extremely boring without any of them. But what I love most is when your art allows you  to travel. When I sold my first NFTs I went to visit Spain and it was incredible.  
Who is your favorite artist(s) (Non NFT)? What about their style resonates with you? 
Lizzie Snow, Anoushka Irukandji and Mike Pething were those who inspired be to try  drawing modern mandalas, their works are breath-taking. I also love the art from  Humid Peach, her love for art is inspiring and watching her paint is very satisfying. Also I admire Rococo and Baroque style artists, their paintings inspire me to create  mandalas with a feel of luxury, using golden ornaments and intricate details.  
Who is your favourite NFT artist? What makes this artist unique? 
It's hard to choose one, but Nolan Martin, Bill Elis and Zhuk inspire me and my style.
What made you pursue NFT art? 
I absolutely love the friends that NFTs gave me when I entered the space. We help and  support each other every day and this feeling is inspiring. Also the idea that the artist is not  starving and can make a good career it's pretty motivating too.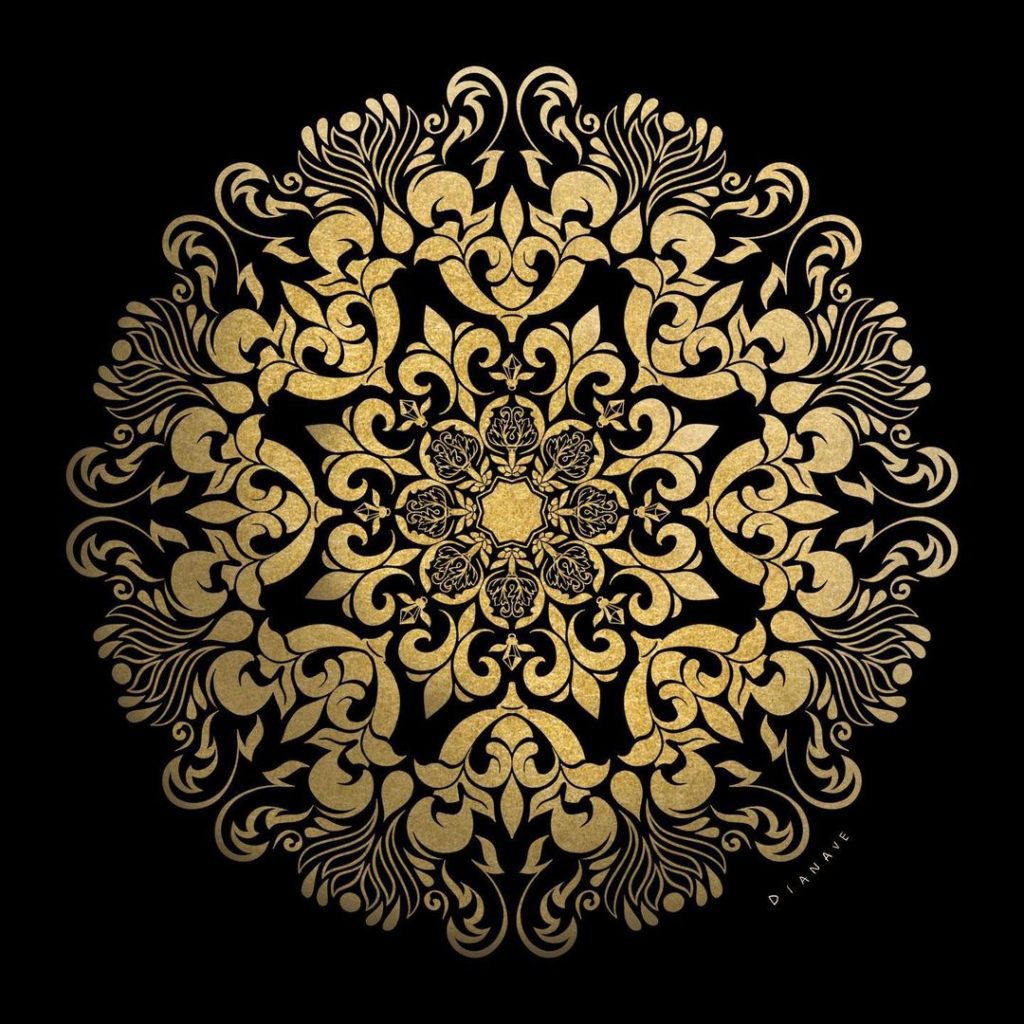 What is the one piece of NFT art you wish you had purchased but missed out on? 
Honestly, a Bored Ape would be life changing. Maybe I would have had more financial  freedom if I flipped one.  
If you could travel anywhere in the world where would you go? Why this location? 
I absolutely love traveling and have already been to some places and will continue to  go places. I think visiting Antarctica would be fun and a must-see at least once in life.  To go at the end of the world and see how massive is the world.  
What are your other passions besides art? Why? 
Travel, again, yes. Also I like to make content for social media like videos with  transitions. I like photography but I'm not a professional I just experiment with the  camera. I was always was passionate about bussiness and I had a small clothing  brand but haven't done anithing "serious" yet, but the subject is interesting to me. 
Do you make other forms of art? 
I do paint other things than mandalas from time to time, for fun, but I haven't  developed a style or a specific direction with it.  
How did you come up with your specific style? 
I was exploring mandalas for a long period of time and was amazed how many styles it  can have from culture to culture. I started to study Baroque and Rococo styles and  wanted to reproduce the luxury feeling of those paintings. I studied different ornaments  they used and the meaning of each of those. I wanted my mandalas to give a luxury  feeling to the viewer. I chose golden paint to achieve that goal. 
How has your style evolved over the years? 
I has been studying mandalas over the years and saw a lot of different styles,  concepts and meanings that they held. I started with small drawings and simple  ornaments to understand the complexity of the process and with time I found the best  settings that could describe best my style. 
What is coming in the near future? 
I am looking forward to explore how to integrate my paintings to a special edition  merch and how to create the most unique experiences with it. Also I want to become a  full time artist and be secure about my income. I hope that NFTs will allow me to do so. 
If you could collaborate with one artist who would it be? 
I would like to collaborate with Zhuk, to create a painting that would include one of her  beautiful characters and my ornaments.
What was your greatest failure and what did you learn from that? 
I sent 1 ETH to a scammer, it was back in my first weeks in NFTs, there was a  'collector' who wanted to 'identify' that we are not scammers and required to  send some eth to prove that in order to add us to some private chat, I don't  know why I sent so much, it was the next day I sold a piece for 1.9 so I didn't  think it's a big deal, as he said he would return it, hahaha.  
Don't trust people in NFT space who ask for money.  
Do you have any upcoming drops? 
I have some exciting NFT projects that I am working on but can't reveal them now,  hope to give more details soon.  
And as I said, I also want to release an exclusive collection of merchandise with my  art, and that will be announced at its time. 
Where can collectors find your work? 
Link to Website: 
Social links: 
https://twitter.com/DianaveArt 
https://www.instagram.com/dianave.art/ 
NFT marketplace links: 
https://foundation.app/@dianave 
Link to profile picture (or attach) 
Follow us on Social Media