Eva Eller is a digital artist and graphic designer originally from Tallinn, Estonia, who is currently based in Florence, Italy. Her art is deeply influenced by history, spirituality, and the aesthetics of the past. Eva's journey as an artist has taken her from studying graphic art in Estonia and Italy to working as a commercial illustrator and creating NFTs. In this interview, we delve into her artistic journey, her inspirations, and her thoughts on the digital art renaissance and NFTs. We had the pleasure of discovering Eva Eller through our good friend and collaborator, NoCreative. As soon as we saw her stunning digital paintings and learned about her journey as an artist, we knew we had to interview her and share her story with our audience.
Can you tell us a bit about your journey from growing up in Tallinn, Estonia, to studying graphic art in Italy and Estonia?
Thank you so much for having me, truly honoured and grateful!
Growing up in Tallinn was quite peaceful as Estonia is a very small country and it suits my character. Since childhood I always preferred drawing when I had free time, so I knew from the beginning that I would be an artist. I was sent to an art school at 11, where I learnt academic drawing and painting. My dream was always to travel the world and draw and survive on my art. I didn't know at first how I would do it, but the path of an artist was very clear to me from the beginning.
I chose graphic art as my bachelor's degree because it is close to illustration and digital art. The beauty of graphic art is that you can work in so many mediums. And I am grateful to have the opportunity to try printmaking on an academic level. I always admired Albrecht Dürer and his etchings, so it is really inspiring to be able to work in old techniques. Nowadays these techniques are being reused in contemporary art and it is great to see that tradition still stays. I am currently based in Florence and finishing my studies here. Italy made a huge impact on me and my art. Renaissance is the period by which I am truly inspired and Florence used to be the capital of Renaissance art.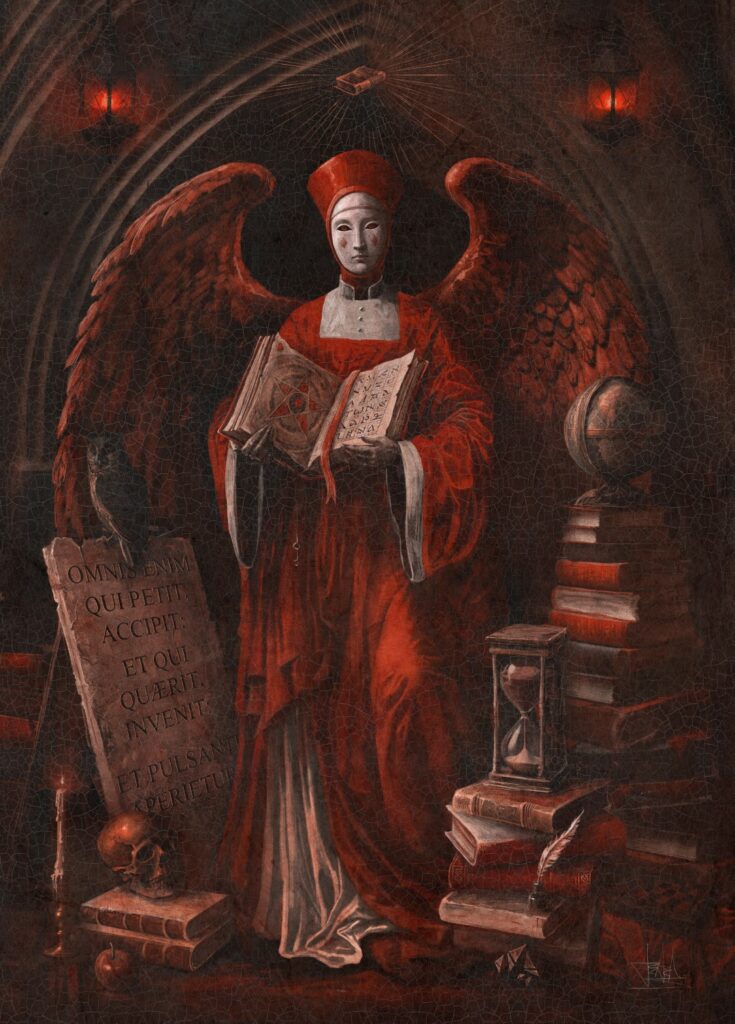 What led you to transition from commercial illustration to focusing on digital paintings and NFTs?

I was a digital artist for many years, but as I mentioned before, I have a traditional art background as well. At 15 I started to work for publishers and quickly realised it would be best to draw digitally for books, so I started learning digital art, it was really interesting for me, a completely new world, but I learnt fast as I had a good amount of drawing experience already. I missed a lot of lessons at high school because of illustration work too, I always studied well, but right now trying to fill the gaps I missed. Illustration work is great, but for 7 years, I never had any time to sit and draw something of my own. In summer 2022 I decided to work overnight and finally do it.
The concept of digital originals made me realise that this is truly where I belong. I am seriously passionate about the technology and the digital art renaissance, digital art was not considered fine art before, so I am very happy to see the change. I also prefer digital painting to any medium.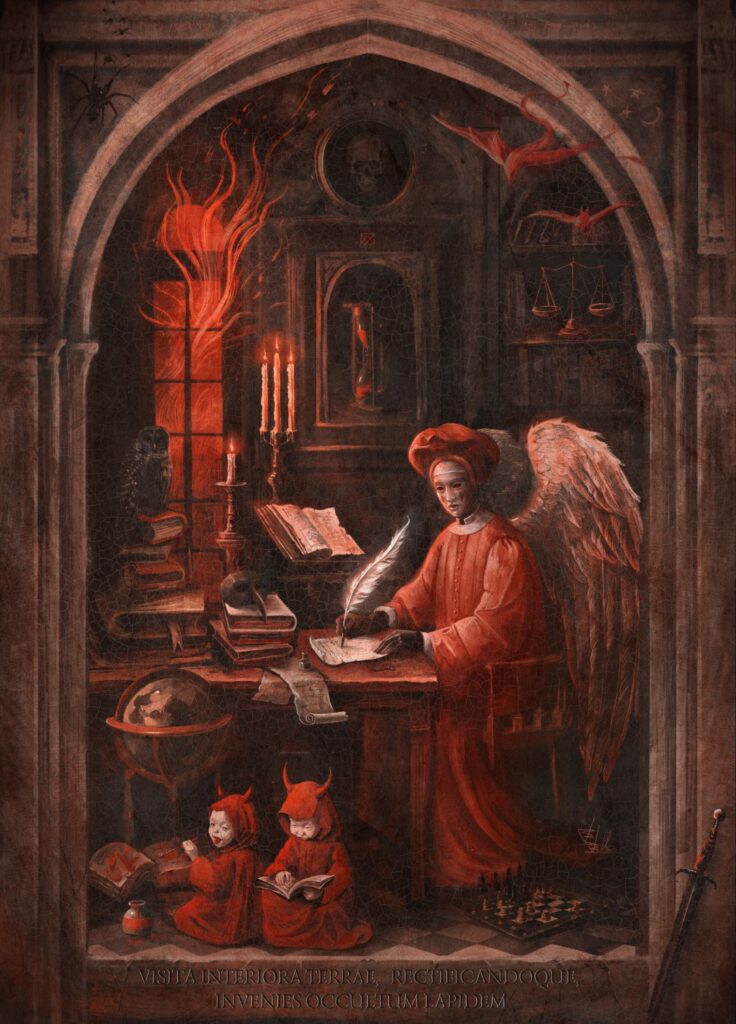 Your art is deeply influenced by history and spirituality. How do you incorporate these elements into your digital paintings, and why are they so important to you?
I was always fascinated by the aesthetic of the past, the beautiful architecture, outfits, calm and natural colours. More specifically I am most inspired by everything that happened before the 19th century, while the Middle Ages – Renaissance are two periods that are most predominant in my work. I try to honour the old masters of Renaissance and bring my own flavour into my works. I cannot explain why I am so drawn to the past, as well as why I am so drawn to spiritual topics. But I was genuinely curious about it since childhood and one year ago I opened the Bible and just started reading it. Several paintings of mine are inspired by the Bible.

Could you share who the masked angels in your paintings are and what do they symbolise?
Vision of my Angels of Knowledge came to me in July 2022. It was definitely a therapeutic drawing experience. I had accumulated a lot of stress and anger and I remember drawing the angels totally unconsciously, just painting everything in red, which symbolises passion for me, it is a bold, vivid colour, it has a lot of power, strength and drama. I was also inspired by the Bible as I was in the process of reading it for the first time.
My first painting "The Unforgiven" was inspired by the fact that God gave Satan and the angels the same choice He gave Adam and Eve, to obey Him or not. The angels had a free will, to follow Satan or remain faithful to God was an eternal choice. There is no opportunity for the fallen angels to repent and be forgiven. And so the painting depicts two angels regretting their choice to go to hell.
I continued with the angelic theme and gradually the design of my personal view of how an angel looks became more and more clear, in my third painting called "V.I.T.R.I.O.L." the angel is a representation of peace in chaos.
He is sitting in Hell, fire and screams outside, but he is peaceful and studying. Doing his own thing. And I think this painting marks a new beginning at how I look at life and how much I personally grew up and changed. I strive to be like this angel. I just want to create and educate myself about this wonderful world despite the amount of evil around.
Education, knowledge, acquiring skills and being able to monetise them changed my life phenomenally, so I convey through my work the importance of learning and try to inspire people to pursue their dreams and go outside and discover what they can do, what kind of talents they have, how they can monetise them. This is the message of my work.
The more I changed the more I wanted to create my own type of angel in my own universe. So I called them the Angels of Knowledge. I depict the Temple of Knowledge, angelic everyday life that is surrounded by books, discoveries, friendships and mentorships. There are several types of angels: Baby Angels, Grown up Angels of Knowledge, Angels of Light, the little children called chorts and occasionally there is a female figure involved.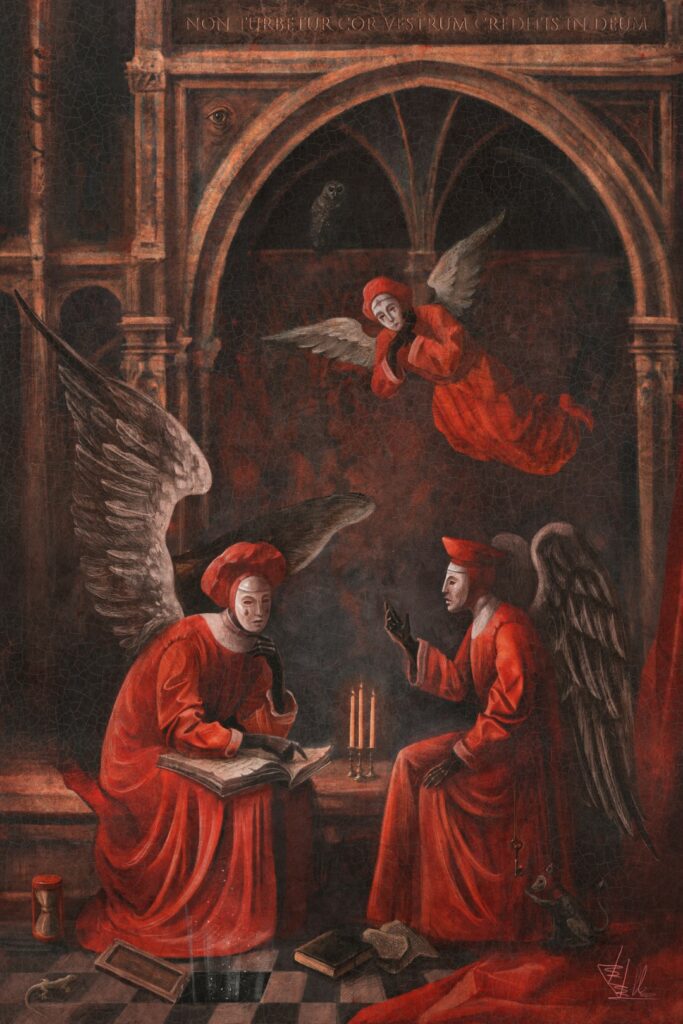 As someone who has worked closely with renowned author Paulo Coelho, what insights have you gained from illustrating his books that have influenced your personal art?
For me this was an incredible experience, something I am truly proud of in my illustration career. I am honoured that my publisher trusted me and chose me for this work. I always wanted to read Coelho, so when I received this offer, I started reading all the books for the first time and I am a very sensitive person, I feel everything 200 percent stronger and this helps me to create actually.
We did The Archer, The Alchemist, The Pilgrimage and Warrior of the Light. I think I did this job when I was 21, so 2 years ago. The books made a phenomenal effect on me, I felt like I relate to them a lot. Some of the main lessons for me:
Love makes everything beautiful.
Be persistent and never give up on your goals.
Make mistakes, learn from them, and above all live your life to the fullest.
Always follow your heart.
I also discovered a totally new style of drawing that I could do. I usually prefer to draw realistically as if it would be a Renaissance painting, but for Coelho I had to let go of that and do incredibly fast drawings to express the simplicity and minimalism.
How has your passion for Web3, Crypto Art, and the Digital Renaissance shaped your artistic practice and approach to creating NFTs?
Minting a digital original is a big deal for me mentally, I am proud that digital art is getting recognised. I would say I am still a fairly new artist in crypto art, as I joined only in July 2022 and so far it is still hard to process how much happened and how it impacted my life.
I am incredibly curious about the technology and how to find ways to incorporate it as an art medium. I truly respect the space so it is great to find ways what is possible to do here as an artist. AI integration, coding, interactive NFTs, trying out different blockchains, delving into the DeFi, all of that is incredibly interesting. I didn't have any background in crypto, not to mention NFTs so it is all very new and exciting for me. Sometimes challenging, but curiosity is higher.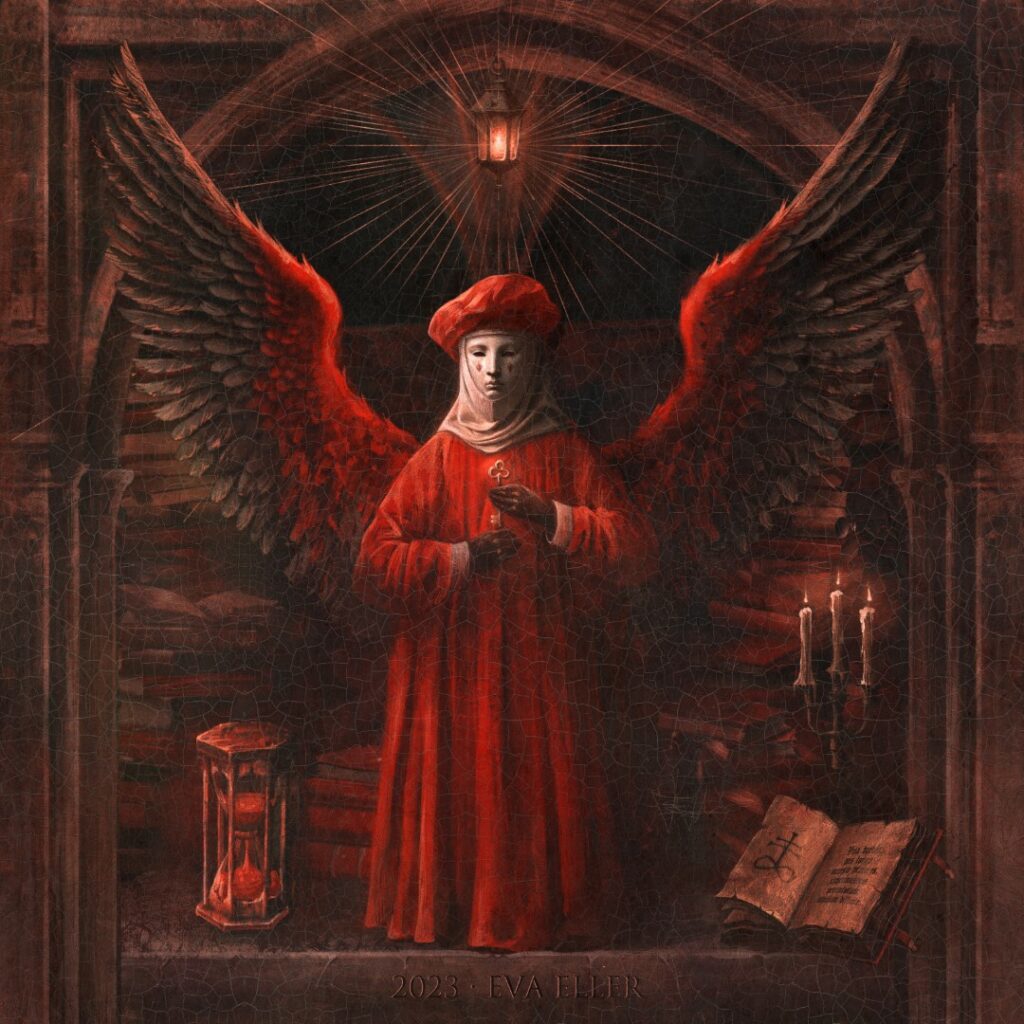 Can you share a specific moment or experience that brought you joy and happiness in your artistic journey, and how it has inspired you?
I think at around 18 I started working as a waitress, but gradually started making money only from illustration. I never hoped to sell just my personal art, but now it has happened and I am truly grateful and humbled, I can always go back to books though, but if it would happen, I would try to write and illustrate my own stories. Just as now I share more and more about my angels and their story, it progresses directly with how my life is changing and with each work I share a bit more.
Who are some of your favorite artists, both traditional and digital, and how have they influenced your work?
I like all Renaissance artists, such as Leonardo Da Vinci, Botticelli, Raffaello, Andrea Mantegna, Jan van Eyck, Hieronymus Bosch, Albrecht Durer. From contemporary digital artists I like Piotr Jabłoński, Greg Rutkowski, Sam Spratt and everyone I follow on Artstation to be honest.  I prefer Artstation to stay up to date with the artists I like because it is just a portfolio platform, no other noise.
Renaissance artists impacted me a lot for sure in many ways, I have studied them all and still do. The digital ones taught me how to paint digitally and what is possible today.
What challenges have you faced in your journey as an NFT artist, and how have you overcome them?
I think that generally just learning about everything from 0, literally from 0 was a challenge. I started with 0 twitter followers too, as a complete nobody. But I was picked up by the very right people and communities from the start, so I am incredibly grateful to everyone. Three communities that really helped me on my journey are   @vcaresidency/ @WHALEMembers /@gmw_art     and all of my collectors and my friends, you know who you are!
As the world of NFTs and digital art continues to evolve, what are your plans for the future, and how do you see your art adapting to the changing landscape?

I am full of optimism and hope for the space. I hope to bring more awareness about Crypto Art and to help onboard new people! I also do NFT projects in my art academy, this would have been impossible several years ago. It is truly mind-blowing. I also see digital displays improving massively and I think art will be just everywhere. Because of how easy it is to share digital art + because AI allows more people to express themselves creatively. I hope we focus more on art in general than on wars too!
Thank you so much for the interview! Sending every reader a digital rose as well.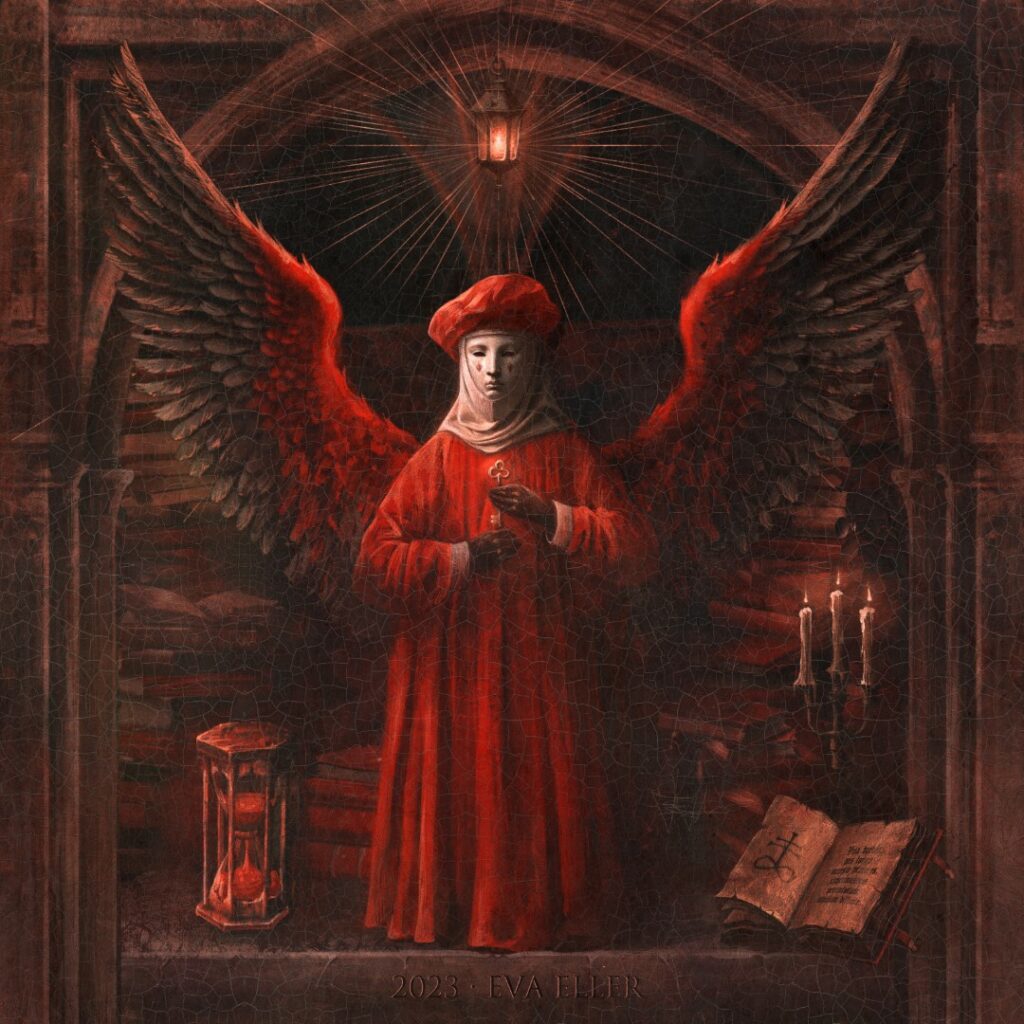 The best way to stay in touch with me is 
on Twitter (@EvaEllerArt) and through my website 
https://www.evaeller.ee/
 .
Follow us on Social Media