Thanks for agreeing to this interview. Please tell us about yourself.
I am the President Elect of the Chartered Society of Designers (CSD), a Design, Technology and Innovation Consultant, Author, Artist, Presenter, Host and Futurologist. I am also a strong supporter of the startup ecosystem as a Mentor for the British Fashion Council and Startup Sesame, Advisory Board Member at Continuous Ventures and Birmingham City University School of Media and Ambassador for the European Startup Prize for Mobility.
Since training as a Graphic Designer, I have combined over 30 years of Art, Design, Technology and Innovation with my creative approach to shaping the future for Film, TV, Automotive, Publishing, Music, Education and Leisure sectors with the emphasis on user experience and engagement. I have a fascination for emerging technologies such as Virtual and Augmented Reality, Wearable Technology, Artificial Intelligence and Mobility, and I now utilise an infinite design canvas.
I always live and breathe the things I speak about – including NFT! I spent 48 hours in Virtual Reality in 2017 and I have built a full body XR Immersion Suit featuring haptics, AR, VR, Bionic enhancements and a flame thrower. I'm already living in the future.
Where are you from?
I have travelled a lot with work but I have always returned to the UK. I was born and raised near Portsmouth, lived in London for a while but I am now based in Bournemouth with the sea (almost literally) on my doorstep.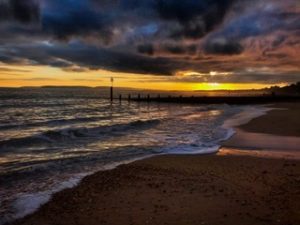 One thing you cannot live without?
A biro! I'm never without one in my pocket – it's the simplest thing to capture a creative moment. This quick sketch from a random moment developed into a piece of finished artwork for my interactive children's book app 'F:sh' in 2011.

Who is your favorite artist (Non NFT)?
OK, there are three (I can't give you one as they're all tied in first place). I've been a fan of graphic novels since the early monochrome days of 2000AD. Simon Bisley burst onto the scene with his Slaine artwork and introduced a level of depth not seen since Boris Valego – but added an extraordinary dynamism and the appearance of movement to every still image.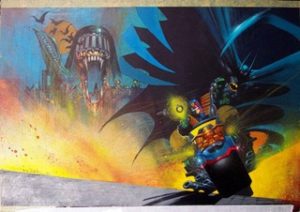 The other two artists in pole position are Ashley Wood and Bill Sienkiewicz, two incredible illustrators that push the boundaries of shape and colour and effectively bring their subjects to life with the juxtaposition of content, space and mixed media.
Ashley Wood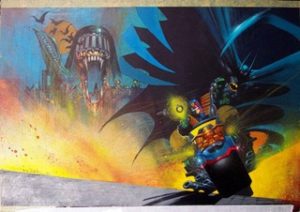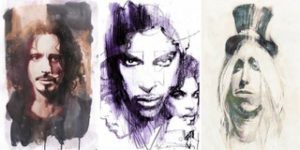 Who is your favorite NFT artist?
You're not going to get just one from me again! I love the concept artists and designers that have transitioned to NFT
Eduardo Pena
Alex Nice
Raphael Lacoste
Pascal Blanche
Jamie Jones 
But there's one more that isn't in the NFT club yet – but should be! Cold War Steve (Christopher Spencer) illustrates amazing political events in his irreverent photo montages. Keeping the British establishment on their toes, this artwork has even been brought to life in collaboration with
@IamHappyToast, perfect for a contemporary NFT audience!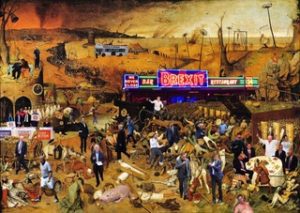 What made you pursue NFT art?
Because I'm a designer, artist, technologist and innovator that has never stood still. I'm not doing this for the sake of it – NFT has to add value and I'm determined to explore where that can best happen.
What is the one piece of NFT art you wish you had purchased but missed out on?
No regrets – I'm just looking forward to all the art, design, audio and content of historic significance, all brought together via NFT for digital provenance. It's a new frontier of interactive creativity and I'm very excited for creators and audiences alike.
If you could travel anywhere in the world where would you go?
New York, New York! Manhattan is my favourite city in the world and I'd always hop back in a heartbeat – except during a global pandemic…
Where can collectors learn more about your work.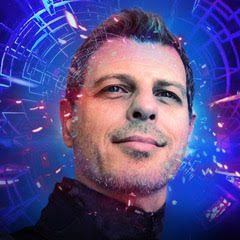 Link to Website: www.activrightbrain.com
Social links:
Twitter: https://twitter.com/activrightbrain
Instagram: https://www.instagram.com/activrightbrain/
LinkedIn: https://www.linkedin.com/in/activrightbrain/
NFT marketplace links:
Foundation > C-X75: Bond on Fire
KnownOrigin > RED ONE: F40 
Follow us on Social Media