What happens when you give artists access to a once in a generation technology ahead of the masses and get out of the way?
some really freaking cool things
The digital nature of NFTs has resulted in some exciting new developments. Today we're going to focus extensively on the gamification of NFTs and how the world's top artists are finding new ways to create value for their art, the collectors, the marketplaces, and the community at large.  Here are 7 different ways that NFTs are changing how the artist can engage with the collectors through NFTs:
1.  Time Sensitive or Outcome-based NFTs
Some call it a feature, while others call it a bug. Since many NFTs are minted and point exclusively to a unique web address, there is an opportunity for the artists to create art on time-based event outcomes.  The most popular recent scenario was the United States Presidential Election of 2020.  Before he became one of the highest grossing living artists of all time, Beeple made a name for himself in the artist community by creating daily art. As his popularity became synonymous with the NFT community, he and Nifty Gateway decided to create a NFT that would be auctioned off before the election, but based on the results would display wildly different works.
PSA from Beeple:
NOTES:  This piece is a first for Nifty [Gateway], a token that will change based on the outcome of the election.   If anything is constant about the times we now live in, it's uncertainty.  This uncertainty is perfectly encapsulated in this piece of artwork as the person buying the piece will not know the final artwork.   The artwork will be one state at auction before the election, and after the results of the election are known, will forever change to reflect a Trump or Biden win. – Beeple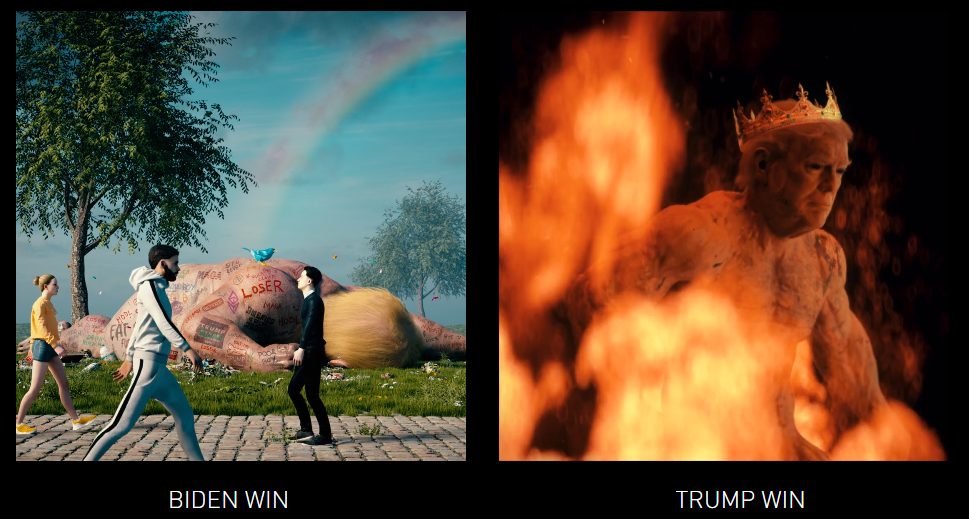 This may not have been the first outcome-based NFT, but definitely enjoys notoriety as the most popular. It has become an inspiration for artists to ideate on new ways to add organic concepts to their art. Future art could change by the day, season, or any other outcome that the artist can conceive.  Additional examples and slightly different interpretations change the NFT through the blockchain over time like Aavegachi or other role-playing game elements.
2.  The Second NFT Drop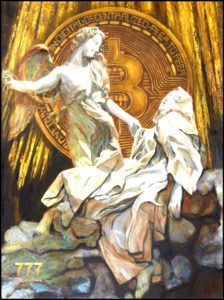 Chaos creates opportunity until it doesnt.  Are NFTs the Dutch Tulip Bubble, Beanie Babies, Pogs, or a revolution? Certain parts of the NFT market could, in some cases, have results that meet each of these criteria.  As NFT-mania continues to mount (and may be cooling off) the secondary markets for NFTs (as of early 2021) became parabolic with demand vastly outlasting supply causing much of the art created on Tier-1 Marketplaces to spike almost overnight.  New art started being injected daily and the average retail prices for open editions jumped 5-10x almost immediately.  (What is not well-documented is that the pricing spike mirrored the ETH price pretty closely).
The negative outcome of this massive swell of entrants is that many collectors were priced out of the market and flippers purchased open editions believing they were guaranteed to result in easy money.  The result is that, at least temporarily, the supply began to outpace demand for many open editions.  In fact, a number of artists have committed to stop doing additional open editions for a period of time as the NFT market transitions from the innovator and early adopters toward the early majority over the rest of 2021 and into 2022.  Other artists found ways to turn the flipping into a feature, by adding a "second drop" based on ownership of the first NFT art.
Trevor Jones announced a collaboration with Nifty Gateway to create an open edition of a beautiful and visceral piece called the Bitcoin Angel.  An amazing piece designed to test the market by creating inherent gamification on multiple levels.  Every person who purchased the piece of art and held it at a certain point of time was entered to win a 1/1 NFT portrait of UFC Hall of Famer Conor McGregor. This encouraged individual collectors to buy multiple pieces of the same piece to increase their chances of winning; essentially creating a beautiful piece of art that also acted as a lottery ticket for what is likely going to be a 7-figure NFT for the ultimate winner of the 1/1 NFT.  With Inception-like calculation, the second layer of gamification meant that collectors that collected 15 packages would be be entered to win a physical Conor McGregor portrait.  Finally, the 3rd layer of the game.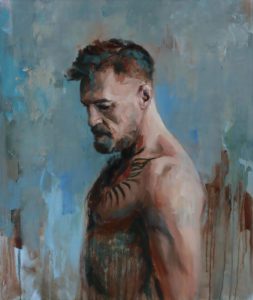 Every collector that owns an open edition when Bitcoin reaches $77,777 (which could happen this year or next) will be entered to have an individual portrait drawn of them or a loved one that includes a 1/1 NFT.
The result of this incredible idea sold 4,157 NFTs for $777.00 each (over $3m in USD) and a secondary floor currently sitting at over 4x the original price and over 1,628 secondary sales to date.  Additionally, the secondary market while the market matures due to the high reputation of Trevor Jones means that the floor value for institutional collectors attempting to get the 1/1 portrait should stay fairly constant.  Furthermore, after the market reached mass maturity, the Bitcoin Angel will be a historic piece of our lexicon and likely sustain and grow in value as retail collectors look for a piece of history.
So was the Trevor Jones NFT Experiment a success? The Bitcoin Angel was a purpose built drop to maintain value for the true community of collectors and survive the media driven NFT hype that caused other art to spike and fall.
Discourage Flipping: 
Maintain Short Term Value
Establish Long Term Value
3.  Gotta Collect them all
This section isn't about the imminent arrival of pokemon NFTs.  This one is a slick tactic that some of the great NFT artists have been able to create value for wealthy investors to gain access to ultra rare drops based on accumulation of pieces. There have been a few examples of this, but one of the most popular is recent Superplastic drop collaboration with Superplastic x Janky x Guggimon.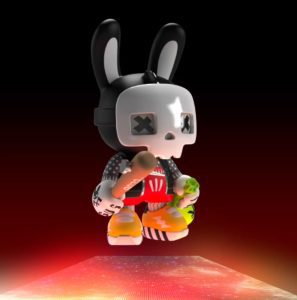 The international artists launched the Janky Ass Crypto collection featuring 20 designs (18 available to all collectors).  A pack of 666 NFTs were individually released (37 of each variety) 2 extra special surprise Silver Janky and Gold Guggimon NFT designs in the set are not for sale. These will be sent at no cost to all collectors who hold "complete sets" of Janky or Guggimon in their Nifty Gateway Wallet at exactly 7PM ET on March 26, 2021.  This gives collectors a few days to navigate the marketplace to wheel and deal in order to collect as many pieces as possible hoping go win one of the final two pieces.
The details for the limited editions include:
Collect all 7 Guggimon NFTs to receive a special ultra rare Gold Guggimon NFT.
Collect all 13 Janky NFTs to receive a special ultra rare Silver Janky NFT.
Complete collections aren't entirely new but the way artists are quickly combining variations resulting in completely unique and new NFT outcomes is exciting and innovative.  It will be interesting to see how quickly the marketplaces can respond to incorporate and ideate new and exciting ways to allow artists to create for and engage with their collectors.
4.  Increased Rarity over time
Between March 15th and March 17th of 2021 International NFT artist Mad Dog Jones made waves buy buying his NFTs back from collectors on Nifty Gateway. Over the 3 day period, he spent $4.2 million on a variety of pieces he had minted and burned (sent the NFTs to an address that destroys the NFT) removing them from the marketplace forever increasing the rarity of all remaining pieces.
⚠️ Tomorrow night I will be burning 35 MDJ "Thought as a system" & "Ideas r the currency". These artworks market value (at lowest available purchase price) are currently worth ~4.29M. The 35 artworks which were originally sold for $1 were purchased by collectors for $644,783.73.

— Mad Dog Jones (@Mad_Dog_Jones) March 16, 2021
Mad Dog Jones was already incredibly popular in the NFT community.  Known for his accessibility, communication, and partnering with many other artists to promote their work and the community at large, the artist entered the pantheon of greatness with the gesture.  Burning NFTs has been a feature since creation, but has previously been used for artists to destroy art that has errors or doesn't sell.  The fact that a well known and popular artist would buy back his art to increase scarcity is a new way for both artists and collectors to decrease supply for pieces they want to limit how the market has access to in the future.
5.  NFT Individuality and Personalization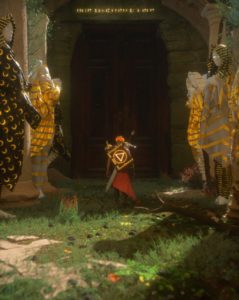 The original proof-points for NFTs actually revolved around individuality from Cryptocats to Cyberpunks, and the recent releases including Hashmasks and Euler Beats. Each piece can have one or more individual attributes, each attribute may have an affinity a certain collector or collectors and the market becomes organic where certain attributes of a type of NFT may become more or less popular over time.  Additionally, individual artists are trying to embrace individuality in their editions of art in a scalable way.  In fact, toomuchlag (Stefan Mathez) just did an amazing drop with his open edition on Nifty Gateway called Le Anime.
Each edition number of this Open Edition is linked by a separate smart contract to a unique collectible character with unique rarities. The more you have, the more possibilities will open in the future. https://www.leanime.art/ Editions minted prior to the drop are the artist claiming editions for themselves
As artists and programmers become more comfortable with NFT and blockchain technologies and new innovations occur in the space. One of the greatest opportunities for NFT differentiation allows creators and collectors more ability to personalize experiences around NFTs resulting in higher value for both.  2021 will be an interesting year for collectors to start focusing on the types of art that resonate more personally with them.
6.  NFT Owner Exclusivity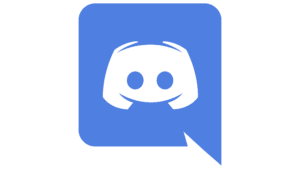 Less gamification and more scalability and exclusivity for a certain category of owner, we are seeing marketplaces, collectors, and NFT artists alike create micro-communities with tools like discord, substack, and more.  On top of discord groups for marketplaces, we are seeing artists like Trevor Jones create Discord communities exclusively for holders of the Bitcoin Angel art as well as another Discord service exclusively for owners of Beeple NFTs.  This exclusivity allows passionate collectors to find other collectors that share their values.  We suspect there will also be a god-tier discord server that eventually serves as a mechanism for institutional buyers to connect with one another around areas that may affect NFT prices on a large scale.  This is a gift and a curse as NFT market manipulation has become a well documented concern with such a limited number of users currently in the space.  As the NFT market matures, the ability for few whales to manipulate the market will drop.
NFT Owner Prioritization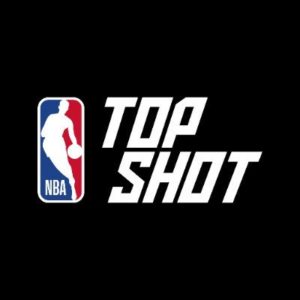 On top of the exclusivity, as demand increases in the NFT space, Markets have started giving preferential treatment to their collectors.  Popular Marketplaces like NBA Topshot have already made certain NFT drops exclusive to owners based on a number of different criteria. For some releases, a collector must have owned an NFT or card for a number of days. In other instances, collectors must own a certain quantity or number of NFTs to gain access to a certain drop.  We suspect that as the markets scale, they can gamify and earn additional good faith by testing a variety of drop types based on time or quantity of NFTs owned by collectors.  Finally, the artists may release future drops exclusive to owners of previous drops that maintains or grows value for drops from the past.
7. The $1.00 NFT Drop
The pseudo-altruistic path connecting artist to collector without the price.
The good faith built by the artist for the collectors. Once in a blue moon an artist does something great. A piece of art designed purely as a giveaway for the community, dropped as an open edition so any number of collectors can own a piece of the artists digital art or even as a drawing or limited edition that allows a random pool of collectors a piece of the action.  While technically not a gamification technique, embracing the community and providing accessibility to collectors as the price of NFTs and cryptocurrency continue their parabolic rise is incredibly valuable in the fast growing space.
It's also not a coincidence that these pieces that are "given away" are often some of the most collectable pieces with the strongest and consistent resale value, often retaining value longer than their higher priced counterparts.
Bonus: NFT artists Giving Back to the Community
Better late than never.  There are two observations.  One is that many of the artists have become successful in a very short time, the fact that they are already proactively giving back to the community and environment is far ahead of many other industries and the cryptocurrency space as well.  The fact is that the NFT community is driving broader carbon-neutral conversations as they relate to technology.  Second, artists have historically been incredibly passionate about social issues.  The fact that the passion and focus already exists and the fact that the marketplaces are already embracing and facilitating the discourse should be positive.  That being said, the marketplaces can and should be doing more by donating a percentage of the fees to offset carbon impact on the environment already.  (More to come on that).
Final Thoughts:
NFTs are inherently accessible. In some ways, while NFTs are 100% digital they feel more organic than a piece of art on our wall.  They provide new mechanisms for the artist to interact with the collector and the ideas are just being brought from imagination to reality.  The gamification of NFTs provides so many new paths to create unique and beautiful experiences.  We have just scratched the surface around the long term impact about how NFTs will change and grow with corporate IPs and other areas including games and other collectables.
Follow us on Social Media