Hashmasks are NFTs created in a very large art series with common design and traits, that can be viewed as a single living work as a whole, as well as 16,384 individual pieces of art. The work was created by over 70 artists apparently, and contains multiple gamification layers.
Hashmasks are available for sale on opensea: https://opensea.io/collection/hashmasks
Layer 1 – Character traits, which consists of Character, Eye Color, Mask, Item and Skin Color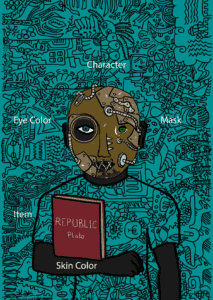 Layer 2 – the name of the hashmask.
Some data people have created a google doc that allows you to filter the hashmasks by trait and rarity, that lives here: Google Drive — All Hashmasks – Ranked
One cool thing, is that you can figure out traits you like, and more or less customize your own by finding the exact hashmask that corresponds to the traits that you like. Not all combos are represented though.
Our take: Hashmasks are quite pricey at the moment due to the newness of the concept. We expect the initial hype will keep prices high in the near term, but 16,000 units is a lot of inventory, and we expect that gradually the prices will come down quite a bit, especially on the less-rare traits. Longer term though, we expect the unique aspect to the work will preserve and create quite a bit of value for the NFTs. Where there is a lot of room for growth is if any interesting or highly compelling meta-aspect to the art becomes public, in which case the Hashmasks involved will certainly take off.
NFT Culture Rating: HOLD
Follow us on Social Media