Trevor Jones is already an renowned artist in his own right.  Today he became a legend and joined the mount rushmore of NFT artists with a record breaking sales of 4,167 NFTs resulting in nearly $3.3m sales from the Open Edition NFT drop on NiftyGateway.  What is even more interesting is that he's incentivizing collectors to hodl the beautiful "The Bitcoin Angel" until bitcoin reaches $77,777 in value. if you do: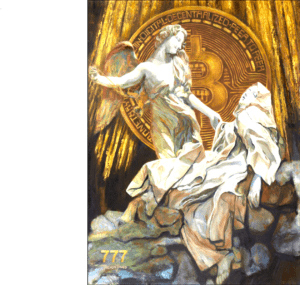 Everyone who purchases the $777 open edition will be entered to win a 1/1 NFT of my Conor McGregor artwork. Purchase 2 open editions and you're entered to win twice etc. Also, the collectors who purchase one of the fifteen 1/1 NFT & physical painting packages will be entered into a draw to win the original Conor McGregor oil painting (90 x 76 cm/35 x 30 inches). Again, one entry for every NFT/physical painting purchased – those are a lot better odds than the national lottery!

One final twist – everyone who has an open edition Bitcoin Angel in their wallet when Bitcoin hits $77,777 USD value will be entered into a draw to have a portrait drawn of them or a loved one by me (1/1 NFT included). There will be one lucky winner of a commission portrait and 1/1 NFT prize!
Expect longer NFT minting times
We have seen incredible growth around the NFT space over the last few months.  Last week, NFTs (especially on Nifty Gateway) reached a fever pitch.  With so many new collectors entering the space the minting time for these pieces of art is being extended.
Congratulations to Trevor Jones, the NFT GOAT.
This is truly unprecedented and who knows how the secondary market is going to respond.  One thing is for sure.  If NFTs havent entered the mainstream, they surely will after tonight.
Follow us on Social Media