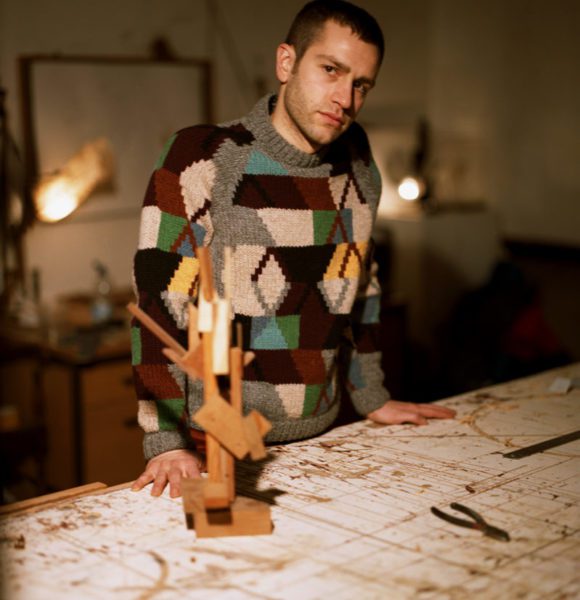 David Lisser
Exploring future food production and creating the techno-relics of tomorrow.
Where are you from? (Provide a little bit of your background, have you moved etc)
I'm from the UK, and aside from six months as a student in Slovakia where I worked in the glass department of the Academy of Fine Arts,  I've lived in the UK my whole life.
I grew up in the Midlands, spent most of my adult life in the North East where I spent a lot of time in nascent grassroots art-initiatives and collectives. 
I moved down to rural Oxfordfordshire a couple of years ago and now have a studio on a farm! 
Can you tell us about your background and what lead you down the path to becoming an artist and ultimately experimenting with NFTs?


Art is something that I have always felt an affinity for, even as a small child I was endlessly creating sculptures out of twigs and stones, and paintings in mud. My Nanna was an incredibly artistic person and definitely took me under her wing when it came to learning about art.

I studied Fine Art at university, specialising I sculpture – and I've worked at my own practice ever since, exhibting widely across the UK and Europe, in galleries, museums, car-parks and abandoned farmhouses… as you do.

I came to digital work and ultimately NFTs largely because of covid. I had been learning CAD packages in order to work with fabricators for large scale sculptures – so I could supply them with drawings for cut steel and glass etc. When lockdown kicked in I lost about 12 months of work, exhibtions, lecturing gigs and residencies. I could no longer afford to make sculpture (the materials I used were not cheap!) so I threw myself headlong into digital, seeking to make the kind of worlds that had been brewing in my head. 
In autumn 2020 I listened to an online talk by the wonderful Metagiest (@metageistVR) about NFTs and was hooked. What ensued was some hefty and thorough research whilst I learned about crypto, security, marketing, platforms etc etc
Follow us on Social Media