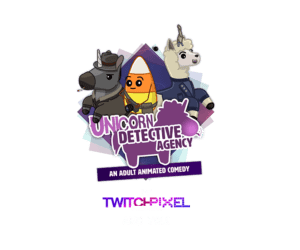 Unicorn Detective Agency is a new MetaAnimation by Twitch Pixel Studios, powered by the crowd via NFTs.

What is a MetaAnimation? Well here's the neat part. Alongside our main, or as we call it, the 'Prime' storyline, is an expanded universe where your NFTs have a chance to take center stage and help create a living, breathing world around the main story.

Ours is a collection of 8000 NFTs aiming for a November launch, whose characters make up the "Citizens of Unicornitopia"! Minting one for yourself comes with some neat perks!

NFT holders will become a part of our social space on Discord, allowing them to join our live storytelling events, offering up ideas, jokes, fan art and more, that may be used in our fully animated expanded universe of shorts, featuring characters from your NFTs!
We didn't want to come to the table with just an idea, or a few pieces of art, we wanted to be fully prepared to hit the ground running as soon as crowdfunding could be secured! NFTs were a perfect fit, enabling us to integrate our fans in cool new ways!

UDA has been in development for 4 years by our small team of dedicated artists who worked remotely, donating their free time to nurturing this idea. Our pilot episode is primed and ready to produce, with script, breakdown, shotlists, storyboards, full character turnarounds rigged and ready for animation, and a whole world of NFTs to collect in support of this cool new idea!

You can check out all our social channels for the proof. And we are proud of that!
What is the project's launch date?
Our founder's birthday! November 30th. 2021
How did you come up with the idea for this project?
Remember when you were a kid, you'd dress up as your favorite avenger, or pick up a stick and start twirling it like Donetello? (HAI YA!). You felt alive telling your own stories, imagining your own heroes and villains to conquer!
We miss that feeling of watching our favorite show, but in reality we want to be living it, and having good times with that big blue bug and his mothy friend, or laying back and chilling with Brock Sampson, and yelling at the boys.
These cartoons inspire us, and made us think to ourselves… How can we play now? So deep in our dark dungeon of a basement suite, two apartments ago, we began to devise a plan.
Our studio isn't your normal studio, and we feel we represent a growing community of post-pandemic studios that have found a footing in remotely building a team and passionate community.
But why not take that a step further? We're making awesome cartoons, you LOVE awesome cartoons, let's build something together!
Our idea is to have a studio who dedicates its time and resources to growing our individual artists skills, and building an amazing and supportive audience that they can cherish for life, all while collaborating on an expanded universe of short animated stories!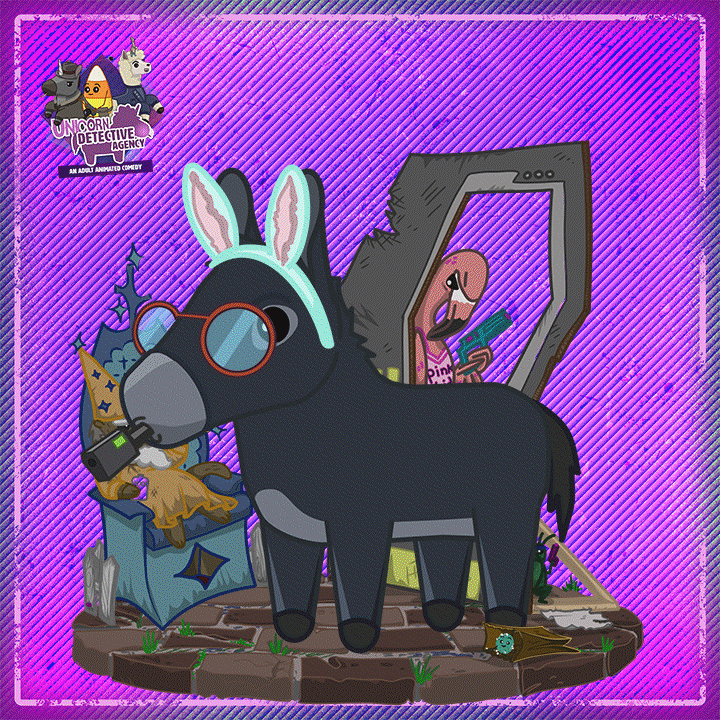 What makes this project unique?
Our main production of Unicorn Detective Agency will center around our main cast and what we are calling our 'Prime' storyline. But our "Tales From Unicornitopia" shorts set in the expanded universe is where your ideas, your jokes, your fan art, and your NFTs get to take center stage in building our lore and making this a universe we can all feel connected to! 
Each of our artists can choose to sit as Showrunner on these shorts, and once a week (usually our Fridays) we'll dedicate our time to developing them with our community.
With help from our team and the community, our showrunners will learn all the steps of production from start to finish with these manageable bite-sized shorts, and with them host live "Storytime" events with the fans.

During these events you can share ideas, jokes, fan art, anything you want that our showrunner can hand pick to use, delivering to you new animated shorts starring an array of your NFT characters, telling new stories from all around our not-so-fair city!

How big is the team and what are their roles?
Currently between ourselves and Flair Finance we are 6 passionate artists, programmers and animators. All of us focused on creating our Pilot, and expanding our universe.

Jeff Saamanen (thats me!) is an artist and animator, most notably known for animating Dan Harmon's (the creator of Rick & Morty) Live Action/Animated Dungeons and Dragons show, HarmonQuest.

Jeff, alongside his loving wife of 20 years, Natalie Harvey, also spent the better part of their younger days making a live action series called 4 Villains on Youtube, a comic called Worlds Beyond the Grave, and founded Twitch Pixel Studios in 2017 to start building this idea of their own animated metaverse!

Joining them is Michael Murhpree, known for creating and growing the Gaming Wildlife YouTube channel of comedy shorts, as well as an avid musician and artist to boot! And Myke Allen, who graduated from the Art Institute of Pittsburgh with a Bachelor's Degree in Art & Design, with a strong focus on graphic art for comics and animation. Between a lifelong pursuit of art and cartoons and being a single dad, Myke's work and dedication to both is inspiring.
Joining us on the Flair Finance side, Aram Alipoor, a programmer dedicated to building their platform, with a strong focus on smart contracts, and helping artists reach their NFT goals. And Kasra Khosravi, a developer and strategist whose passion for Blockchain and NFTs as a gateway to a new context of solving social/economical issues, drove him directly to this space.
What is the price?
We have chosen Polygon (MATIC) for our initial mint price of 130 matic.
Why is that price fair?
Animation is labour intensive. An average animator's quota is finishing 20 seconds of animation a week. From small to massive productions, time to create from start to finish can range from $10,000/minute from script to screen, to upwards of $50,000 a minute and beyond! And that adds up fast.

So with Unicorn Detective Agency, being our first series, we decided to choose a simple style and scale back the requirements for animation. But it still requires our team's talent, and more importantly, their time.

They've put in hundreds of hours over the last few years. We even live streamed a bunch of it! (Check out our YouTube!) But now we've reached a precipice. We need to buy back their time from the daily slog, and pay them to focus their drive and ambition on bringing this project, and your world, to a place we can all be proud of.

In addition, doing things properly costs more. But we're in this to do it right. This includes the probable taxes we must pay, lowering our overall crowdfunded earnings. There's also accounting and legal to ensure we are doing this properly, which all adds up.

What is the mint size?
Eight entirely unique characters spread across 8,000 generated-trait NFTs of this adorably absurd main cast of characters, all from around the downtrodden city of Unicornitopia!
Are there any mechanics we should know about?
The longevity of our project is baked in. We have a full roster of ideas and shows, primed and ready for pilots, from years of effort and donated time. We want to set a new standard, and create our vision of what it means to be a MetaAnimation studio.

We are a pilot-centric animation studio, meaning we focus on developing new and original ideas from the ground up! And we have MUCH more on the horizon, as can be seen on our website TwitchPixel.com. If Unicorn Detective can be successful, we can use it as a boilerplate to launch similar campaigns for our other animated series ideas, all powered by Twitch Pixel Studios and you!
Also to speak to the rising trend of rug pullers and scam artists in the space, we have a new approach to distributing our NFTs. We have partnered with an upcoming platform called Flair Finance, who aims to change the way NFT collectors support creators, offering peace of mind and more control over their purchases.
Flair has been a pivotal partnership for us. It says it right on their front page, anti-rug pulling, accountability, and transparency! We set a high moral expectation for our studio and these guys aligned with our philosophy from day one!

Through them, we can offer a slow release of funds campaigns similar to some crowdfunding platforms. Meaning our supporters purchase their NFTs and the funds are slowly released over the term of our crowdfunding campaign.
At any time, if our supporters feel like we aren't living up to our end of the deal, they can return their NFT and get back the remainder of their balance. We're holding ourselves accountable, giving you peace of mind.
Where can collectors learn more?
Our Discord is where all the action happens! Come meet the team! 
Plus: All our exclusives, live events, giveaways and more! 
Discord: discord.gg/ZGWgpstMyh 
Twitch Pixel Studios around the web: 
Homepage: https://TwitchPixel.com/UDA 
Facebook: https://www.facebook.com/TwitchPixel 
TikTok: https://www.tiktok.com/@twitchpixelstudios 
LinkedIn: https://www.linkedin.com/company/twitchpixel 
Twitter: https://twitter.com/TwitchPixelAnim 
Instagram: https://www.instagram.com/twitchpixel 
Youtube: https://www.youtube.com/TwitchPixelStudios 
Follow us on Social Media