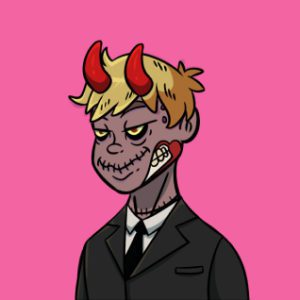 Nice Fun Zombies (NFZs) is a collection of unique zombie NFT characters on the Ethereum blockchain in search of BRAINS. Nice Fun Zombie owners will get access to a world where Every Decision Matters – holders will be faced with several choices, and they will be able to create a tailored NFT experience. Game theory mechanics such as searching locations, hording, and holding will reward different benefits. Additionally, NFZ holders will have access to a community of zombie loving fans, real life rewards, and be at the start of the development of a new IP. Come join the NFZ horde… we're definitely nice and fun.
How did you come up with the ideas?
On a personal level, my wife and I experienced a personal tragedy in April. This was also the time that I got deeper into NFTs, which offered me a way to get my mind off things, so I developed a very strong connection to the space. Additionally, my wife loves zombie shows and movies and as part of the grieving process, and it became a common habit for us to watch zombie content.
As I dove deeper into the NFT space, I thought that avatars were great but in isolation they often didn't have much context to them. To make people care about the IP, there needs to be more than what's in a 1×1 profile picture. I jumped at the idea of building a zombie world as an environment for NFTs and came up with Nice Fun Zombies. 
Firstly, we wanted to develop zombie art that wasn't too horrific yet wasn't overly childish. These avatars serve as the foundation for the development of the IP and the world, which is one where the zombies are the heroes. Also important will be the zombie locations we create. My dev partner and I started thinking about these locations and what that could do to give more context to NFTs. Locations offer an opportunity to tell a story, they can offer unique interactions, and they can potentially be something that develops in a future MetaVerse. 
What Makes this project unique?
Flexibility to craft your NFT experience & Game Theory
With the zombie theme, we are building out a social experiment for fans via game theory. They will be provided choices on how to craft the NFT experience. An example of this is – after launch, there will be different zombie locations that open offering various items within them to be searched for. Do you go to the school to get a chance at the Brains DAO token, or do you go to the casino for daily games for prizes? Or do you want to wait for other locations in the future?
We are creating flexible world where the fan decides how best they want to engage with it. There are some folks who like a more active experience, while others like to be more passive. Via locations and other decision paths, this experience can be adjusted. Once a zombie is sent to a location, they will be associated with that location and on-chain metadata will update. This will serve as a foundation for us to build upon as different benefits will be tied to different locations.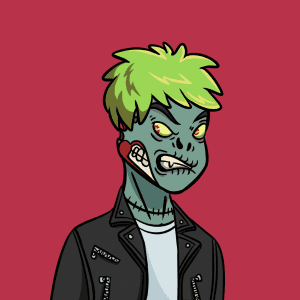 We aren't developing a video game so while the actual interaction of searching will be quick, we envision that there will be plenty of debating and discussion about what is the best choice to make. We don't know how it'll all unfold, but it'll be interesting to see what the community wants. Future locations allow us to adapt and adjust accordingly.
How Big is the team and what are their roles?
The core team is six people though we have several additional advisors and consultants. I lead the team and come from a marketing and partnerships background at ESPN. Our artist frequently contributes work to Disney in Singapore. Our two developers worked at Activision Blizzard together before going off to other companies. None of us are any sort of corporate big-wig, but we have diverse strong backgrounds and interest/passion for NFTs.
Our various consultants/advisors include a solidity/blockchain expert, as well as TerT the lead for Uninterested Unicorns.
What is the price? 
0.06 ETH
Why is that price fair? 
We believe this is priced fairly for the goals we have set, including continuous rewards to the community via the locations and establishment of a DAO in the future. We also will be trying to increase resources to make the game theory experience fun. 
We also will be seeking out various collabs and have already announced our first special art piece with a professional comic book artist that contributes to Marvel, DC, and many others. He'll be visualizing some Nice Fun Zombies in his own style, and we'll turn that into an NFT reward for fans.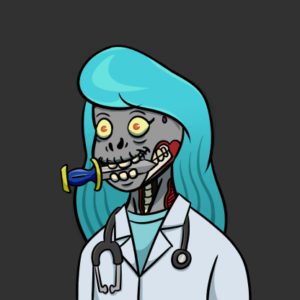 What is the Mint Size? 
8,000 initially available, but 10,000 total will exist. The remaining 2k are held back as rewards for searching.
Discord – https://discord.gg/nicefunzombies
Twitter – https://twitter.com/nicefunzombies 
Website – https://www.nicefunzombies.io/ 
Follow us on Social Media