Jeremy Booth, a leading NFT artist known for his Western-themed artwork, has announced a new project aimed at bringing more traditional Western artists into the Web3 space. The initiative, called the Western Art Dept, seeks to onboard more creators into the digital art realm while tapping established NFT artists that can pay homage to the genre's rich history.
Western art has a rich and beautiful history. We need to expand its legacy into Web3. To do that, we'll help onboard traditional Western artists, while also highlighting and supporting existing artists in the space.
The Western Art Dept will feature 1-of-1 NFTs from several artists and will be hosted on the NFT art platform, Foundation, beginning in early May. According to Booth, the project is rooted in conversations he has had with painter Robert Hagan, who is renowned for his Western-themed landscapes and subjects. Booth sees the Western Art Dept as a long-term project to develop relationships with traditional artists and help them enter the NFT space.
We'll launch our first collection of Western artwork beginning of May, via @foundation
Initial Artists Launching:
Booth is primarily a digital artist who has made a name for himself creating Western-themed NFTs. However, his latest project is an opportunity to showcase talent and bring more of the Wild West into the digital space. Booth is excited to have the opportunity to onboard more traditional artists and to help them navigate the NFT world.
Booth's interest in Western-themed artwork goes back many years. He grew up in Texas and has always been fascinated by the West. However, it wasn't until he discovered NFTs that he was able to express his love for the genre in a new and exciting way.
Booth is a self-taught artist who first discovered NFTs in early 2020. He was drawn to the technology's potential to democratize art and to provide artists with a new way to monetize their work. He began creating NFTs shortly thereafter, and his Western-themed artwork quickly gained a following.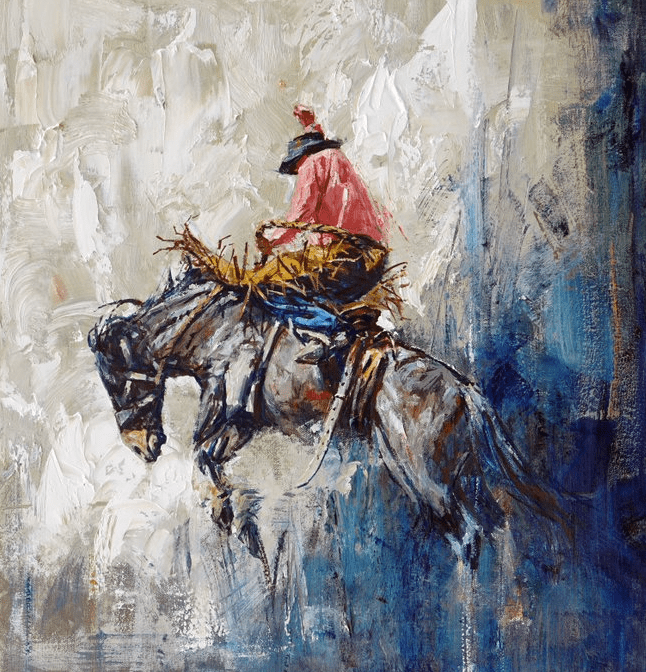 Booth's artwork is unique in that it combines traditional Western themes with modern technology. He uses software like Procreate and Adobe Illustrator to create his artwork, which he then turns into NFTs. His NFTs are often sold as one-of-a-kind pieces, but he recently launched the "Boots" NFTs, an open edition collection that sold over 6,000 tokens within 24 hours of its release.
The absolute number one goal is to create a healthy ecosystem for Western art in Web3. And we'll do it together 
The Western Art Dept is an opportunity for Booth to expand his reach and to bring more artists into the NFT space. However, he is aware that not all traditional artists will be interested in the technology. Some may be resistant to the idea of selling digital art, while others may be skeptical of the technology itself.
Booth believes that education is key to helping traditional artists understand the potential of NFTs. He plans to work closely with artists to help them understand how NFTs work and how they can benefit from the technology. He also plans to showcase the work of traditional artists alongside established NFT artists to help bridge the gap between the two worlds.
Niko Ampouris, social media and community manager at Vayner3, is also behind the initiative and will manage its strategic and marketing efforts, while helping with curation. The Western Art Dept is not affiliated with Vayner3.
Booth's latest project comes at a time when interest in NFTs is surging. NFTs have become increasingly popular among collectors and investors, and their potential uses are still being explored. Some see NFTs as a way to democratize art and to provide artists with a new way to monetize their work. Others see them as a speculative investment opportunity, with some NFTs selling for millions of dollars.
Despite the hype, there are still some skeptics who question the value of NFTs and whether they will have staying power. However, Booth is confident that NFTs are here to stay and that they represent a new frontier in art.
Booth's Western Art Dept is an exciting new initiative that has the potential to bring more traditional artists into the NFT space. By showcasing the work of established NFT artists alongside traditional artists, Booth hopes to bridge the gap between the two worlds and to help more artists understand the potential of NFTs.
Booth is a pioneer in the NFT space, and his passion for Western-themed artwork has helped to bring the genre to a new audience. With the Western Art Dept, he is embarking on a new project that has the potential to transform the way that traditional artists think about digital art.
The Western Art Dept will kick off in early May, and it will be exciting to see the new artwork that emerges from the project. As NFTs continue to grow in popularity, it's clear that the potential for digital art is enormous. With artists like Jeremy Booth leading the way, the future of art looks brighter than ever.
A thread on @westernartdept…🧵

— jeremybooth (@jeremybooth) April 18, 2023
Follow us on Social Media