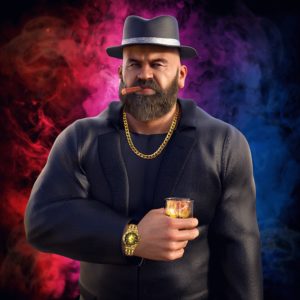 Secret Society is an exclusive collection of 9,999 Mafia inspired NFTs on the ERC-721 token. With at least 9 properties on each nft, the 3d elements are polished and unique allowing you to connect with your families and gangs to promote additional utility and benefits.
How did you come up with the ideas? 
We have always been intrigued by the legendary crime families and their codes of honour and secret rituals. What better theme than for a Secret Society NFT collection? 
What Makes this project unique? 
They have a royalty wallet where a portion of all the money goes to. 
Our royalty is set at 9%, reason being that partial of the collected royalties will be deposited to the royalty wallet. So NFT holders can decide where and how these will be spent and to also fund our worldwide marketing and other utilities. 
All of the NFT's are already 3D created and are planning on launching a game with the NFT's in the future. 
How Big is the team and what are their roles? 
We at Lunar work very close with the Secret Society team. We Lunar are 4 people, the team behind Secret Society is 6 people. 
What is the price? 
Private Presale will be 0.08 ETH + gas – Public sale will start on 13th December 2021, price will be 0.1 ETH + gas 
Why is that price fair? 
The art is created by one of the designers from Cyberpunk. But also portions of the price goes back into the community for the community to decide what to spend it on! 
What is the Mint Size? 
There will be a total of 9999 NFT's to mint. 
Are there any mechanics we should know about? 
As said before, this NFT is your membership into the Secret Society, it will also be your key into the Game they are developing. Also 9% of all the royalties from the collection will going back into the community where they can decide together on where to spend it. 
Links to discord, social, etc. 
https://www.instagram.com/secretsociety_nft/ 
https://discord.com/invite/secret-society-nfts 
https://twitter.com/SSocietyNFT
Follow us on Social Media