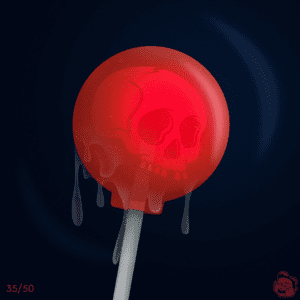 Fat Kid Co. is the creation of Nick Purifico. In the true millennial fashion, Nick quit a successful advertising job, moved West, and decided to found an apparel brand that celebrates the sweet side of life. The metaphor may not be PC, the logic may be slightly broken, but Fat Kid Co. speaks to who we are and what we love. If you have any questions, interests in collaborating together, or just want to say hi, shoot an email over to info@fatkidco.com.
FatKidCo NFTs are an extension of the FatKidCo physical brand and follow that general theme. Series 1 is titled "7 Deadly Sweets" and is loosely based on the 7 deadly sins with the first mint being a hand drawn limited run of 50 Lust Pops. 
What is the projects launch date?
We chose to launch quietly on 7/22 and all 50 were made available on OpenSea
How did you come up with the idea for this project?
I'd been following the NFT market for the past 5-6 months. As the market became flooded with what I felt were generic copies of previously successful projects I thought there was room for more original works.
What Makes this project unique? 
As I mentioned these are hand drawn and follow an overall theme.
How Big is the team and what are their roles?
Or how small…the team is 1, me. I drew these. I have had some help from family in regards to helping get the word out on Twitter, Discord, etc, but thats it.
What is the price?
I priced the Lust Pops at .05 eth each or roughly $100 or so.
Why is that price fair?
Being hand drawn and part of an overall set I think so. These are tied to the physical brand as well.
What is the Mint Size?
I minted the Lust Pops at 50 and thats the plan for the remaining 5 in the series.
Are there any mechanics we should know about? 
If anyone collects the first 6 in the series then they'll receive the 7th hand drawn piece for free.
Links to discord, social, etc. 
@FatKidCo1  ,  
discord.gg/5F86wZVy
www.fatkidco.com  
Follow us on Social Media