Our story begins with 5555 Bad Wolves, standing watch over the blockchain. We're the bark that keeps back the dark, the wagging tail that never quits. Bad Wolf. We're the good guys.
Your Bad Wolf is your key to the Mad Jelly NFT Adventure, a world where anything is possible… even you.

We invite you to befriend your Bad Wolf, name your Mad Jelly, and come join the Jellydom, a creative community where intricate game mechanics meet immersive storytelling, and secrets unfold to token-holders online and offline.
What is the project's launch date? 

The wolf pack arrives Friday, Sept 3rd.
7PM UTC | 12 PM PDT | 3PM EDT

Bad Wolf is the first installment in the Mad Jelly NFT-Adventure World. 
How did you come up with the idea for this project?
Mad Jelly springs from the musical world of Duchess Betsy. It emerged through her reflections on her own day-to-day experience with the 10,000 mph scorching-flaming-fire-tornado headwind that pushes back on every artist, creative, and well… everyone. 
What makes this project unique?

Our team is gradually building a story-first, NFT-supported world engine, driven by our shared passion for NFTs, blockchain innovation, and immersive storytelling. We recognize the intrinsic value of collectible digital assets, but we also believe that things are even more valuable when they enfold the things we value most. 
For us, there isn't much we value more than Play. 
We recognize that, in this new space, the experience and community is intrinsically bound to the value of the asset.

It's not enough anymore to make things that simply accumulate value. We want to build spaces that share value.
Our mission is to create a narrative frame where we can gather, play, and consciously invest in making each other possible.
How big is the team and what are their roles?
Three, but it feels bigger.


Team Bios:
Mad Jelly springs from the Musical World of
DUCHESS BETSY
Artist | Musician | Filmmaker | Storyteller 
Duchess is a defiantly playful, fiercely empathetic glitter monster. She writes jump rope songs for grownups and fights bullies for a living. She is the ice cream truck of people, if ice cream trucks had rocket launchers and served bourbon.

To bring the world of Mad Jelly to life, Duchess has gathered a small armada of creative and technical talent beneath the umbrella circus: Super Make Believe. It is a maelstrom of storytelling in polyrhythms and algorithms, soldering irons, cryptographic hashes, and tiny glittery toy pianos.


JASE P.S.
Artist | Words-wielder | Composer | Builder
Jase P. S. is on loan from a clandestine story collective, lending his unique skills in worldbuilding and experiential entertainment. Today, he is supposed to be hard at work on …….REDACTED……., but fell in love with Mad Jellies and now doesn't sleep. Jase has worked as a Composer, Musician, Sound Designer, Producer, Recording Engineer, Animator, Film Editor, Senior Technologist, Web & Software Dev, Ui/UX Designer, Art Director, Creative Director, Tattoo designer, Tobacco cropper, Brand Strategist, Martial arts instructor, Stunt Choreographer, and Micro Amusement Park designer. A substantial amount of his work involves meeting the fire marshall. 

DAWEED
Codeslinger | Blockchain Developer | Dance Hero
Daweed hails from the infamous 42 school, which rolls deep with super-powered dev wizards. He codes worlds with a strong sense of decentralized ethical frameworks, deep pockets of intricate development fundamentals, and does it all with a gleam in his eye and a bounce in his step. He loves art, music festivals, and nfts. He is fiercely creative, and currently the lion tamer to six cats.

.0555 ETH
For us, this price felt like it provided a low barrier of entry to Jellydom. We consciously priced a bit lower than other, similar NFTs. We don't want financial means to be a deciding force in who joins our creative community. However, we also priced Bad Wolf to allow us the budget needed to deliver big feats of surprise and delight along the way. 
5555
Are there any mechanics we should know about?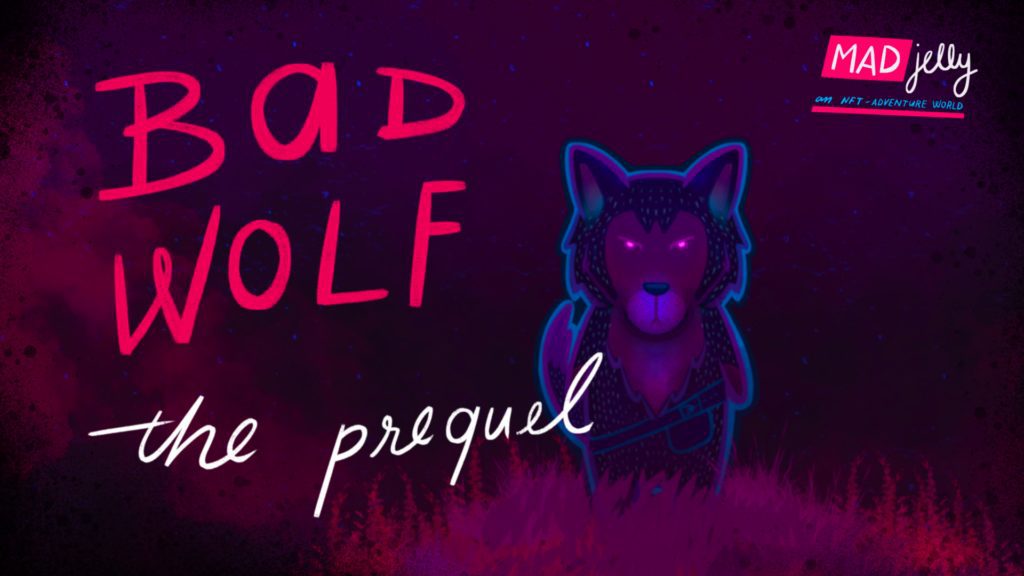 Throughout our multi-chapter adventure, NFTs will be intricately interconnected such that they can change and influence each other, unlocking narrative lines that can't be unlocked otherwise. For us, it's important that these unlockable shared experiences are not only digital, but touch the physical world in unusual ways as well.
This story-first approach will take our community on a deep adventure together which, while initially hilarious and light hearted, may walk us down the dark and winding trail, twisting and turning, and at the end….well, come along and see.
Functionally, this is not only meant to foster awesome shared experience as a community, it creates mechanisms where people can alter the value of this collectible art through play and spending time with the community. Certainly art is rare and valuable in and of itself. But our Bad Wolf and subsequent Mad Jellies are meant to accumulate rarity and variation through play.
Links to discord, social.

Discord 
https://discord.gg/w38W4gTANn

Twitter 
https://twitter.com/madjellyhq

Site  https://www.madjelly.io
*Disclaimer the Mad Jelly team donated some NFTs to the NFT Culture team and for giveaways.
Follow us on Social Media